Norton offers inspiration to overcome hardships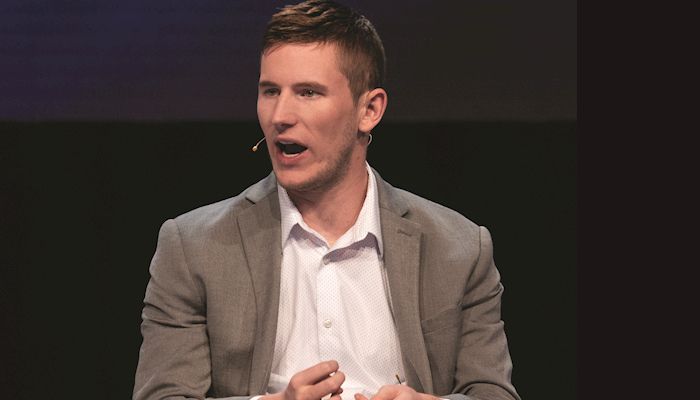 Iowa Farm Bureau's foc­us on "People. Progress. Pride." aligns perfectly with the road to recovery and success spelled out by Chris Norton during his keynote address to the organization's 101st annual meeting last week in Des Moines.
Norton, a football standout for Luther College in Decorah, experienced a devastating spinal cord injury on the field that left him paralyzed from the neck down. But he refused to listen to experts who told him he'd never walk again. Instead, Norton walked across the stage at his graduation four years after the injury and later walked down the aisle on his wedding day.
"[IFBF's] commitment to 'People. Progress. Pride.' — on the surface it sounds simple," Norton said. "But it really is quite profound. Because when you… point out progress in yourself and others, when you take pride in what you do, who you are, where you're from, by considering who's counting on you, then you'll start to see your problems shrink and your future possibilities begin to grow.
Norton offered three key strategies to picking yourself up after a failure.
They are to acknowledge and track successes, keep those who depend on you in mind and work for them, and be forceful in encouraging yourself and others.
Enduring tough times
His advice seems especially pertinent in a time when many farm families are struggling financially. Norton noted that everyone has struggles at different times in their life. Some wear those struggles more on the surface, as he does with his mobility issues; others hold them internally, worrying about finances, struggling with depression or any number of other challenges.
"Over the course of our lives, one way or another, we all get hit and knocked down," Norton said. "But what's most important after the fall is that you stand back up. I know in my heart that if I could relearn to stand after being knocked down, then you will too."
Norton uses a wheelchair but has limited use of his arms and legs and can stand up with assistance. His path to recovery became a online viral sensation after he walked across the stage at his graduation from Luther with the help of his then-finance, now wife, Emily.
The power to stand
Three years after graduation, Norton again showed incredible resilience and strength when he walked down the aisle after marrying Emily. In both instances, his walk has encouraged thousands and proved his contention that if he was able to get back up after getting knocked down, then anyone can.
"I've learned a lot over the last nine years," Norton said. "When I see or hear people say they can't, what they really mean is they won't."
Along with his motivational speaking engagements, Norton created a foundation dedicated to helping people with spinal cord and neuromuscular disabilities.
The Chris Norton Foundation supports the purchase of rehabilitation equipment for organizations/facilities and hosts the Chris Norton Wheelchair Camp, a free and accessible camp for kids and their families.
To date, the foundation has raised just under $1 million.
In addition, the Nortons have adopted five girls and have fostered 17 other children, providing a safe and loving household for children in need.