Northern Iowa farmers share RAGBRAI route sites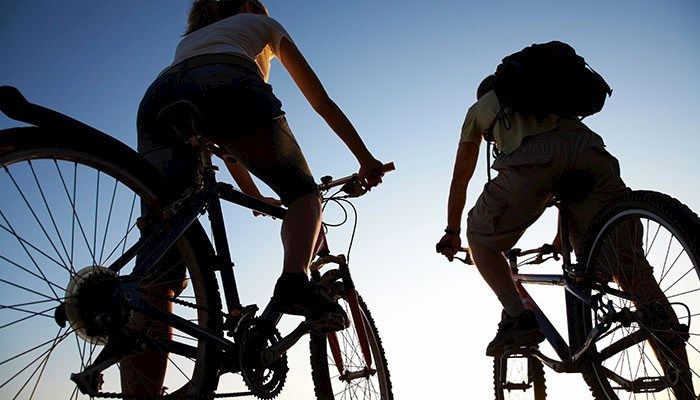 I have to be honest. I would not consider myself a cyclist. I don't have cool gear (in fact, I don't even have my own bike—I borrow one). But last year, I finally got out on my local bike trail, and when I wasn't worrying about accidentally off-roading it straight into wild parsnip, I enjoyed the scenery of the Raccoon River, trees, wildflowers, little critters, crop fields and livestock.
Checking out this year's RAGBRAI route, I think cyclists are in for a real treat while riding through this northern part of our beautiful state. I reached out to farmers familiar with the area, to get the run-down…
Cyclists will begin their ride in Sioux County, and along Highway 10, farmers Matt Schuiteman and Mary Hettinga say cyclists will see a few dairy farms. If you don't see any cows outside, it's because they're enjoying the cool temperatures inside the barn on these hot summer days where they have access to plenty of water. Mary says the grain terminal in Alton is an awesome site with its huge elevator and bins, and that several farms on the route have wind generators, an example of how today's farmers are investing in energy. Along with this new technology, Matt says cyclists may also see old, Dutch-style windmills which would have been used to mill grain or pump water.
Palo Alto County farmer Kipp Fehr says it should be smooth riding for cyclists through his county as it is pretty flat. Kipp, who lives near Mallard, says cyclists leaving his town can find a fun photo opportunity if they veer off less than half a mile south of B63 to see the "big duck" on Highway 4. From Mallard onto Whittemore, he says there are marked organic farms with fields of corn and soybeans plus some oats and peas! There are many Pioneer seed corn fields as well, and it may be possible to see corn that has been detasseled.
Since Iowa leads in the nation in pork production, it's only fitting to have these animals showcased along the route. Although often housed indoors to keep them safe from predators, disease and Iowa's unpredictable weather, cyclists will have the opportunity to see pigs up close as they ride through the town of Britt. Hancock County pig farmer Mike Hejlik will have young pigs corralled in a large tractor tire—a shaded one of course, to keep the animals cool. He says he'll be taking questions from visitors who may be curious about the work livestock farmers do to care for their animals and provide them the best lives possible.
Riding to Decorah, riders will pass over the Upper Iowa River. But what they may not know is that its beauty and improving ecology begin further upstream with one of the river's tributary—Silver Creek—where Howard County farmers like Neil Shaffer and Brandon Reis have teamed up with conservation agencies and 118 other farmers and landowners to improve trout streams. The two report that implementation of practices like cover crops and no-till have decreased bacteria in the stream making it possible for the DNR to release 700 fingerling brown trout into the water this past spring. While farmers take on the challenge of improving water quality, cyclists should challenge themselves to see if they can spot any water quality practices like grassed waterways or wetlands on their ride.
Erik Oberbroeckling, a grain and hay farmer from Clayton County, says northeast Iowa is better known as the "driftless" area of the state because of its deep river valleys. Therefore, Erik says riders will see miles of terraces, which look like grassy stairs, but they're not just for looks—terraces decrease soil erosion and surface runoff. Erik also says cyclists should be on the lookout for "strip crop" farming, a type of practice where crops like corn may be grown in alternating rows with other crops like alfalfa which cyclists will be able to smell as they cruise on by if it is fresh cut.
From crops to conservation and landmarks, I hope RAGBRAI riders have a safe ride that also offers them a chance to appreciate Iowa's diverse agriculture and beauty.
By Caitlyn Lamm. Caitlyn is Iowa Farm Bureau's public relations specialist.