Newsletter brings ag concepts into Iowa classrooms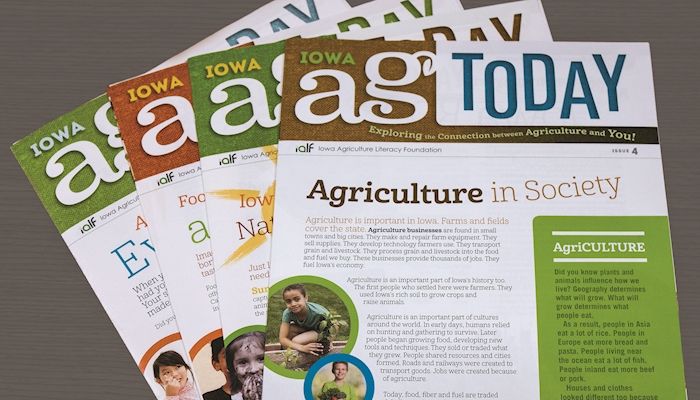 A series of publications designed to help Iowa elementary students learn about agriculture in the state has become a valuable tool for teachers as well.
The Iowa Agriculture Literacy Foundation (IALF) saw the need for the resource early on, said Will Fett, executive director of IALF.
"A lot of states have an ag publication," Fett said. "But in the past, they were always commodity focused."
The IALF staff reviewed several publications, but wanted something that a teacher could use in his or her classroom.
"When I started, I looked at the publications and wondered if a teacher would actually use it," Fett said. "And unfortunately, because a teacher doesn't necessarily have a background in beef production or other commodities, they might look at the beef ag mag and say, 'I don't understand this. I don't know how to tie this into my curriculum. I don't know how to tie this into my lessons.' "
Back to basics
And if teachers don't understand a subject or concept, they're less likely to teach it, Fett said.
"If a teacher is not comfortable with pollinators or doesn't understand soil, I think it's kind of hard for them to utilize (ag mags on those subjects). So we tried to go back to the basics," Fett said.
Using the National Ag in the Classroom's agriculture literacy outcomes, Fett and Cindy Hall, education program manager at IALF, got to work. They used the National Ag in the Classroom's themes — agriculture and the environment; plants and animals for food, fiber and energy; health and lifestyle; science, technology, engineering and mathematics; culture, society, economy and geography — to write a series of articles and stories. They chose fourth grade as their target level for the publication.
"What we wanted to do was develop a publication that focused on each one of these theme areas, and make it as easy as possible for a teacher to integrate it into what they are already doing," Fett said. "So it's not commodity specific, it's really catering to what a teacher can naturally do in their classroom."
Each of the five themes then became the focus for a series of publications called Iowa Ag Today. The first issue provided an over-arching summary of the five themes. The issues that have followed focus on the National Ag in the Classroom themes.
To date, four of the six issues have been published and sent to all fourth grade classrooms in the state. Fett says the other two magazines will be sent to Iowa fourth grade classrooms within the next year.
Teacher's guide
Along with the magazine, Fett and Hall developed a teaching guide to help teachers reinforce the topics covered in Iowa Ag Today. Fett stressed that the publication is meant to be rigorous and standards based, so there are no puzzles and games in Iowa Ag Today.
"We did focus groups with people beforehand to see what teachers were looking for. What we heard over and over again in our focus groups was 'rigor and relevance.' We truly wanted to make this a language arts supplement piece that teaches science and social studies through the vein of agriculture—reinforcing those language arts skills," Fett said.
Kari Mai, a fourth grade teacher at Lakeview Elementary School in Solon, said she's used the publication, the accompanying teaching guides and the online resources pretty extensively in her classroom.
"It was a happy discovery when it showed up in the mailbox," Mai said.
One issue arrived as she was teaching her students where food comes from and how food is used as nutrients for the body. She incorporated Iowa Ag Today as part of the lesson.
The publication not only touches on different subjects in agriculture, it also features related careers in agriculture, and specifically names people who work in agriculture.
"It was kind of fun because (we) had a local Hy-Vee dietician visit our classroom, and then the publication came and she was featured. The kids thought that was cool," Mai said.
Mai did not grow up on a farm, so she said the information in the publication helps her learn and teach her students at the same time.
Expanding concepts
And the Iowa Ag Today publication has been a "jumping board" to other lessons and projects, Mai said.
For example, because of a feature on watersheds in the publication, Mai added a watershed unit to her curriculum.
"We learned about watersheds and students researched a little further. We found more online links about what a watershed is and things that we need to think about," she said.
The Iowa Ag Today publication is a useful tool that Mai said is a great tool for her and teachers across the state.
"Our textbooks at this point are a few years old, so I feel like the Iowa Ag Today really focuses on more current, local issues and really things that we can see in the community around us," Mai said.
Fett said the Iowa Agriculture Literacy Foundation hopes to continue Iowa Ag Today for other grade levels, but that will depend on the funding available for such an endeavor.
For more information about the Iowa Ag Literacy Foundation, go to www.iowaagliteracy.org.
Want more news on this topic? Farm Bureau members may subscribe for a free email news service, featuring the farm and rural topics that interest them most!