New leadership at CALS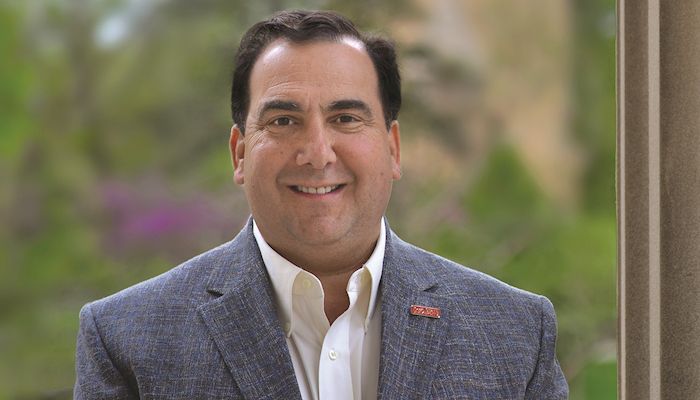 Daniel J. Robison was nam­­ed the holder of the Endowed Dean's Chair of the College of Agriculture and Life Sciences at Iowa State University (ISU) last fall and began his duties leading the college in early 2019. Robison came to ISU after several years leading the College of Agriculture, Natural Resources and Design at West Virginia University and replaces Wendy Wintersteen, who became president of the university in 2017.
The Spokesman visited with Robison recently to discuss why he's excited about his new position leading ISU's College of Agriculture and Life Sciences (CALS), his educational philosophy, the ways that the college can help farmers and rural communities in a challenging economy and other issues. Here are excerpts of that interview:
Q: What attracted you to this position at Iowa State University?
Iowa is really a powerhouse nationally and globally in agriculture. After doing important work for the state of West Virginia in my previous land-grant university role, I thought if the state of Iowa will have me, I'd love to go there. Iowa's impact on worldwide agriculture and food supply, on how issues of natural resources and ag work to together, has a broad, deep impact.
The privilege of being asked to come here and lead this great college in a state that has agriculture written all over it is an extraordinary opportunity.
Q: Tell us a bit about your philosophy about ag education and how it fits in today's agricultural economy.
It's easy for us working in education to say that more and better education is a good thing. But it's especially true in the world of agriculture and the related natural sciences. In a world of limited resources, we have to make do with what we have and make sure what we have can continue to sustain us.
We have an increasing population and increasing standards of living around the world. And there is an increasing need to balance all these needs across vulnerable landscapes.
So educating our next generation of agricultural leaders to address these challenges is critically important. We train the next generation of thinkers and doers. Whether it's people on a family farm, in industry or in the state Legislature, they all need the latest and greatest thinkers and doers.
Q: How do you keep up the momentum at ISU's College of Agriculture and Life Sciences?
We've got to look at how we grow our enrollments, especially how we reach out to other communities where we've not traditionally attracted students. There are interesting ideas out there, from all walks of life, and tremendous value in the diversity of thought and perspective. We've got to be innovative on how we find new or undiscovered resources to move our programs forward.
A great deal of our university resources come from tuition dollars, and that is not going to change. But we've got to be very careful about that, and we've got to think about student debt and what our citizens can afford.
We've got to raise more funds through development as well as through the research enterprise, through research grants and contracts. We've got to develop more public/private partnerships.
Like any organization, we need to find ways to be more efficient in what we do and prioritize where we invest the resources we have.
Q. These are challenging times for agriculture. How can the ISU College of Agriculture and Life Sciences help farmers and rural communities weather these difficult times?
The most important thing we do is provide research-based and research-proven information for decision-making, and the most effective way to do that is through Extension. We make sure there is no daylight between the college and Extension programs here.
Q: We've talked about challenges. What about opportunities for the college?
One area is in entrepreneurship and innovation. Today more than ever, our students come to us ready to invent things. They want to create businesses. They want to add value to the world around them.
We have programs like the Ag Entrepreneurship Initiative, which has produced several nat­ional Farm Bureau Rural Entrepreneurs of the Year. We will work to develop more intellectual property than ever before, which will lead to more technology transfer and more start-ups.
Another opportunity is more public-private partnerships, such as the project we have underway for planning and dev­eloping a new feed and grain mill complex. We can only make these things happen through new kinds of partnerships, knowing that state tax dollars can only go so far. So we must find additional new partners.
Q: How can the College of Agriculture and Life Sciences continue to help farmers as they take on the challenge of improving water quality and reducing soil loss?
Our principle role in conservation and water quality is research, extension and demonstration to develop new ideas and provide information to help farmers and others make good decisions. We'll also train the next generation of leaders to move conservation efforts forward.
We know that you can't just throw a switch and change it. You've got to find a way to move forward that makes progress as quickly as we possibly can.
Q: Have you had connections with Farm Bureau in your other position in West Virginia and other places ?
I have always worked well with Farm Bureau, wherever I've been. Farm Bureaus are a collection of people who care deeply about the same things as the people in ag colleges care about. I've been particularly thankful and grateful for the wonderful welcome from Iowa Farm Bureau.
Listen to Robison's entire interview in our May 20 edition of The Spokesman Speaks podcast.
Want more news on this topic? Farm Bureau members may subscribe for a free email news service, featuring the farm and rural topics that interest them most!