New beginning for an asparagus farmer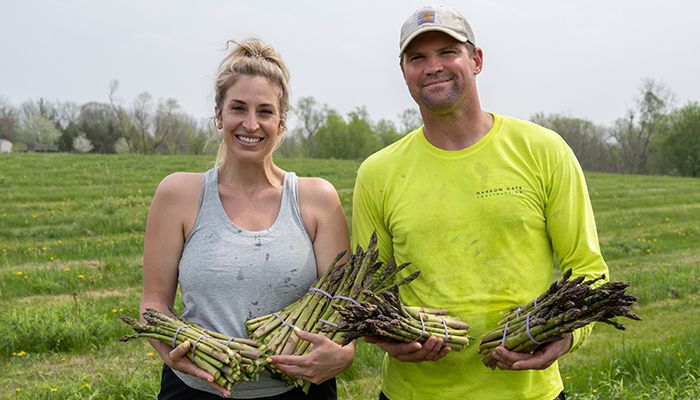 Julie and John Vanderpool were looking for a plot of land last year where they could build a new home. They happened across the perfect spot north of Mitchellville and east of Bondurant.

And it just so happened to have 8 acres planted with asparagus — a working farm for the past 14 years.

"This just fell into our laps and worked out perfectly," Julie said. "We had the opportunity to buy this asparagus farm, so we thought, well, why not?"
For Julie, it's a dream come true. She didn't grow up on a farm, and she and her husband co-own a busy construction company, Narrow Gate Construction. Their days are full, especially in the spring, and that's when asparagus grows in Iowa.

Yet as their three children have grown, Julie began searching for an additional challenge to sandwich in between kids' activities and work.  

Last year, she worked with the previous owners through their asparagus harvest, jumping in headfirst and contributing to the process.  

 "They showed me the ropes, how to bundle and what they do to harvest, process and get (the asparagus) into stores," Julie said. "So this will be our first actual year.

The cool, wet and windy weather this spring delayed what usually is an early and fast growing season for asparagus.  

The inaugural harvest didn't get underway until Mother's Day May 8, quite a few weeks behind schedule.

Asparagus harvest routinely runs through mid-late June in Iowa, when it's shut down to allow the plants to sit for the remainder of the summer. "(Experts say) they want the plant to be full grown for three months before frost," she said.
Despite a late start, the season looks promising. Julie ex­pects about 10,000 pounds of asparagus will be harvested over eight weeks, or roughly 180 pounds per day.

Julie sells to Fareway Stores in Ankeny, Grimes, Johnston, Urbandale and Altoona and to the Hy-Vee Food Stores in West Des Moines and Ankeny. They'll use Prudent Produce for farm-to-front door service as well.

"Any local grocery store loves to have a local farmer," she said.

Return to The Iowa Dish