New USGS tracking tool shows water quality gains in Iowa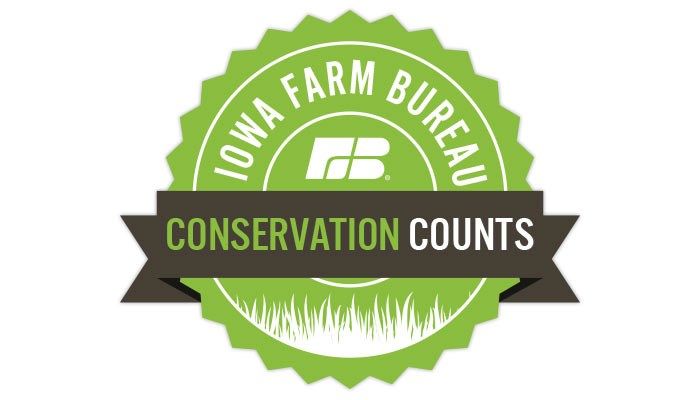 A new interactive tool developed by the U.S. Geological Sur­vey (USGS), which is designed to track long-term trends in surface water quality, shows a trend of steady to declining levels of nitrate and phosphorus in most of Iowa's monitored rivers and streams during the decade ending in 2012.
"The new USGS tool clearly shows that the work by Iowa farmers to reduce nutrient losses produced positive trends in the 10 years leading up to 2012," said Rick Rob­in­­son, Iowa Farm Bureau en­­vironmental policy advisor. "And with the implementation of Iowa's Clean Water Initiative in 2013, we've seen more and more farmers in the state step up to the challenge of improving water quality through a whole range of science-based practices."
A long-term perspective
The new USGS internet-based tool combines information on water quality collected by a range of groups, including the USGS and the Iowa Department of Natural Resources. It is designed to provide a look at changes in the quality of water in rivers and streams in the four decades following the passage of the Clean Water Act in 1972, the agency said.
While data are limited for the decades prior to 2002, it is robust during the decade after with dozens of monitored sites.
Iowa's monitoring sites are spread all over the state and include sites along the Raccoon, Des Moines and Cedar rivers.
The testing from those sites for the 2002 to 2012 time period shows:
• Nitrate levels were rated as trending steady to lower in 18 of 22 Iowa sites tested.
• Phosphorus levels were rated as trending steady to lower in 23 of 25 sites tested.
Indeed, only five Iowa sites showed up as "somewhat likely up" or "likely up" in the surveys for either nitrates or phosphorus.
The overall impression one gets from the USGS interactive map is that trends were moving in the right direction prior the state's Clean Water Initiative, said Farm Bureau's Robinson. "There is clearly more work to be done, and there can always be weather-induced spikes in the short run, but these results, along with the trends we have seen since 2012, make it clear that farmers have stepped up to improve Iowa's streams, rivers and lakes."
The USGS study is one of several studies that cite improvements in water quality in Iowa.
A recently released summary of annual monitoring results by the Iowa DNR showed that 75 percent of untreated water in Iowa streams meets or exceeds the Environmental Protection Ag­­ency's 10-parts-per-million nitrate safety standard for finished water.
After testing more than 14,000 river water samples the last 16 years, reports from the DNR show that only about 10 percent of the untreated stream water exceeded the EPA drinking water standard and that median nitrate concentrations ranged from 2.8 to 7.3 parts per million. The trends stayed low, despite temporary, weather-induced spikes that can occur during heavy rainfall events.
There is also plenty of evidence that Iowa farmers are taking steps to improve water quality through the Clean Water Initiative, officially known as the Iowa Nutrient Reduction Strategy.
Billions invested
A recent Iowa State University survey found that farmers have invested $2.2 billion in conservation in the last 10 years, too.
The same survey shows moderate-major increases by farmers in adopting precision fertilization programs, building conservation structures and fine-tuning nutrient management practices. Another report from Iowa Learning Farms found that farmers planted nearly 630,000 acres of cover crops in 2016, up from only 10,000 acres in 2009. Now farmers are shifting more of their attention to installing edge-of-field practices, such as bioreactors, saturated buffers and wetlands.
"That's why funding the Iowa Water Quality Initiative is so important," Robinson said.
The USGS said the "likelihood-based approach" used in the interactive tool helps to more accurately characterize trends in water quality, instead of a simple snapshot. The approach, the agency said, provides more evidence of a growing problem or initial clean-up successes, it said.
The interactive map can be used to look at water quality measures beyond nutrients, including pesticides concentration and aquatic-life metrics, like the types and numbers of fish. In all, some 1,400 sites were monitored nationwide between 1972 and 2012.
Want more news on this topic? Farm Bureau members may subscribe for a free email news service, featuring the farm and rural topics that interest them most!