NW Iowa dairy farm thrives on family teamwork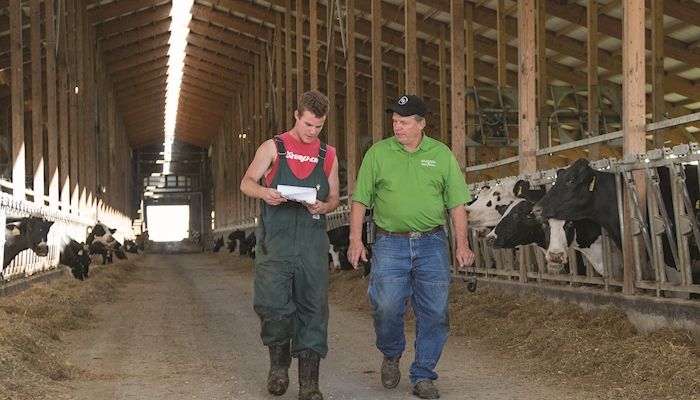 Working side by side with family has always been a part of Maassen Dairy's history.
"Our family has always worked with family," Lee Maassen, owner of Maassen Dairy in Maurice, said. "That teamwork gives us a lot of synergy."
Lee Maassen works with his three sons on the family's dairy farm in Sioux County. Before that, Lee's father, John, worked with his father.
Like most Iowa dairy farms, the northwest Iowa dairy has always been a place that has supported these partnerships. And through the years, the farm has expanded to accommodate the next generation.
Maassen Dairy began with 15 head of registered Brown Swiss cows. Lee's grandpa, Teunis, em­­igrated with his parents from Holland in 1902. Lee's father, John, was born in 1921 and would partner with Teunis to raise the first 15 head.
Lee joined the farm after graduating high school in 1972 and married Emily in 1974. Lee and Emily raised four children: Aaron, Adam, Stefan and Stacy.
By the late 1970s, the farm had expanded to 100 head and switched its focus to Holsteins.
In 1980, the family moved the dairy from the home farm to a location down the road, where it sits today, and grew to 250 cows. The farm doubled in size to 500 head in 1993 and grew again to 750 cows by 2003. By 2007, Lee's brothers Terry and Marvin left the family's business, making room for Aaron, Adam and Stefan to return to the farm.
In 2014, the family added a free-stall barn and a double-20 parallel milking parlor. This allowed them to double their herd size.
Today, Maassen Dairy employs 18 workers (besides family) who care for and milk about 1,500 cows. Each cow produces nearly 95 pounds of milk per day.
Adjusting to dairy prices
Though dairy prices have come down from the Class III milk futures of $24.43 per hundredweight in 2014 to around $13 per hundredweight, Maassen said his family has seen lower milk prices before. And they're making adjustments.
"We've really become conscious of the inputs and making sure that what we're buying is a necessity," he said.
He said in times of lower milk prices, the family really tries to become the "bargain buyer" in sourcing alternative feedstuffs to feed their cows. But really it means an extra focus on forage production.
"It means we do the best job we can in raising high quality forage," Maassen said. The family raises all of their own forage for their cows.
Maassen said hedging last year helped them avoid the bottom milk prices, and he thinks the market has hit its low.
"There's an optimism of profit over the next two years," Maassen said. "But we might not see it as high as 2014, though."
Belief in conservation
Maassen is a big believer in conservation projects and is providing 20 acres to use in a demonstration project that looks specifically at how manure applications fit with cover crops and the effectiveness of injecting manure with knives that minimize soil disturbance.
The five-year project, which was chosen by the Iowa De­­partment of Ag and Land Stew­ardship (IDALS) as part of efforts to implement the Iowa Nutrient Reduction Strategy, is also studying crop rotations, silage production and other ag­­ronomic practices.
"We want to show the EPA and the public that we're good stewards, that we strive to do the best job we can for water quality," Maassen said.
But it's also an outreach effort to other farmers who are interested in cover crops and water quality, he said.
This isn't the first project Maassen and his sons have delved into. They have already incorporated several conservation practices into their farm, including cover crops, terraces and grass waterways. Those efforts have improved soil health, stemmed erosion and reduced the loss of nutrients into surface water, he said.
Caring for cows
Maassen Dairy has also looked at its practices on the dairy farm and worked to recycle the sand and water the farm uses. They've installed a sand lane, which uses a four-cell systems to reclaim and recycle the sand bedding for the cows.
"Before we were applying sand and manure, and the sand was a cost that we couldn't recover," Maassen said. Though the sand didn't hurt his fields, higher prices of sand mostly due to higher freight costs were an added expense that the farm couldn't recover in nutrient use.
Through an intensive process of clearing sand-bedded stalls, then flushing the sand with water, drying it out, then reusing the clean sand again for bedding, Maassen Dairy is able to save on sand and freight.
They were awarded a grant for this "green energy" project through the state.
Consumer outreach
It's not uncommon for Maassen Dairy to host tours at the farm. They welcome the opportunity to teach others about what they do in Sioux County.
"Educating consumers is im­­portant," Maassen said. "Many people have this idea of the nostalgic family farm of 20 years ago, but we like to explain that this farm is just four family farms in one."
Want more news on this topic? Farm Bureau members may subscribe for a free email news service, featuring the farm and rural topics that interest them most!