Making it 'cool to be a cowboy'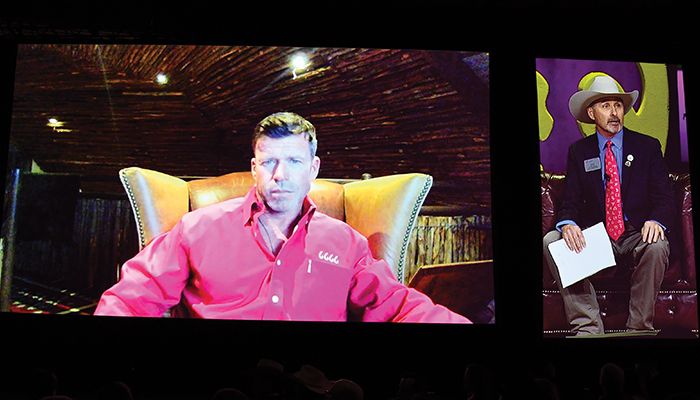 Agriculture's representation in entertainment tends to fall into two stereotypes — the "old-time" farmer or the "evil" farmer. So for many, it was a breath of fresh air to see a more accurate portrayal of life on the ranch when the series "Yellowstone" made its television debut in 2018.

The modern-day Western stars Kevin Costner as John Dutton, patriarch of the Dutton family and owner of Yellowstone Ranch in Montana.

When it comes to caring for livestock out West, show creator Taylor Sheridan wanted it to be as true to his own experience as possible.

"There are people who don't have any idea where their food comes from. Their notions come from whoever they've been talking to or listening to," Sheridan said during his keynote address to the 2023 Cattle Industry Convention recently in New Orleans.


Ranching background
Sheridan grew up a sixth-generation rancher in west Texas. His family raised cattle, show horses and cotton. The other side of his family is heavily involved in law enforcement. These two backgrounds inform his creative endeavors.

"Ranching is a lifestyle that teaches countless lessons and helps feed your family and others," he said.

He now splits time between the ranch and Hollywood, where he is the creator of a number of TV series including "Yellowstone" and its spin-offs "1883" and "1923."

Sheridan said farming and ranching are misunderstood. His background sets him apart from many in Hollywood because he and his family have feet planted firmly in both the ag and entertainment worlds.

"My thinking was if someone can make it cool to be vegan, I can make it cool to be a cowboy," he said. "So I created a show that's an entertaining version of real issues the cattle industry is dealing with."

He shared that after the success of "Yellowstone" — currently, one of the most watched series in the U.S. — he planned to retire to his ranch and raise his kids the way he was raised, working with cattle and horses and learning the lessons of survival that are missed in city life.

But that all changed a few years ago after he spent a several months shooting "Yellowstone" at the renowned 6666 Ranch (pronounced four-sixes) in Texas.


Saving a legacy
After getting to know the family and shooting extensively on the working ranch, the matriarch of the family passed away. Her will stipulated that the ranch should be sold with the proceeds going to her children.

Sheridan said it was possible the ranch would be broken up and sold off in pieces, ending a legacy that had stood for more than a century.

"I was afraid if I didn't buy it, it wouldn't exist anymore," Sheridan explained.

The problem was the price tag of the ranch was about $350 million.

So he started looking at his options. One place he could use his talents to make some extra money was through making TV series.

He went to Paramount, the studio that owns "Yellowstone" and Sheridan's other series, and signed a deal that committed him to working exclusively for the studio for the next several years, creating movies and TV shows for their networks and platforms.

After locking in the money from his deal with Paramount, and bringing in investors, Sheridan was able to purchase the 6666 Ranch.

He said, thankfully, he and the ranch managers were on the same page going forward so he was also able to keep the existing staff, assuring continuity.

A change he has brought to 6666 is a new focus on direct-to-consumer sales of beef from their purebred Black Angus herd. He also added breeding ranch horses to the business, a personal passion of his.

Finally, owning the ranch gives him the opportunity to further highlight what really goes on in Texas agriculture by allowing film crews to use his facilities to make other movies and TV shows.

"I'm a big believer in education," Sheridan said. "I feel like we're in a very polarized period in this country where everyone's talking and no one's listening. We're faced with bad science that says cow belches will kill the world. So if there's anything I can do to offer a different perspective, I want to do that."