Livestock farmers say building relationships with neighbors, local communities is vital today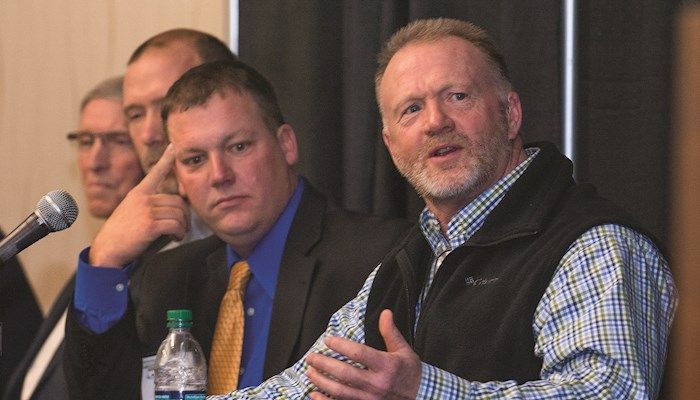 The act of being a good neighbor comes in many different forms, a panel of farmers told an audience at the Iowa Farm Bureau annual meeting last week in Des Moines.
While some reach out to their neighbors with holiday hams, others are the first to move snow or volunteer in the community. No matter the action, the farmers, who have all received the Wergin Good Farm Neighbor Award from the Coalition to Support Iowa's Farmers (CSIF), said being a good neighbor is about showing you're a good neighbor, not just saying you will be.
Farming has changed since cattle farmer Brian Sampson got started farming near Nevada.
"Back then, I never knew anyone was watching … I never thought about it (neighbor relations)," he said. "Nowadays, it's different."
Different because fewer people farm in the area; therefore, neighbors and passersby have more questions about agriculture.
Know your neighbors
Sampson said being a part of the community and talking to neighbors is critical. He said he pays more attention to what things look like on his farm.
"We live on a busy road, and people will actually comment to me that they enjoy going past our farm because we're always doing something," he said.
Sampson said he makes time to answer questions from neighbors, especially those who aren't familiar with agriculture. He extends an invitation for Iowa State University students and other groups to visit his farm.
Jason Russell, a hog, sheep, and grain farmer near Monticello, said a little neighborliness can go a long ways.
He's one of the first to provide snow removal services for neighbors. He also shares pork products with neighbors around the holidays.
Showing pride in ownership is important, he added.
"Put a sign up that says this is mine, I'm happy to work here every day. You have to make it look good," Russell said.
It's important to keep livestock sites as tidy and nice as possible, Russell said. He and his family have added trees to their barn sites and paid attention to landscaping. Paying close attention to landscaping matches the care they take for their animals, Russell said.
"If it looks good on the outside, they're going to assume it looks good on the inside," Russell said.
Mike Paustian raises hogs and crops near Walcott. A close neighbor to the farm is the World's Largest Truckstop. Paustian said the key to having this business as a neighbor is working closely with its owners, whom he's known for several years.
Paustian recommends farmers talk to their neighbors about their plans for building or expanding.
"The best thing we ever did was talk to all of our neighbors before one shovel full of dirt left the ground," Paustian said.
Addressing concerns
Paustian said it's best to ad­­dress a neighbor's question or concern as soon as possible.
"We found out a neighbor nearly two miles away was upset about smelling manure. We're not even sure if it was our farm that he smelled, but we dropped everything — in the middle of harvest — and talked to our neighbors. It wasn't the first thing we wanted to do during the busy season, but it wasn't something we wanted to let go, either," he said.
The willingness to help neighbors and the realization that neighbors might not understand agricultural practices are both important, Paustian said.
"You can't tell people you're going to be a good neighbor, you have to show them," he said.
Keith Troyer and his son Greg raises turkeys and pigs near Kalona. Maintaining a positive image is important, Keith said. A road runs through the middle of their farm, so they recognize people are always around, always watching.
Seemingly simple things like waving to passersby can make a difference, Keith said. Greg said they respect organic farmers that farm close to their fields and leave a buffer strip so they don't accidentally spray chemicals on other fields.
The Troyers said they are phasing out the use of the farm's lagoon and adding a building with a deep concrete below the building instead. They've also added a solar array to the farm.
"It presents a good image and reinforces the idea that we're trying to do good things," Keith said.
Keith has also grilled turkey and other meat for events in the county. He says talking to consumers and telling them about his farm helps clear up misconceptions.
"People get to know me as a farmer," Keith said.
Have questions about neighbor relations? Call the Coalition to Support Iowa's Farmers at 1-800-932-2436.
Want more news on this topic? Farm Bureau members may subscribe for a free email news service, featuring the farm and rural topics that interest them most!