Linn County member Jason Russell sees Farm Bureau as a strong voice for Iowa agriculture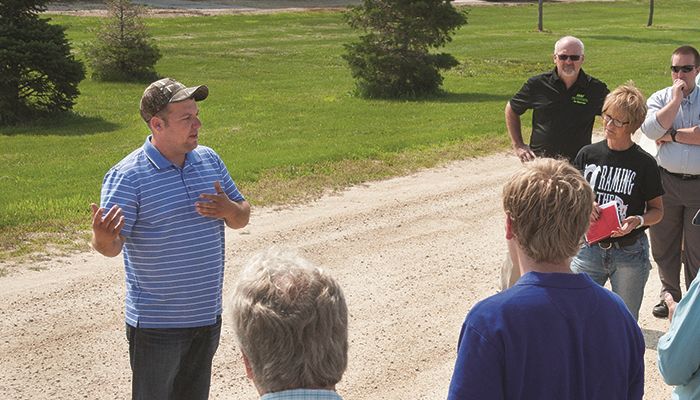 As a sixth generation farmer, agriculture has been a huge part of my family for over a century, and nothing is more important to me than ensuring our family farm will be there for future generations.
As Iowa's population has steadily shifted from rural areas to urban centers, Iowa Farm Bureau has been a steady voice and advocate for rural Iowans at the local, state and national level.
I have been a proud Farm Bureau member for nearly 20 years, and the value of membership can't be understated.
For the past several years, I have been actively involved in the grassroots policy process. I have held the positions of vice president and president of the Linn County Farm Bureau, and have also served on the Iowa Farm Bureau resolutions committee. Currently, I am serv­ing as the county voting delegate and represent Linn County during the yearlong policy setting process.
The leadership training opportunities provided by Farm Bureau have helped me grow as a county board member and farm operator. The Iowa Farm Bureau Young Farmers program, for farmers 35 and under, was a tremendous resource for me as I started farming full time.
Competing in the Young Farmer Discussion Meet provided a great opportunity to debate critical agricultural issues with other young farmers, which helped me become much more comfortable talking about the important ag issues of today.
Additionally, I am a graduate of Farm Bureau's Ag Leaders Institute and a F.A.R.M. (Farmer Advocates Reaching Mainstreet) Team member, two excellent training programs that have helped me become a more effective communicator and advocate for agriculture.
As I've grown as a member and as a leader, Farm Bureau has provided countless opportunities to share our story. Each year, Farm Bureau leaders have the opportunity to meet with their elected officials in Des Moines and Washington, D.C., to share how policy will impact family farmers.
On many occasions, I've opened up my farm for tours and conservation field days to showcase conservation practices and talk about row crops and livestock care to consumers of all ages. It's important for today's farmers to share their story with consumers, and Farm Bureau is instrumental in providing a voice for Iowa farmers and rural Iowans.