Learning in the field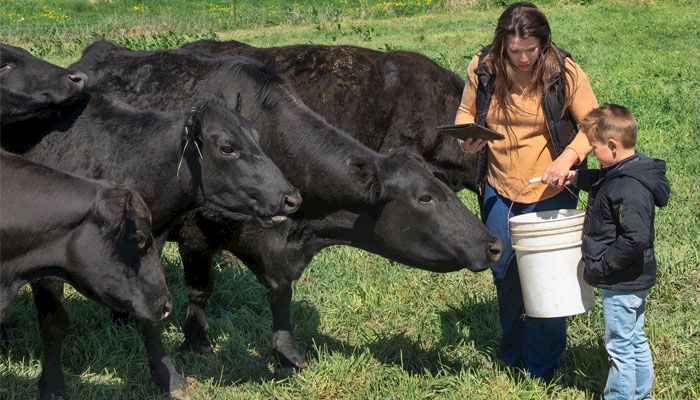 County Farm Bureaus offer online videos and lesson plans to keep kids learning about ag when school is out.
Trish Hafkey has a bottle calf in the barn and eggs incubating on the kitchen counter. She's the new emergency home school teacher for one child and daycare provider for a toddler. In between, she's adjusting to working from home in her job as Agriculture in the Classroom coordinator for Jasper County Farm Bureau.
These days, that job requires imagination and creativity to deliver ag education virtually rather than in person.
"Spring is the time of year when I would normally be doing a lot of field trips and classroom visits," says Hafkey. "Seed germination, chick hatchings, it's a big time for in-person, hands-on lessons and activities. That isn't happening this year."
What some would see as constraint, Hafkey and others in ag education around the state see as opportunity. Using a combination of video apps, social media posts, website downloads and mailed activity kits, they are reaching students with ag's message — in constantly expanding new and creative ways.
"We're always changing to meet teachers' needs," says Hafkey. "This is just one more way we can still provide content through the framework we already had."
Jasper County is an active presence for Iowa Agriculture in the Classroom, offering online resources to back up hands-on activities. Lessons are aligned with Common Core standards for maximum educational benefit, using curriculum generated by National Agriculture in the Classroom and the Iowa Agriculture Literacy Foundation.
Lesson plans come with insight and tips from the Iowa Agriculture Literacy Foundation (IALF). Part of a national network, IALF provides Agriculture in the Classroom resources in an easily accessible digital format. Its goal is to increase understanding of the science, engineering, technology and mathematics of agriculture and natural resources preservation within the context of food production, consumption and health.
"We provide online modules that teachers can easily copy and paste into their school's system," says Will Fett, IALF executive director. "We integrate the science and social studies of agriculture with reading and math, and make it all align with Common Core curriculum standards. Teachers now have to teach in a new environment. So how do we make it easy for the parent without education training working from home with little time for home schooling?"
IALF also has modules students can access directly, and in some areas of the state, carry-out school lunches come with a book or activity sheet with an ag focus. Live broadcasts every Friday take kids on a new field trip to a farm or ag business.
"It just makes sense to use ag as the context for education," adds Fett. "We have so many wonderful examples right outside our back door."
In Jasper County, students re­­ceive an educational activity pack­et in the mail each week. The "Chick Incubation" packet contains a paperback copy of "My Family's Egg Farm" (there's also a digital version online), an "Iowa Ag Today" reader with stories on food and nutrition, ag products and careers, as well as a comparison of what people eat around the world.
There's an activity for younger kids to cut out pictures of chicks in various stages of the 21-day incubation cycle and attach them to a turning paper plate, and a matching game about eggs.
Hafkey says the packets are a hit, giving kids something to look forward to in the mail.
The packet also contains information on how farmers care for hatched eggs and other animals, and an online video, produced by high school interns, features a live hatch.
"The videos are great," says Hafkey. "They are posted on Facebook and the viewer can ask questions at the time or post them later."
The videos are also backed up by information on the Jasper County Farm Bureau website. "If the video tours a hog farm, kids can go to the website and download a copy of 'My Family's Pig Farm' and other activities to go with it."
Hafkey says website traffic has increased 195% in the weeks videos are posted, with 60% of website traffic coming from Facebook. The live activity videos have registered 150 to 350 views each, and the last two field trips have generated 750 and 1,900 views respectively.
"I think that's fantastic for a county with no large metropolitan area and a population of around 37,000. We have seen our estimated reach for online content reach more than 7,000 with 1,600 engagements in our content."
Hafkey sees the potential to use the digital metrics to prove her program's worth.
"I can use that data next fall to show the value of our program to teachers and schools," says Hafkey. "We can break it down to how many students of each grade level benefited, and how teachers used the materials to meet curriculum standards."
Jasper County isn't the only county Farm Bureau taking advantage of the digital movement.
Cass County's planned egg hatching classroom activity became an online experience. The first chick hatched May 11, and daily Facebook updates have 711 followers.
East Pottawattamie County posts IALF lessons live on Facebook a couple times a week.
Ag in the Classroom coordinators in Boone, Polk and Story counties have joined forces to create a Central Iowa AITC Facebook page. New lessons are posted daily, Monday-Thursday, and are shared on the county websites and Facebook pages as well as the joint one.
In Scott County, Ag Education Coordinator Rebecca Vanderheiden creates and posts original content on the River Bend Ag in the Classroom Facebook page to add to the story.
Buchanan and Delaware counties utilize Facebook to reach their audience, and the Linn County Education Outreach website takes people to a goat farm and answers questions like "Why are there floor slats in pig barns?" Like other counties, it provides links to Ag in the Classroom resources as well as a virtual ag classroom. Recent multi-faceted programs focused on pizza, transportation and four-legged farm friends.
In Adair County, Farm Bureau channels its education funding through Ag 4 All, a collaboration with local ag groups and businesses. An army of volunteers visits schools and creates hands-on activities for community celebrations, as well as regular Facebook posts.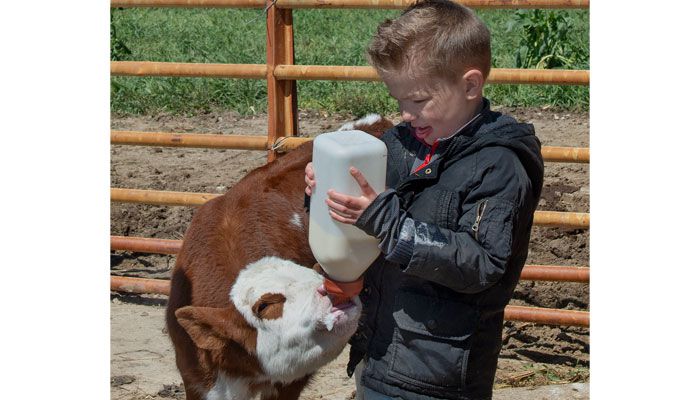 They recently posted their first live video in March — weighing and tagging a newborn calf — that yielded more than 8,500 views.
"The cool part for Ag 4 All was our budget really limits us to only reaching kids in Adair County schools," explains Deb Hall, Ag 4 All Program coordinator. "The live videos let us reach families outside of Adair County and all over the state and nation. We had one grandmother from Ohio say she needed a larger computer screen because all three of her grandkids wanted to be the closest."
Most local ag education programs are funded by the local county Farm Bureau. Commodity groups and the Iowa Farm Bureau Federation provide funding for the Iowa Ag Literacy Foundation and specific efforts like the "My Family's Farm" book series, heavily used by county ag education coordinators.
"There's a learning curve in this, for all of us," says Hafkey. "Some of it is trial and error. But we'll keep doing whatever it takes to reach kids with ag's message."
Queck-Matzie is a freelance writer from Greenfield.
Want more news on this topic? Farm Bureau members may subscribe for a free email news service, featuring the farm and rural topics that interest them most!