Leading in conservation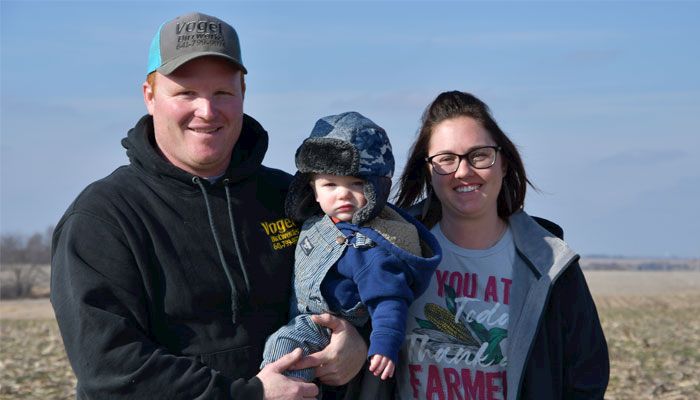 Conservation practices on the farm aren't only the right thing to do, according to Keokuk County Farm Bureau Member Ryan Vogel. It's also turned into a way for him to help others with their operations.
Vogel and his wife, Shelby, and brother, Austyn, and his wife, Katie, co-own Vogel Dirtwork LLC, which does custom tiling and terracing throughout south-east Iowa.
"I see a benefit to practicing conservation while farming," Vogel said. "I think the younger generation looks at the land differently than maybe our parents or grandparents did. I see this as something that could go away. I want it to be here for my son and for future generations."
In addition to his dirt work, Vogel has become a sort of local ambassador for on-farm conservation efforts. Across both his owned, as well as his rented, land, Vogel has undertaken a variety of conservation projects, including cover crops, no-till, Conservation Reserve Program enrollment, terracing, tiling and pattern tiling.
This year, he applied for a grant to build a bioreactor, and if the money comes through, he plans to construct it over the summer.
As past county president for Keokuk County Farm Bureau, Vogel uses his platform to encourage lawmakers, both in Des Moines and in Washington D.C., to fund on-farm conservation efforts.
The cost share programs, he said, are critical to get more buy in from farmers for things like cover crops, terraces or bioreactors.
"There are benefits to farming this way. But would cover crops, for instance, pay for themselves? I don't know." 
A family history 
Moving dirt is something Vogel has been into for a long time. His grandfather, Eugene Vogel, owned a bulldozer and built many terraces in the region over the years. 
Vogel learned a lot from his grandfather and, while in college at Iowa State University, he helped with his first major project, a pond installation.
After graduation, Vogel rented his first 120 acres of cropland from a family friend. At the same time, he invested in a bulldozer and began doing dirt work. 
A busy schedule
He now works several acreages with his two brothers (Austyn and Andy), employee Nathan Arendt, and dad and mom (Doug and Leesa).  He also raises cattle and hogs and helps run the earth moving business. Plus, he has a one-year-old, Leo, at home.
Vogel said he's proud of the business, and the family, he's building in Keokuk County. 
"We're really trying to grow something here," he said. "In farming, you're just always scrambling to do the best you can with what you've been given. That's what we're trying to do."
If he is able to build a bioreactor, Vogel said he plans to host a field day to show the value of the project to others in the community. 
Along with planting season around the corner, that should keep him busy for the foreseeable future — just the way he likes to be.
Want more news on this topic? Farm Bureau members may subscribe for a free email news service, featuring the farm and rural topics that interest them most!