Joe Heinrich re-elected Iowa Farm Bureau vice president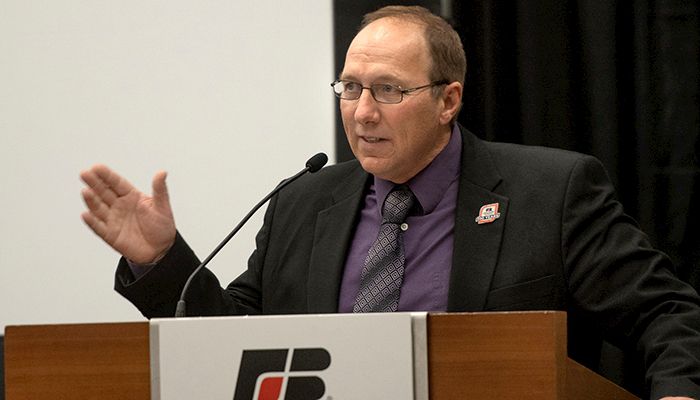 Winneshiek and Sioux County Farmers Elected to State Board of Directors, Buskohl Re-Elected
Joe Heinrich of Maquoketa was re-elected vice president of the Iowa Farm Bureau Federation (IFBF) for a two-year term at the organization's 100th annual meeting in Des Moines. Heinrich has served as IFBF vice president since 2011.
Heinrich, a Jackson County farmer, farms with his family, including his wife Shelley and a nephew. Together, they have a diversified farming operation including corn, soybeans, oats, and hay. They also have a beef cow-calf herd and a dairy operation. Heinrich was first elected to the IFBF board in 2004, representing District 6, prior to his service as vice president. Before his election to the state board, Heinrich served as Jackson County president, vice president, voting delegate, young farmer chair, and served on the state internal study committee.
IFBF delegates also elected Randy Brincks of Winneshiek County as District 1 director and Matt Schuiteman of Sioux County as District 3 director. Mark Buskohl of Grundy County was re-elected as the District 5 director. Brincks succeeds Carlton Kjos of Winneshiek County, who retired after serving as an IFBF district director since 2006, and Schuiteman succeeds Phil Sundblad of Buena Vista county who retired after serving as an IFBF district director since 2000. The directors were elected to serve a three-year term.
Brincks farms with his wife, Mary, on their family farm near Ossian, and will represent 11 counties in northeast Iowa. Brincks grows corn, soybeans, and alfalfa and also finish beef cattle and farrow-to-finish feeder pigs.
Brincks has been an active member of the Winneshiek County Farm Bureau holding all positions on the county board of directors, chaired numerous county committees, and is a graduate of the IFBF Ag Leaders Institute. Additionally, Brincks has served as president of the Upper Iowa Co-op and is a member of the Quality Pork Marketing Group, Winneshiek County Pork Producers, and serves on the 4H County Youth Committee board. The Brincks have a daughter and four sons.
Schuiteman and his wife, Minde, farm with Matt's parents just east of Sioux Center, and he will represent 12 counties in northwest Iowa. The Schuitemans grow corn and alfalfa and have used cover crops on the farm since 2005. The Schuitemans also farrow and finish sows, custom feed isowean pigs, and have a cow-calf herd of registered Shorthorn and Shorthorn plus cattle.
Schuiteman has served in many leadership positions within the Sioux County Farm Bureau and IFBF including: holding county board member positions, chairman of the IFBF Young Farmer Advisory Committee, IFBF Legacy Planning Committee, IFBF Internal Study Committee, and is a graduate of the Ag Leaders Institute. Additionally, Schuiteman is a graduate of the Leadership Iowa program, current chairman of the Sioux County 4-H Committee, and past president and current member of the Sioux Center FFA Alumni chapter. The Schuitemans have seven children.
Mark Buskohl was re-elected to represent District 5, comprised of 11 counties in central Iowa. He was first elected to the state board in 2012. Prior to serving as District 5 director, Buskohl held various leadership positions within the Grundy County Farm Bureau including county president, vice president, voting delegate, AFBF voting delegate, internal study member, and served on various state committees. Buskohl and his wife Nancy run a diversified farm consisting of a cow/calf herd, cattle feedlot, hog finishing, flock of sheep, corn, soybeans, and hay.
Nine delegates were elected to represent Iowa at the American Farm Bureau Federation (AFBF) Annual Convention in New Orleans, January 11-16. They include: IFBF President Craig Hill of Warren County; IFBF Vice President Joe Heinrich of Jackson County; Will Frazee of Montgomery County; Neil Shaffer of Howard County; Jason Russell of Linn County; Gary Langbein of Sac County; Rebecca Dostal of Tama County; and Rachel Fishback of Washington County.
Brian Feldpausch of Grundy County and Bryan Reed of Monroe County were elected to the IFBF internal study committee. The internal study committee serves as a liaison between the county Farm Bureau voting delegates and the state board of directors.