Iowa's wine culture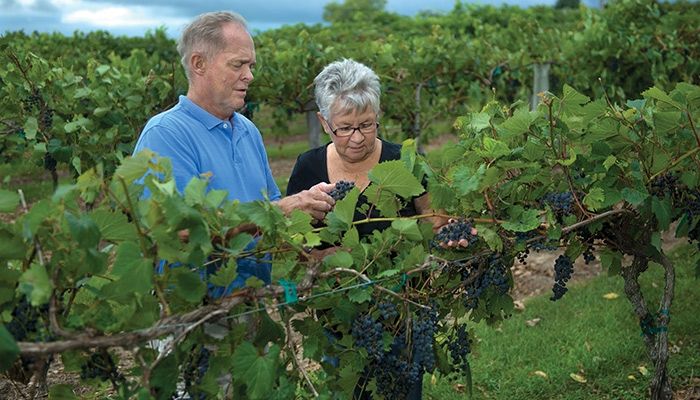 The history of wine-making spans many different cultures and goes back to a time pre-dating Ancient Greece. So it should come as no surprise that wine — especially wine made from grapes — remains a popular drink for many people worldwide.
When compared to other states and countries, Iowa's wine-making history is clearly more recent. In 2000, there were only about 30 acres of commercial grapes in the entire state, but that would soon change. A 16-year period of growth was about to begin.
According to Michael White, a viticulture specialist with Iowa State University Extension, there are currently 104 commercial wineries and 267 commercial vineyards, covering approximately 1,100 acres, in Iowa. Over the last six years, in particular, the industry has seen a great deal of growth, and there are now wineries and/or vineyards located in just about every county in Iowa.
In fact, to explore what the Iowa wine industry offers all you need to do is get out a map and literally drive in just about any direction, as you will likely be close to one of the state's many wineries, like
Snus Hill Winery
and
Penoach Vineyard and Winery
.
"We opened the winery to the public in September 2006, but began planting grapes in 1999," says Chris Hudnall, co-owner and general manager of Snus Hill Winery near Madrid. "We grow approximately 10 acres of grapes, which are French-American hybrids that can handle our cooler climate here in the Upper Midwest."
Hudnall says winemakers in Iowa face the same challenges as other wine-growing regions, as they are constantly trying to find a balance between what customers like and expect from a local producer and what is actually possible given the state's climate and the types of grapes that can be grown here. For example, he says making a dry red wine, like you would find in Europe or California, has proven to be challenging in Iowa. However, they have found success with other types of grapes and currently grow six different varieties of white and three different varieties of red.
"Snus Hill has had success with white wine production, and I believe as this industry matures, the state will gain more recognition as a white wine producing region," offers Hudnall, who says Iowa's wine industry has benefitted from grape hybridization programs in New York and Minnesota that have created new cold-climate cultivars.
Penoach Vineyard and Winery loc­ated north of Adel also planted its first grapes in 1999, but they originally just sold grapes to other wineries. They transitioned to being a grape nursery, selling cultivars to other vineyards. It wasn't until September 2006 they opened the winery and tasting room, which is located in a re-purposed 1917 barn.
"There are really good people in the grape business here in Iowa," says Stan Olson, who owns and operates Penoach Vineyard and Winery with his wife, Joanie. "This isn't a get-rich-quick type of thing, because there is a lot of work and hours involved. It's nice being your own boss, though."
Stan says they currently grow eight different varieties of grapes on about 5 acres and they only use Iowa grapes to make their grape wines. And like Snus Hill and many other wineries today, they also offer people opportunities to not only sample their wines on site, but also enjoy music, special dinners and other events.
"One of the most surprising things of this business has been realizing that we're not just a place to buy wine, but a destination for people," offers Joanie, who says they offer events about every other week, April through October.
Granted, Iowa isn't like California's Sonoma County, or France, or any of the world's other top wine-producing regions that have become top tourism destinations. But many of the state's wineries boast award-winning wines, so Stan and Joanie Olson encourage everyone to take time to explore what the state has to offer.
"If a person is willing to open their eyes and palettes to something different, you can find some good wines unique to Iowa," Stan said.
Mark Yontz is a freelance writer from Urbandale.
find a winery
There are plenty of online resources for anyone interested in Iowa's wine industry, so visit any of the following sites to plan your next wine-themed adventure!
Heart of Iowa Wine Trail:
www.heartofiowawinetrail.com
Iowa Wine Trail:
http://iowawinetrail.com
Loess Hills District Wine Trail:
www.loesshillswinetrail.com
Northwest Prairie Wine Trail:
www.no­rth­westprairiewinetrail.com
Scenic Rivers Wine Trail:
www.scenicriverswine.com
The I-80 Wine Trail:
http://i80winetrail.com
Western Iowa Wine Trail:
www.westerniowawinetrail.com
Iowa Wine & Beer Promotion Board:
www.iowawineandbeer.com
Want more news on this topic? Farm Bureau members may subscribe for a free email news service, featuring the farm and rural topics that interest them most!