Iowa's best pulled pork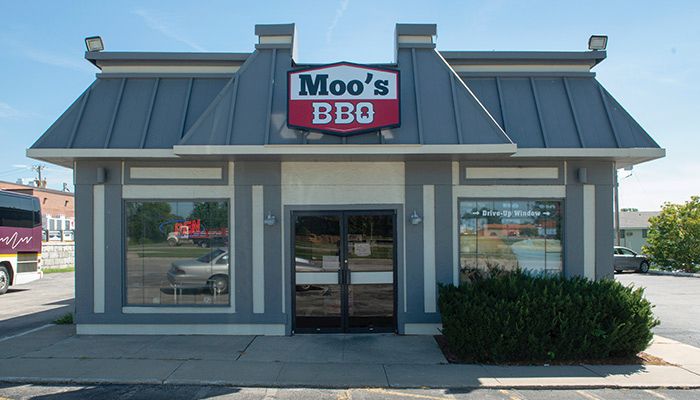 A little blues. A little barbecue. What better way to celebrate Pork Month than with Iowa's best pulled pork sandwich?
More than 6,000 votes were cast in the Iowa Pork Producer's Association Pulled Pork Madness Facebook competition last March, bestowing Moo's BBQ Burgers and Catering in Newton with the winning honors.
Take Exit 164 off of I-80, and you will find pulled pork that is sweet, tender, juicy and only one of many dishes on Moo's menu of smoked delicacies.
Moo's BBQ Burgers and Catering is owned and operated by Jeremy Biondi, who credits his local customers with his success.
"This community is incredibly supportive," says Biondi. "They've pulled me through some tough times."
Biondi was tired of juggling three kids and 12-hour days at a manufacturing job when he decided it was time to take his passion for barbecue beyond hobby status.
Biondi knows Midwesterners like their meat, and Moo's doesn't skimp on the protein section of the sandwich.
"I was tired of just brisket or just pork," Biondi says. So he often layers beef brisket on pulled pork like in the Moo sandwich, or the Barnyard sandwich piled high with pulled pork, brisket, chicken and bacon.
Burgers, too, use other meats like condiments. The Iowan, a one-third pound beef patty topped with pulled pork, smoked bacon and cheese, is the most-ordered sandwich on the menu. (The Barnyard comes in a close second.)
Moo's BBQ Burgers and Catering made the Top 10 in this year's Iowa's Best Burger contest sponsored by The Iowa Beef Industry Council and the Iowa Cattlemen's Association.
A "big blues guy" by his own definition, Biondi promotes the genre via the eatery's sound system.
Biondi even gives a nod to his musical passion through menu items like the BB King, a one-third beef patty with bacon mayo, cheddar cheese and four slices of bacon; or the Melody, a burger topped with bacon, pickles, white cheddar cheese and brisket.
There are also ribs, by the full or one-half rack. Side dishes include cheesy potatoes, smoked beans, jalapeno creamed corn, and bacon mac & cheese. And, of course, no barbecue is complete without cole slaw.
Biondi says he ran a Facebook survey last winter asking customers which sides he could cut out. The overwhelming response was "none."
To add to the flavor, meats are topped with a line of barbecue sauces named for fellow Newton business Bridgehouse Coffee Co., owned by a close friend. Biondi starts with a sweet sauce, then doctors it to taste adding peppers, and even coffee for a unique and popular taste.
Biondi starts with the highest quality meats he can purchase at a cost-effective price. His beef brisket and ground beef are Choice or Prime, processed at Iowa Premium Beef in Tama and sourced from a 50-mile radius of the plant. His pork is processed at the JBS plant in Marshalltown.
"I try to buy all-Iowa as much as I can," says Biondi, including bacon smoked in Moo's smoker to near-jerky texture.
Moo's uses two in-house smokers capable of slow cooking 400 pounds of meat at a time over hickory and cherry wood.
Like any small business owner, keeping costs down is key to survival. "My two greatest expenses are utilities and food waste," says Biondi. Large printed advertising banners cover the windows to keep the air conditioning bill under control. Wednesday $2 sandwiches make use of excess meat and provide a way to thank regular customers.
So for now, Biondi will concentrate on keeping his customers happy by serving the "finest smoked meats Jasper County has to offer" and backing them up with blues and sauce.
Queck-Matzie is a freelance writer from Greenfield.
Want more news on this topic? Farm Bureau members may subscribe for a free email news service, featuring the farm and rural topics that interest them most!