Iowa water quality funding on track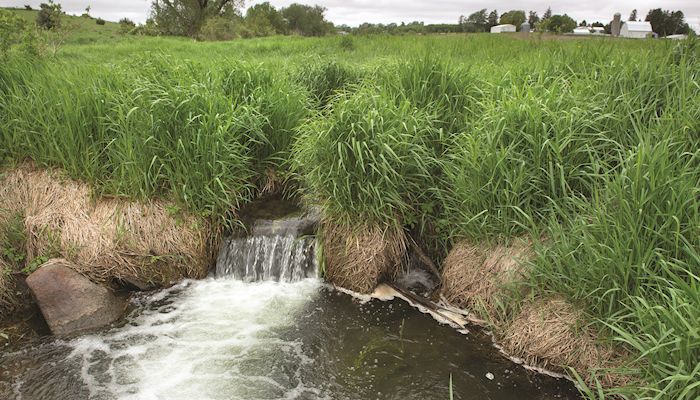 With the passage of Senate File 512, Iowa has taken its first step in creating a long-term, dedicated funding source for water quality. When fully implemented, it will add an additional $27 million per year to the $23 million already appropriated, much of it flowing in long established channels where it works alongside hundreds of federal, state and private employees and volunteers whose combined, rooted experience in conservation is measured in millennia.
Those who label the bill a facade evidently feel all these folks have been window dressing. As a farmer and commissioner on the Madison County Soil and Water Conservation Board, I can assure you they haven't been.
Non-point sources (agriculture) will eventually receive $15 million per year. Another $12 million per year will go to point sources, where it can be directed to rural and urban watershed projects, storm water projects, etc. While considerable conversation has taken place on how water quality should be funded, I think of the Conservation Districts of Iowa, representing our Soil and Water Conservation Districts (SWCD). They supported both Senate File 512 and the Natural Resources and Outdoor Recreation Trust Fund. Evidently, they don't think water quality needs to be a partisan issue.
Discussion was held on accountability. How do we measure progress? For as much publicity as the Iowa Nutrient Reduction Strategy gets, its guidelines for measuring progress aren't as well known. The partners who developed the strategy opted for a "logic model." It looks at a complex issue, with all kinds of moving parts, and charts a way forward to measure progress.
It does it by working backward from the goal of improved water quality. In order to change water quality, we must make changes on the land. In order to change the land, we must change human behavior. The most effective way to change is to utilize both public and private inputs.
The time required to get to our end goal — improved water quality — varies by the area we are dealing with. In a HUC 12 watershed, consisting of 10,000 to 40,000 acres, science suggests that measuring progress on water quality alone might take 10 to 20 years.
Imagine the time on watersheds hundreds of thousands of acres in size. Science seems to indicate that our long-term goal might not be our best short-term metric to judge progress by. What should be?
The logic model suggests measuring funding, the efficiency of the agencies involved, the number of participants, their attitudes and knowledge, their willingness to work together, changes in land use, and physical conservation practices on them. They are all indicators of progress. They are all already being measured.
Part of the opposition to Senate File 512 essentially argued that if we don't measure what can't yet be measured, we shouldn't take a step at all.
Additional conversation included watershed groups. Madison County offers several examples.
One is a long-standing, producer initiated effort that has lasted for decades and receives priority funding. One is a newer, local effort that I hope springs up collaboratively with all invested parties. We are also part of a large one, which had a meeting that had a large attendance representing municipalities, counties, SWCDs, private industry partners and elected officials. The only farmers there were by happenstance, filling a role already mentioned above. Agribusinesses were absent all together. Missing that key component, responsible for the land and funding needed, gave it a feel of trickle-down conservation. I hope it loses that.
Some critical of the bill have already labeled the innovative Iowa Nutrient Reduction Strategy a failure. This is like your neighbor being given a new car with all the latest navigational bell and whistles to take him where he wants to go. The car sits in his driveway, though, and he complains it's a lemon. It sits there because he won't put fuel in it.
Senate File 512 is a positive step forward to put some more gas in the tank.
Hanrahan is a member of the Madison County Farm Bureau.
Want more news on this topic? Farm Bureau members may subscribe for a free email news service, featuring the farm and rural topics that interest them most!