Iowa farmers are stepping up to improve soil health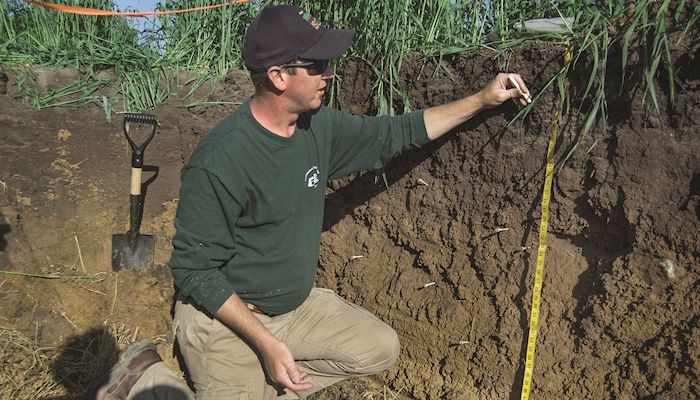 Mark Mueller talks easily about all of the agronomic benefits he's noticed since he started planting cover crops on his Bremer County farm — excellent weed control, a new revenue opportunity and, hopefully in few years, improved crop yields.
After an hour or so of fielding questions from fellow farmers at a recent field day sponsored by the Soil Health Partnership, his passion for conserving the soil that provides a living for his family spills out — despite, he says, a promise to his wife that he wouldn't "preach" to the crowd. His talk culminates with a history lesson about the Fertile Crescent, the region where the Middle East's first settled agricultural communities are thought to have originated and now a region of great conflict.
A great natural resource
"Civilizations have been lost because they lost the ability to feed themselves," Mueller said. "We've got a great natural resource here. We've got to do something to preserve this precious resource while it's still around."
The majority of Iowa farmers share Mueller's sentiments about the importance of soil health, according to the Iowa Farm and Rural Life Poll conducted by Iowa State University.
In 2015, the poll found that 72 percent of farmers surveyed have paid more attention to soil health in recent years and 76 percent have taken measures to improve soil health. Also, 93 percent of farmers surveyed agreed that healthy soils can lead to increased crop yields, 77 percent said healthy soils can increase resilience to drought conditions and 75 percent agreed that healthy soils can reduce crop input needs.
Interest in soil growing
"Iowa farmers are paying more attention to soil health, and report that they are taking steps to improve it," said J. Gordon Arbuckle, associate professor of sociology and extension sociologist for Iowa State University Extension and Outreach. "That said, most farmers would like to learn more about how to manage for soil health. I think there's a demand for more research-based information on soil health."
The Soil Health Partnership, a project of the National Corn Growers Association, was created to help farmers identify, test and measure farm management practices that improve soil health and provide environmental benefits.
Mueller's farm is one of 21 Iowa test sites in the program, which has a total of 68 sites across eight Midwestern states. At each site, farmers have eight test strips where they compare their normal farming practices to some kind of "active management" aimed at building soil health.
Mueller says he's already noticing several benefits from the rye cover crop strips, including superior weed control.
"The rye chokes out all of the broadleafs," he said. "I won't have a weed problem in the strips. The bare earth has had more weeds than the rye by far."
The rye cover crop, which stood nearly 2 feet tall before it was terminated this spring, also helps scavenge nitrogen and break up compaction, Mueller said.
Neil Sass, an agronomist with the Natural Resources Conservation Service, found cover crop roots as deep as 36 inches below the surface in a soil pit dug in Mueller's field. "A good thing we can do (to assess compaction) is follow the root trail," Sass explained. "It goes down until it hits a hard spot, and then it goes sideways."
Holding onto nitrogen
The cover crop roots also tie up nitrogen in the soil during the winter and early spring, when the soil would otherwise be bare, then release the nitrogen slowly as they decompose during the summer, he added. Biological soil activity is also higher in cover crop systems, which Sass demonstrated by burying cotton underwear in various cropping systems last fall. When he dug it up this spring, the underwear in fields with cover crops was almost completely decomposed while a pair buried in a continuous corn system showed little decomposition.
The cover crop seed cost about $15 an acre, Mueller said. It was broadcast seeded with a fertilizer spreader and incorporated with a TurboTill vertical tillage implement, keeping seeding costs relatively low, especially with his dad helping run the spreader. "My dad is a very underpaid employee, and a very well-paid landlord," Mueller joked.
A nearby dairy farmer pays to harvest the cover crop for forage in the spring, allowing Mueller to recoup his seed and planting costs.
"I don't really have any cost here," he said. "Hopefully, I make a little money. If you've got a dairy (or beef) farmer in the neighborhood, you've got a natural market for that cover crop."
Mueller said that after a couple years of experience with cover crops, he's confident that they don't negatively impact soybean yield.
He's less certain about corn yields, but research has shown that negative impacts can be abated with proper management. His cover crop strip tests with Soil Health Partnership will continue through the end of a five-year cycle, although Mueller says he's likely to keep planting cover crops for the foreseeable future.
"At the end of five years, we're going to test the soil quality," he says. "In the end, we're trying to figure out what value a cover crop brings to a field."
Want more news on this topic? Farm Bureau members may subscribe for a free email news service, featuring the farm and rural topics that interest them most!