Iowa farm family grows Christmas cheer with poinsettias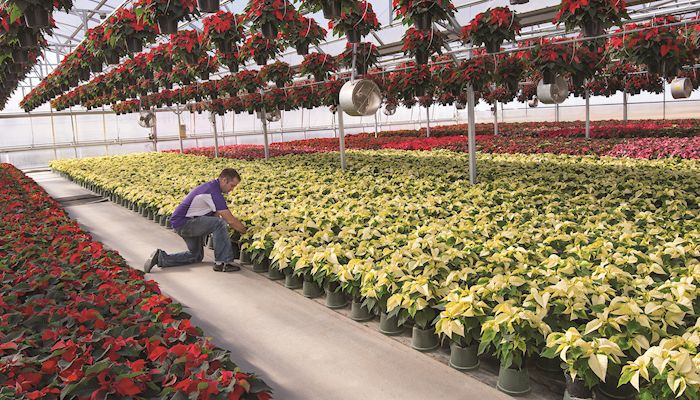 Farm Bureau member Craig Canoyer says it wasn't easy growing his fall crop this year.
While neighboring farmers were harvesting the last of their corn and soybeans, Craig was anxiously watching and waiting for his poinsettias to turn full color before Thanksgiving.
The warm temperatures this fall encouraged the poinsettias at Canoyers Garden Center in Griswold to grow a little too fast. It took extra care to make sure the Iowa-grown poinsettias were the perfect height for the holidays, Craig says.
"I've had good luck over the years, and I've always tried to keep them short and compact because they are always sellable that way. But this year, it's been more of a struggle," says Craig, looking over the hundreds of red, white and pink poinsettias lined up inside the greenhouse.
A grain and cattle farmer for 37 years, Craig says his family decided to get into the greenhouse business during the 1980s farm crisis as a way to diversify their farm income.
"Back then, almost every Farm Bureau farmer that lived through that time, it didn't make any difference how good of job you did, you lost money. That's all there was to it," Craig says.
"So I got a little discouraged and felt like I needed to diversify, so I put up a greenhouse, mainly for our own use, because my wife always liked flowers. And people started stopping by, our friends and neighbors, wanting to buy stuff. So we felt like we could supplement our income, so we put up another greenhouse, and I've been building them ever since."
Three locations
Today, Canoyer Garden Center has expanded into three locations. Son Brad Canoyer operates the garden center in Papillion, Nebraska. Son and daughter-in-law Kyle and Stephanie Canoyer manage the newest garden center in Grimes. And Craig and Kathy still run the original garden center outside the southwestern Iowa town of Griswold.
The Canoyers also credit their employees for helping to create a family atmosphere in their garden centers. The three locations now employ more than 70 people who go out of their way to provide quality service and personal attention to the customers, Kyle says.
"People love buying local," explains Kyle, who grows annuals at the family's Grimes location on the northwest side of the Des Moines metro. "People like to know that these (flowers) are grown in Iowa and Nebraska. They like to buy from a family business."
When his sons joined the greenhouse business, Craig decided to sell the cattle and grain farm and focus on expanding the garden centers. He grows all the poinsettias himself at the original Griswold garden center.
A finicky crop
Poinsettias are a "finicky" crop to grow, says Craig, who has 20-years experience growing the holiday plants. The Canoyers receive the poinsettias from South America as small, bare-root cuttings.
If the daytime temperatures are too warm in the fall — like this year, when the greenhouse temps sometimes reached 90 degrees, then the plants will grow too fast. Craig had to spray the poinsettias this fall with a chemical to slow their growth.
"I actually measure the height of them weekly so I can track how fast they grow," Craig says. "I've figured out that if I have (the poinsettias) 10 inches tall by the 10th of October, they usually finish at the optimum height I want them, about 13 inches."
An anxious time of year
Craig admits he gets a little anxious this time of year, trying to get the poinsettias to look perfect in time for the holiday season. "As I get older, it just gets more of a stress because you only get one chance at this," Craig says.
Yet Kyle says his dad, always the farmer, still loves to plant, water and watch his crops grow. "We are set up that we (sons) could grow all our own stuff. But dad is so good at it, he continues to grow it, because that's what he loves to do," Kyle says.
Like raising cattle, crops
Craig insists that "indoor farming" is a lot like raising cattle and growing row crops. Just like a hog barn, the greenhouses are run by computerized monitors that constantly adjust the temperature and provide drip irrigation to plants as needed.
And just like grain farmers, who look at dollars generated per acre, the Canoyers look at dollars generated per square foot of greenhouse space.
"Everything is so similar, it's ridiculous," Craig says. "When I was feeding cattle, the whole key to success is you've got to look at your cattle every day. You have to physically see them to know if they are not well, if they are sick, if they are doing well. I do the same thing (with flowers) ... I never go to the house at night without going through every building and taking a look."
Even though it's indoor farming, the garden center business is also extremely weather dependent, Kyle says.
About 80 percent of the greenhouse income comes in the three months of spring, and if the weather isn't optimal for gardening, then customer traffic slows.
But it isn't uncommon for the family to work 100-hour weeks to keep up with customer demand, Kyle says.
"It's the same thing as farming. When it's time to plant or harvest, you are out there as long as you can be," Kyle says. "But this has allowed our family to continue to work together and stay together and grow our business."
Want more news on this topic? Farm Bureau members may subscribe for a free email news service, featuring the farm and rural topics that interest them most!