Iowa family sells beef from gate to plate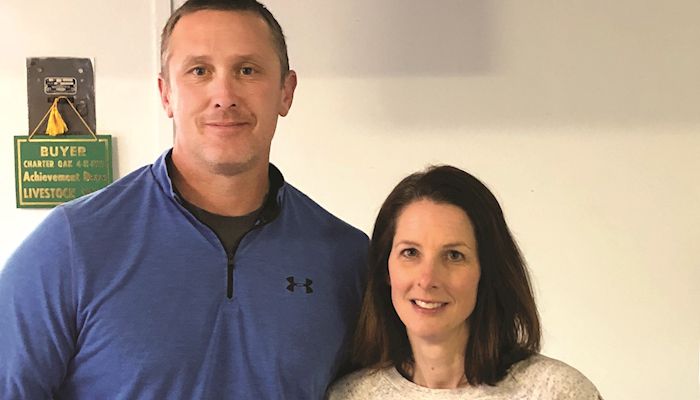 Farm Bureau members Aaron and Deb Gress of Charter Oak knew that the beef they raised on their farm was top quality. So they figured, why not market their premium beef directly to customers.
That was the beginning of Vintage Beef — beef the way you remember. "The idea is to produce beef with the flavor you remember from eating beef straight off the farm," says Deb.
The farmers started marketing their beef last May, and their customer list has grown since.
"Once people realize the quality, they become a repeat customer in no time," says Aaron. Vintage Beef now has supplied steaks for weekend specials to B & D's Grill in nearby Denison, with another establishment interested in offering their ground beef.
Vintage Beef caters to the customer buying 10 to 20 pounds at a time, but Aaron says demand for beef quarters is picking up. "With all costs considered, we can offer a quarter at just a little over ground beef price. That makes a lot of sense if you have the freezer space."
Any quantity of beef, from a couple of steaks to one-half beef, can be ordered via the Vintage Farm website, www.gressfarms.com, and Deb and Aaron can be found at the Sergeant Bluff Farmers Market starting this June.
A Facebook page www.facebook.com/vintagebeeffarms offers more information on Vintage Beef and the Gress family farm, telling the story of the enterprise and beef production in Iowa. They also put out a monthly newsletter.
"We want to be a name on people's list," says Deb. "We want them to see our family, our three boys, our farm, to know us on a more personal level. We want them to trust us and be comfortable with us."
Or, as Aaron says, "We're doing things the right way, we might as well talk about it."
Vintage Beef cattle are grain fed, with kelp meal, rich in trace minerals, added at the beginning and end. Aaron prefers an Angus-Limousin cross for heavy-muscling and high yield.
He purchases some calves and raises some. He and his brother run around 340 cows in a cow/calf operation that pairs with row crops and alfalfa farmed with their father.
They also raise hogs wean to finish, and Aaron says the idea of direct marketing pork is always in the back of his mind, but he sees that on a much smaller scale than the beef enterprise.
Converting the farmstead to a direct sales operation has taken some work. The historic Charter Oak Railroad Depot was moved to the site in the 1980s and was waiting for a purpose. It is now remodeled and serves as storage and a venue for on-farm sales.
The beef is processed at Tiefentaler's Quality Meats in Holstein under the required state inspector oversight. The license allows selling in Iowa, including online sales shipped throughout the state.
"People still want quality, and they don't want to pay tremendously for it," says Aaron. "It's beef the way you remember, and people are liking it more and more."
Queck-Matzie is a freelance writer from Greenfield.
Want more news on this topic? Farm Bureau members may subscribe for a free email news service, featuring the farm and rural topics that interest them most!