Iowa conservation pioneer is always learning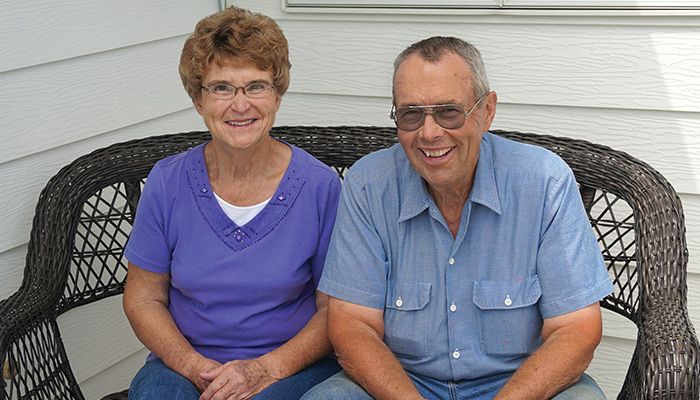 As more Iowa farmers take up the challenge of protecting water quality, reducing erosion and building soil quality, they are tapping into the real-world experiences and knowledge that's been built up over the decades by the state's conservation pioneers all over Iowa. Those early adopters have used their creativity and inventiveness to find better ways to save soil and protect water while maintaining profitability.
A good example is Paul Ackley, who farms near Bedford in Taylor County.
Ackley and his wife, Nancy, began working on cover crops, no-till and other conservation practices decades ago. In fact, Ackley began experimenting with cover crops soon after he began farming in 1969 after graduating from Iowa State University and serving in Vietnam. And the Taylor County Farm Bureau members have never looked back.
"Growing up here, I'd always been concerned about the erosion problems in this area, and I've wanted to do something about it," said Paul. "Our focus here has always been on finding better ways to reduce erosion and improve the soil."
"We know we have to keep the soil here," Nancy added. "It does us a lot of good here, and it doesn't do anybody any good if we lose it down into the Gulf of Mexico."
A variety of practices
That focus on saving and improving the soil has led the Ackleys to try a wide variety of conservation practices on their 800 acres in the rolling country just north of Iowa's southern border.
They now plant cover crops on all of their crop acreage. They have adopted no-till and have added winter wheat to their crop rotation to build soil fertility and reduce input costs. The Ackleys have seeded down some of their less productive acres to pasture. They have adopted rotational grazing programs for their livestock to improve nutrition and protect the soil. And they have built terraces, wetlands and other conservation structures.
"It's been a constant learning process over the years. A lot of studying, networking and trial and error to see what works and what doesn't," said Paul, 72, who serves on the Taylor County Soil and Water Commission.
A cornerstone of the Ackleys' conservation focus is cover crops, which they see as a prime tool to reduce erosion and improve soil quality. They also want to take advantage of any growing potential after harvest and before planting in the spring. "I just don't want to waste any sunshine or water by leaving the land idle," Paul said.
Along with controlling erosion and building up organic matter in the soil, the cover crops often provide extra grazing for the Ackleys' cattle and sheep. "They nibble on the cover crops all winter, so we get the extra benefit of that," Paul said.
Cereal rye a workhorse
Over the years, Paul Ackley has found that cereal rye can be a workhorse as a cover crop. The small grain can germinate with very little rainfall after being planted in the late summer or fall. It overwinters well and can provide grazing in the spring. The root system of cereal rye also helps the soil build organic matter, he said.
The Ackleys have used various planting methods for cover crops. They've hired pilots to fly the seed into standing crops; they have drilled the seed right after harvest; and they have used a spreader to distribute the seed along with fall-applied nutrients.
"It's hard to know which method is going to work best depending on the year, so we've tried to stay pretty flexible," Paul said.
Adding winter wheat
In 2010, the Ackleys took a leap and added wheat to their crop rotation as a way to build soil quality and reduce input costs.

The wheat, Paul explained, is planted in the fall and acts as a cover crop through the winter and spring before it is harvested in early summer. The crop provides some income, but its big advantage is the early harvest allows them to plant a cocktail cover crop mix of 10 to 12 plant species. That mix helps build nitrogen and other nutrients in the soil before it is planted to corn the next spring, improving fertility and reducing input costs, Paul said.
"As one guy told me, 'You raise wheat in order to grow corn.' And that's been pretty true," Paul said.
Using a program through the Taylor County Soil and Water District, the Ackleys have seeded down some acres to grasses and other species. The district employs a program developed by Ames-based Ag Solver. The program uses precision mapping technology to help farmers determine which fields, or areas of a field, should be considered for alternative forms of production because they are not profitable and not environmentally sustainable.
Cattle and sheep are also an important part of the Ackley conservation focus because grazing and haying can help to make cover crops more economically feasible, Paul said. Rotational grazing, moving the cattle nearly every day, helps to prevent overgrazing and compaction that can diminish yields.
Spreading information
With the momentum for conservation growing in Iowa, several farmers have contacted the Ackleys by phone or email, or at field days, to gather information on cover crops and other conservation practices. Paul has also served on farmer panels at conservation field days organized by Practical Farmers of Iowa and others.
"It seems like we hear from a lot of younger farmers about cover crops and other things," Nancy said. "They seem a lot more adaptive and willing to try new things."
A key to getting started in cover crops or other conservation practices is trying something on a few acres at first to see what works, Paul said. "You've got to see what fits on your land and works in your operation," he said.
Conservation practices, such as cover crops, may seem pretty exotic today, but many are simply modern adaptions of what were normal practices not that long ago, Paul said.
"The conservation things that we are doing really aren't all that new. Our ancestors did a lot of the same stuff," he said. "But I think a lot of the knowledge got buried over the years when we got all the new technology, and it's good to get it back."
Want more news on this topic? Farm Bureau members may subscribe for a free email news service, featuring the farm and rural topics that interest them most!