Iowa Farm Bureau-Mentored AccuGrain Wins Top Entrepreneur of the Year at 97th American Farm Bureau Annual Convention in Orlando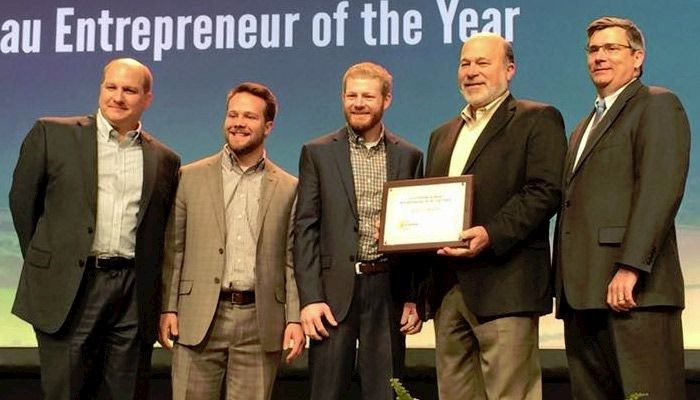 Real-Time Grain Inventory Startup and Renew Rural Iowa Award Winner Takes Home $30,000 in Prize Money During Rural Entrepreneurship Initiative Challenge
ORLANDO, Fla. – January 12, 2016 – AccuGrain, a Rose Hill, Iowa-based agricultural technology startup, was named the Rural Entrepreneurship Initiative (REI) Challenge winner during the American Farm Bureau (AFBF) Annual Convention and IDEAg Trade Show held January 8-13.
AccuGrain, a participant of Iowa Farm Bureau's Renew Rural Iowa business mentoring program, was selected from a field of 165 applicants to compete with three other contestants during the second annual REI Challenge. The four finalists competed for the award by pitching their business ideas to a team of judges and in front of a live audience on the main stage of the IDEAg Trade Show.
The company utilizes X-Ray technology to provide real-time grain inventory management, which allows farmers to make marketing decisions at a moment's notice. AccuGrain technology also provides a significant safety benefit to farmers by reducing the need to climb or enter bins to assess inventory levels and moisture content. To learn more about AccuGrain and their state-of-the-art grain measurement technology, visit www.accugrain.com.
"We are honored to receive this award," said AccuGrain founder Ryan Augustine. "Winning the award means that others validate our ideas and their need in a rural space, and that means a lot. We've had quite a few people come up and tell us how they could use our product on their farms."
"Iowa Farm Bureau's Renew Rural Iowa (RRIA) program has helped more than 2,500 other Iowans successfully own and grow their businesses; they also mentored AccuGrain throughout the REI competition. RRIA leaders also mentored last year's winner, ScoutPro, Inc., to the top prize of REI Challenge in 2015. For winning the event, AccuGrain receives $15,000 in prize money to implement their business idea. In addition to the prize money earned this week, AccuGrain won $15,000 in November for advancing to the final four of the national REI Challenge, netting the startup $30,000 to grow their rural Iowa business.
The REI challenge, now in its second year, provides opportunities for individuals to showcase business innovations being developed in rural regions of the U.S. It is the first national business competition focused exclusively on rural entrepreneurs working on food and agriculture businesses. The top challenge teams were selected by 40 judges with expertise in business development, equity investment funding management, agribusiness lending, and entrepreneurial coaching.
"The hands-on mentoring of IFBF's Renew Rural Iowa program has helped entrepreneurs from around the state implement their ideas and turn visions into reality," says Sandy Ehrig, IFBF economic development administrator.
To learn more about the RRIA program and the next seminar, 'The Journey to Your Vision,' on February 15, 2016 in Sioux City, visit www.renewruraliowa.com. "We know there are more great ideas out there in Iowa, and providing assistance at every stage along the way is what we do," says Ehrig.