Iowa Farm Bureau young farmer advisory committee welcomes new officers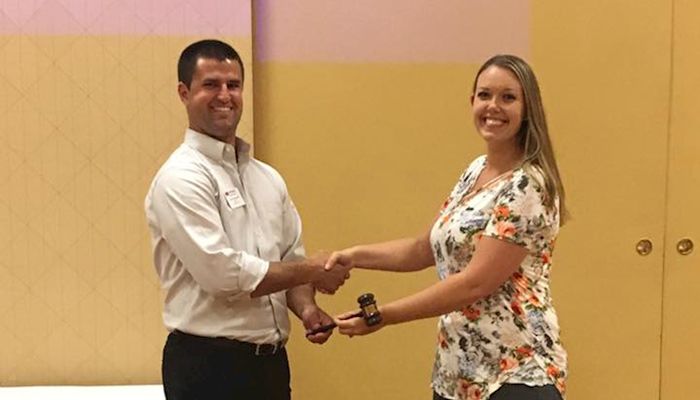 The Iowa Farm Bureau Federation (IFBF) Young Farmer Advisory Committee has elected new leaders for 2017. These officers and new district representatives will work to unite young farmers in Iowa through various programs and events, including the biggest event: the IFBF Annual Young Farmer meeting, which draws a diverse array of young farmers and agribusiness leaders together. IFBF Young Farmer leaders elected to key positions in 2017 include:
Laura Cunningham, Floyd County, Chair
Brianne Streck, Woodbury County, Vice-Chair
Mary Beth Jackson, Mahaska County, Secretary
Hannah Johnson, Davis, Historian
Ben Pullen, Clay County, PR Chair
Laura Cunningham and her husband, Aaron, live near Nora Springs and co-own SkyView farms, a direct-market Angus cattle operation. Laura graduated from Iowa State University with a degree in ag business and works full-time in marketing for Latham Hi-Tech Seeds. Laura enjoys camping, boating on Clear Lake, refinishing furniture, running and taking day trips via airplane to see friends or family as Aaron has his pilot's license.
"The face of Farm Bureau and agriculture is far more diverse than it's ever been, and today being a Farm Bureau leader is about seeking opportunities that unite, not divide. As chair, I look forward to working with the committees to help guide the work they do to bring people together and plan young farmer engagement programs and events in their districts. This is a role that means a lot to me both as a young farmer and as a woman," said Cunningham.
"Like many I know, I have always worked hard to get my work done and on our farm, gender has never mattered. I believe it's the same on many farms today. I hope I can inspire other young women to lead, to help them find and embrace opportunities that exist for them in agriculture, because I know first-hand there are many who are there to cheer us on along the way."
Brianne Streck, her husband, Grant, and their three children live southeast of Moville. They grow corn, soybeans, hogs and currently two bucket calves. Brianne works as a grain merchandiser at Flint Hills Resources, helping farmers sell corn and purchase distillers grain. She and Grant are both 4-H volunteers, and Brianne volunteers as a superintendent at the Woodbury County Fair. She also enjoys gardening and cheering on the Cyclones.
Mary Beth Jackson and her husband, Mike, along with their three kids live near Oskaloosa where they grow corn, soybeans, cover crops and custom feed hogs. Mary Beth also has an off-farm job selling Premier Design Jewelry. She is very active in her community, serving on the advancement committee for a local Christian grade school, leading a mom's bible study group and being an adult leader for GEMS, a club for young girls that resembles scouts but with a Christian-focused twist.
Hannah and her husband, Brett, live on part of the farm Hannah grew up on near Bloomfield. They raise commercial cow-calf pairs and club lambs which they market to 4-H and FFA members in the Midwest. Hannah works as an agriculture education teacher and FFA advisor for the Moulton-Udell Community School District. She and Brett are both involved in coaching the Davis County 4-H and FFA livestock judging team, and they both travel during the summer judging county fairs in Iowa and Missouri. Hannah also coaches a junior high volleyball team.
Ben Pullen, his wife, Bri, and three children live on a farm outside of Spencer where they raise sheep and have recently begun direct niche-marketing with Hereford pigs. Ben works full-time as a Youth Program Specialist for Iowa State University Extension, working with 4-H, and Bri is a paraeducator. The couple is very involved in Clay County 4-H, serving on swine and static exhibit committees. Ben, as a former special education teacher, says education is his career, but agriculture is his passion.
Sharing the story of agriculture is a passion shared by all Young Farmer Advisory Committee members, especially since Iowa agriculture is diverse in both what is grown and who is growing it. Forty-five percent of Iowa Farm Bureau county boards have women in leadership roles, and the average age of a county president and vice president is 42 years old. This means half of members in these leadership roles are less than the age of 42. Many are involved in the IFBF Young Farmer Program, available for Farm Bureau members ages 18-35, which provides leadership and participation opportunities to nurture the prosperity of young farmers and their families.
The program advisory committee plans various events around the state each year, including an annual statewide conference each January that brings hundreds of young farmers together. This year's IFBF Young Farmer conference will take place Feb. 2-3, 2018 at The Meadows Conference Center at Prairie Meadows in Altoona.