Iowa Farm Bureau to feature inspirational speaker, Aaron Thomas, as keynote for 97th Annual Meeting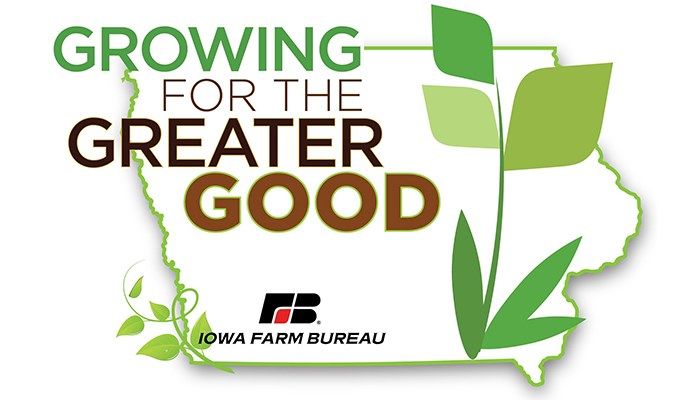 Governor Branstad proclaims Nov. 30- Dec. 6 as "Iowa Farm Bureau Week"
Members of the state's largest grassroots farm organization will gather to celebrate the many ways Iowa agriculture is 'growing for the greater good' during the 97th annual meeting of the Iowa Farm Bureau Federation (IFBF), Dec. 1 and 2 at the Community Choice Credit Union Convention Center in Des Moines.
To mark the occasion, Governor Terry Branstad has declared Nov. 30- Dec. 6 as 'Iowa Farm Bureau Week' to honor the many accomplishments and contributions of the 97-year-old grassroots farm organization, more than 159,000 members strong.
"Our annual meeting theme, 'Growing for the Greater Good,' highlights the sustainability, innovation and growth of Iowa agriculture and celebrates the dedication, accomplishments, and potential of our diverse farm families who help move our state forward," says IFBF President Craig Hill. "Today's responsible farmers are always looking for ways to improve what we grow and how we grow it, while being exemplary caretakers of the land. We are excited to showcase some of Iowa's best and brightest farm families during award presentations, and we are bringing a group of high-caliber experts to lead educational breakout sessions. We are also looking forward to having acclaimed inspirational speaker, Aaron Thomas, deliver the keynote address to members."
Thomas will share his message of overcoming adversity and turning his family's tragedy into an opportunity to help others. Thomas is the son of the late Aplington-Parkersburg coach, Ed Thomas, who inspired countless student-athletes and community members before and even after his murder, at the hands of a troubled, former student athlete. Thomas not only took over the role of coach after his father's death, he also serves as a community leader, role model and inspirational speaker.
In addition to innovative and thought-provoking speakers, the 97th IFBF annual meeting will also feature nine different 'hands-on' educational seminars to help Farm Bureau members navigate important issues like conservation and water quality, rural transportation, busting food production myths with real science, and new technology and innovation in agriculture.
Iowa's next generation of farm leaders will also take the stage for the IFBF Young Farmer Discussion Meet Dec. 2, competing for the state title, a John Deere X320 riding lawn mower, and the chance to advance to the national competition during the American Farm Bureau Federation (AFBF) Annual Convention, January 8-13, in Orlando, Florida.
This year's entertainment includes an evening reception December 1 and features the Dueling Pianos of local musicians Tony Bohnenkamp and Whitney Maxwell. Bohnenkamp is also a member of the popular Iowa band, The Nadas. The nationally-recognized YouTube sensation and TV personality, 'Iowa Nice Guy' and IFBF's 'Farmer Nice Guy', Scott Siepker, will serve as emcee for the evening.
Members can register for the 2015 IFBF annual meeting at their county Farm Bureau offices. View more annual meeting details, including the full agenda, here.