Iowa Farm Bureau recognized with highest honor at American Farm Bureau annual convention for fourth consecutive year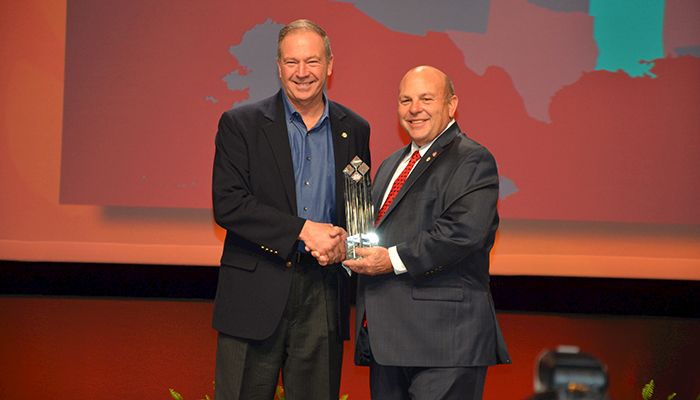 The Iowa Farm Bureau Federation (IFBF), Iowa's largest grassroots farm organization, received several honors this week during the 2017 American Farm Bureau Federation's (AFBF) Annual Convention in Phoenix, most notably, the Pinnacle Award, the highest level of recognition presented to a state Farm Bureau.
State Farm Bureaus were presented awards during the AFBF Annual Convention and IDEAg Trade Show, January 6-11, to recognize their excellence in membership achievement and implementation of outstanding programs serving Farm Bureau members over the past year. The Pinnacle Award is the highest level award and is given to the most outstanding state in each membership group.
"It is a tremendous honor to be recognized by AFBF with the prestigious Pinnacle Award for the fourth year in a row," says IFBF President Craig Hill. "The award is a testament to the strength of Iowa's grassroots policy process, our membership, and the successful programs developed by our state staff."
Additionally, IFBF received all six Awards of Excellence, awarded to state Farm Bureaus that demonstrate outstanding achievements in six program areas: Education and Outreach; Leadership Development; Member Benefits; Membership Initiatives; Policy Development and Implementation; and Public Relations and Communications.