Iowa Farm Bureau donation to the American Red Cross supports Iowans impacted by derecho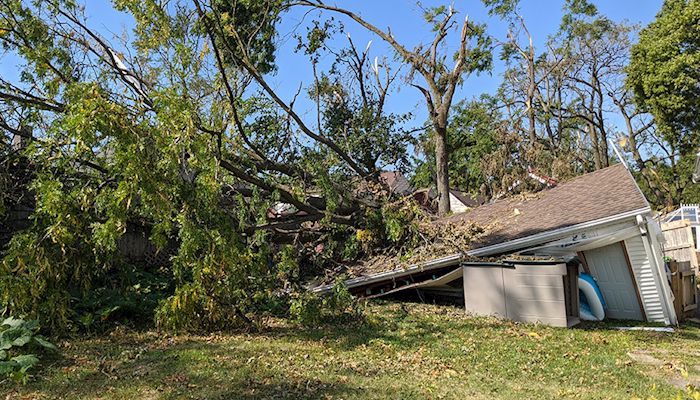 The Iowa Farm Bureau Federation (IFBF) announced a $15,000 donation to further boots-on-the-ground relief efforts of the American Red Cross (ARC) following the Aug. 10 derecho that has devastated several Iowa counties.
A derecho is a weather phenomenon characterized by its intense, widespread and long-lasting winds. These winds, clocking in at up to 140 miles per hour, tore through rural and metro Iowa communities, leaving homes destroyed and many displaced without power, water and food sources. Millions of acres of corn and soybeans in the storm's path were decimated.
"In the long term, there is much work to be done to rebuild what has been lost, but in the short term, Iowans' needs for food, shelter and medical attention need to be immediately met and the American Red Cross has the infrastructure in place to assist with those services," says Craig Hill, IFBF president. "I've seen many great examples of the farmer's 'can-do' spirit resonating through our state as Iowans work to help their neighbors and communities. The American Red Cross and its disaster workers have been on the ground responding and providing support immediately following the derecho, and we're pleased to help support their efforts and give Iowans much-needed hope with this donation."
At this time, the American Red Cross has provided nearly 1,000 overnight stays for Iowans and kept many nourished with more than 22,000 meals and 3,000 cases of water. The ARC Disaster Health Services team also continues to attend to medical needs, making nearly 1,000 contacts to affected residents.
"I think the destruction from this storm is worse than the 2008 floods. We are seeing a growing need for basic services and supplies, and we are grateful to the Iowa Farm Bureau for their continued commitment to serving Iowans across the state when terrible disasters like this leave so many without basic necessities," says Justin Haas, ARC regional philanthropy officer. "The American Red Cross continues to coordinate with local emergency offices and community and government partners to identify and address urgent needs, and this donation will amplify those efforts."
The Iowa Farm Bureau Federation encourages all Iowans and those across the country who wish to help to also donate to the American Red Cross' disaster recovery efforts by visiting www.redcross.org/donate. IFBF has also established a disaster exchange resources page where impacted Iowans can seek assistance and those in a position to provide support can offer their goods or services. Visit www.iowafarmbureau.com/disasterexchange to learn more.