Iowa Farm Bureau celebrates being A Century Strong at 2018 Iowa State Fair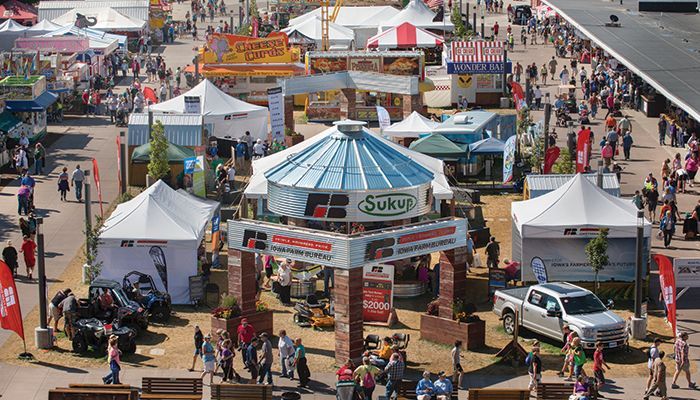 Farm Bureau Park to feature interactive mural, games & prizes totaling over $100,000
The 2018 Iowa State Fair is around the corner and the Iowa Farm Bureau Federation (IFBF), the state's largest grassroots farm organization, has numerous activities with partners planned at Farm Bureau Park with prizes totaling over $100,000 to help celebrate its centennial.
"Iowa Farm Bureau is constantly working to meet the needs of our diverse membership through education, advocacy, supporting our youth, supporting rural Iowa entrepreneurs through business mentoring, providing supplemental health benefits and more," says IFBF President Craig Hill. "All of the activities and partners at Farm Bureau Park will showcase all of those efforts in honor of 100 years of service to members, Iowa, and our communities."
New this year is an interactive Farm Strong® mural, inspired by the #WhatLiftsYou Wing campaign craze that has swept the nation. The mural was created by Amy Putney, Iowa artist and Art Director at Sticks Object Art and Furniture. Visitors to Farm Bureau Park can show how they're Farm Strong by posing in front of the brightly colored mural, sharing their photo through social media and tagging it #ACenturyStrong.
Visitors to Farm Bureau Park will also be able to meet the farmers who grow and raise their food through interactive games and win free prizes, including $500 in free groceries. Fair-goers who join Farm Bureau during the fair will receive a $10 fuel card and are also eligible to win $2,000 in ethanol fuel.
"This year, we are so pleased to have John Deere celebrate their centennial alongside ours by donating a John Deere Gator XUV835R crossover utility vehicle valued at over $23,000 through a drawing that one lucky Farm Bureau member who visits the park will receive," says Hill.
Farm Bureau Day at the State Fair is Aug. 14 and includes the 55th annual Farm Bureau Cookout Contest featuring the state's best barbeque wizards of Iowa-grown meat. Also on Farm Bureau Day at the Fair, country music star Brett Eldredge will perform a private concert for Iowa Farm Bureau members at the Grandstand at 2 p.m. following the Cookout Contest to commemorate Iowa Farm Bureau's centennial.
The fun and prizes are endless at Farm Bureau Park with each day featuring new partners and activities. Other highlights include 500 free bike helmets being given away by 'On with Life' on Thursday, Aug. 16 and free business consultations with IFBF's Renew Rural Iowa experts. For a complete listing of activities and partners, visit https://www.iowafarmbureau.com/News/Iowa-State-Fair.