Iowa Farm Bureau becomes first title sponsor of Adaptive Sports Iowa's 2016 RAGBRAI team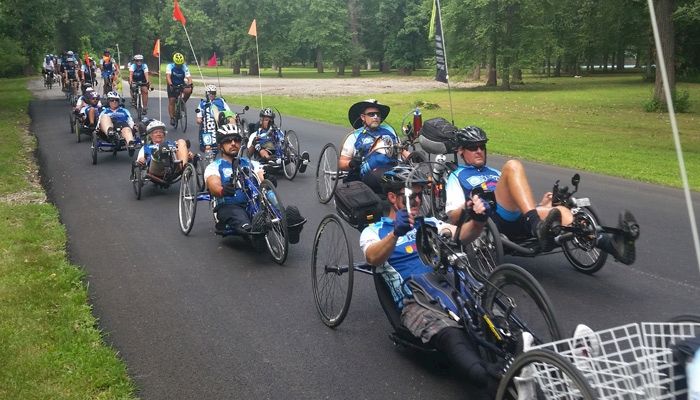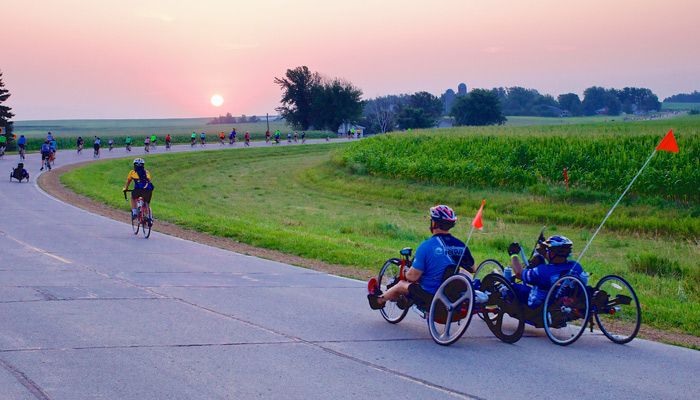 In less than two weeks, more than 15,000 cyclists will hit southern Iowa; tackling hills, pedaling past cornfields, cattle pastures and enjoying all that rural Iowa has to offer along the RAGBRAI XLIV route. While many will find the route a challenge, one team of cyclists are bringing their own brand of inspiration to the course; the ASI Cycling Team provides support for athletes with physical and vision disabilities. Depending on the cyclists' needs certain adaptions have been made to make the ride possible. For example, many members of the team have lower limb paralysis so their cycles are hand powered. Iowa Farm Bureau Federation (IFBF) is proud to support the hard work and accomplishments of the ASI team by becoming the group's first title sponsor.
The 2016 ASI Cycling Team, presented by Iowa Farm Bureau is comprised of 55 cycling enthusiasts: men and women from Iowa and across the nation, who have various physical or vision disabilities. The agricultural industry is built upon a foundation of hard work, discipline, and determination. Those same principals are applied by the members of the ASI Cycling Team, presented by the Iowa Farm Bureau. "We're so excited to have Farm Bureau's support as our first title sponsor. Together, we share a love and respect for the hard-working men and women of Iowa who not only grow our food; they share our commitment to the perseverance and strength of community. We know by working together, we can accomplish incredible feats, whether it's crossing the state on a handcycle, or crossing the barriers of understanding that sometimes serve to divide those from different backgrounds," says Director of ASI, Mike Boone.
Team members agree. "Adaptive Sports Iowa provides a tremendous opportunity for those within the disabled community to be part of something bigger. Just like the character of Iowa's farm families, we're proud to show Iowans how we can all be 'Farm Strong" says long time ASI participant, Stan Boyer (Dallas Center).
IFBF Executive Director Denny Presnall says Farm Bureau members are proud to support the men and women who are so dedicated to meeting new challenges, overcoming obstacles and educating folks about the benefits of teamwork, collaboration and community support. Plus, we are so pleased to be able to support efforts that help all enjoy the beauty of rural Iowa, and that's the goal of all members of the Adaptive Sports Iowa RAGBRAI team," says Presnall.
To learn more about the Adaptive Sports Iowa team and view photos from previous RAGBRAI events, check out:
http://adaptivesportsiowa.org/CyclingTeam
.