Iowa Farm Bureau and University of Iowa Athletics team up for the 10th annual America Needs Farmers (ANF) game and tailgate in Krause Family Plaza at Kinnick Stadium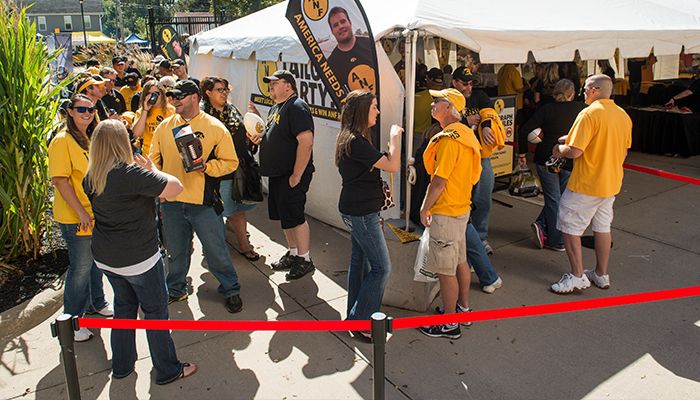 Former Hawkeye star and Super Bowl champion Marshal Yanda named 2021 ANF Wall of Honoree
Iowa Farm Bureau and the University of Iowa Athletics will celebrate America's farmers at the 10th annual America Needs Farmers (ANF) Game Day, Saturday, Oct. 9 at Kinnick Stadium.  The highly anticipated game at 3:00 p.m. against Penn State University features two top-five ranked teams with the nationally televised matchup showcasing why Hayden Fry's famous ANF program is still important today. 
As part of the annual celebration of the significance of Iowa agriculture, fans will have the opportunity to win exclusive ANF/Hawkeye prizes such as clear ANF bags, koozies, lighted bracelets and more, while learning how Iowa agriculture plays a major role in our daily lives.  From 11:00 a.m. to 2:30 p.m., fans are encouraged to visit the ANF Legends Tent, located in Krause Family Plaza, to play tailgate games with farmers for a chance to win prizes and get autographs from former Hawkeye greats, including the new ANF Wall of Honoree, Marshal Yanda. 
"The annual ANF game and tailgate activities present a great opportunity for fans to interact with Iowa farmers and learn about the diversity and innovation of agriculture while celebrating its impact in Iowa and around the country," said Iowa Farm Bureau President Craig Hill.  "Iowa farmers recognize the importance of this special event and are stepping away from harvest on their farms to interact with fans and answer their questions about agriculture and food production today."  
Yanda grew up on a dairy farm just north of Anamosa and represents the fifth generation on his family's farm.  Yanda credits his on-field success to the work ethic he learned from his parents while growing up on the farm, milking cows twice a day, 365 days a year.  Yanda's values and character that were shaped on the farm played a big role in his successful NFL playing career, where he was recognized as one of the elite offensive linemen of the 2010s and started for the Baltimore Ravens during their 2012 Super Bowl season.  
"The things I learned growing up on the farm, like pride and work ethic, took me to the highest level of professional sports and winning a Super Bowl, but that all started right here on the farm," said Yanda.  "Those values were instilled in me by my parents and it's how I live my life today, and I still carry those lessons with me every day." 
The hard work and tenacity that embodies the Iowa farmer was evident in Yanda's assent to the top of the football world, where he was known as one of the most reliable pass protectors and run blockers during his lengthy and decorated professional career.  Unlike most NFL stars who immediately attend a top college program following high school, Yandi spent his first two seasons gaining size and speed while playing for North Iowa Area Community College (NIACC) prior to playing his final two seasons for coach Kirk Ferentz in Iowa City.  Following his years wearing black and gold for the Hawkeyes, Yanda was a third-round pick in the 2007 NFL draft and spent his entire 13-year career with the Baltimore Ravens.  
Yanda is the ninth recipient of the America Needs Farmers (ANF) Wall of Honor, which salutes former University of Iowa football players who exemplify the tenacity, work ethic and character of the Iowa farmer.   Previous ANF Wall of Honor recipients include Casey Wiegman (2012), Jared DeVries (2013), Bruce Nelson (2014), Robert Gallery (2015), Dallas Clark (2016), Chad Greenway (2017), Aaron Kampman (2018) and Matt Kroul (2019). 
A gold ANF decal was placed on players' helmets during the Hawkeyes' 1985 Rose Bowl season by head coach Hayden Fry to show support for farmers during the 1980's Farm Crisis.  The Hawkeye helmets still have the special decal on them today.  This year marks the 36th anniversary of ANF, a longstanding tribute to America's farmers, and the ninth year IFBF and University of Iowa have partnered to help connect Iowa's farm families to consumers to learn more about the production of food, fuel and fiber. 
"Agriculture is a huge part of our daily lives.  From buying vegetables and meat in the grocery store to just needing food and fuel to live, it's clear that everything comes from farming," said Yanda.  "I'm happy to be a part of ANF to help shed some light on the importance of farming." 
Fans can show their ANF and Hawkeye pride by purchasing ANF merchandise during game day in shops around the stadium with a portion of the proceeds benefitting the Iowa Food Bank Association.  Since the ANF partnership began, more than $180,000 has been raised to feed hungry Iowans.   
For more information about ANF and Game Day activities, visit https://www.iowafarmbureau.com/ANF/Events.