Iowa Farm Bureau, UI Athletics announce Oct. 22 ANF activities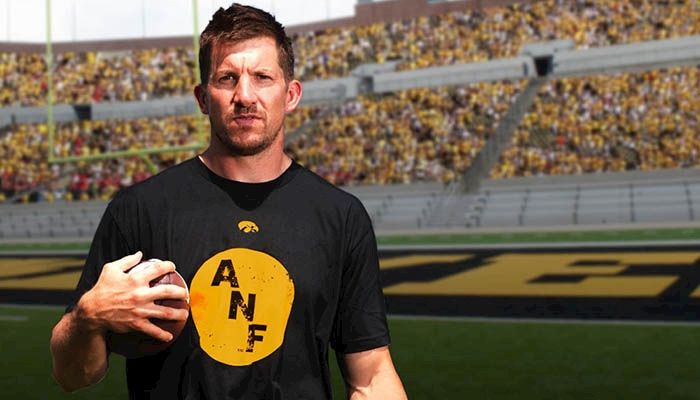 ANF Wall of Honoree Dallas Clark and Former Hawkeyes to Sign Autographs in ANF Legends Tent
The Iowa Farm Bureau and University of Iowa are teaming up to celebrate Iowa's farmers for the sixth annual ANF Game Day on Oct. 22, when the UI football team hosts Wisconsin in a nationally televised game that will kick off at 11:01 a.m. CT, inside Kinnick Stadium.
As in the past, the celebration of America's – and Iowa's – farmers begins with activities for friends and fans of the Hawkeyes at Iowa Farm Bureau's ANF Legends Tent, open from 8 a.m. to 10:30 a.m., at the Hawkeye Tailgate inside Krause Family Plaza, located immediately south of Kinnick. Fans have the opportunity to meet Iowa farmers and their families, play the 'high striker' and tailgate-toss games for a chance to win ANF stocking caps, clear cinch bags and other ANF prizes. Also highlighting the experience will be the opportunity to get autographs from former Hawkeyes, including 2016 ANF Wall of Honor inductee Dallas Clark, Chuck Long, and Pat Angerer. Fans can also sign up for a chance to win autographed ANF memorabilia by Coach Kirk Ferentz.
The Big Ten Network's new "BTN Tailgate" show will broadcast live from Krause Family Plaza from 9:30 to 11 a.m. Fans are encouraged to be a part of the show, showing their pride for the ANF movement to a national TV audience. Hawkeye greats, members of the Hawkeye Marching Band, Spirit Squads and Herky, will also be a part of the show.
"The ANF program's 31-year history is a testament to farming; our proud heritage, where we've been and where we can go, thanks to hard work and innovation," said Craig Hill, president of the Iowa Farm Bureau Federation (IFBF). "Agriculture's success is much like the hard-fought success of athletes such as Dallas Clark. We are proud to recognize Dallas as our newest ANF Wall of Honor inductee, and we thank him for lending his voice to help us reach new audiences who want to understand more about how their food is grown today."
Clark, 37, walked onto the University of Iowa football program as a linebacker; he left as an All-American tight end. He grew up in Livermore, Iowa, a rural community 12 miles north of Humboldt, and didn't farm but had family that did.
"My dad was a mechanic on a farm and worked on tractors and helped farmers," Clark said. "I was around farming growing up, but was never in a tractor planting, combining with family, or anything like that, but I was around it. I always appreciated it and understood the hard work it took to be successful."
Clark was selected by Indianapolis with the 24th pick of the first round in the 2003 NFL Draft. He played 11 seasons as a professional - nine with the Colts - catching 505 passes for 5,665 yards and 53 touchdowns. An All-Pro, Clark was a starter in the Colts' Super Bowl victory over Chicago in 2007.
When he stopped playing football, Clark returned to Iowa where he said he was "trying to figure things out." He purchased a farm that was in the Clark family for more than 100 years and is now custom-farming with a friend, growing grapes and considering other crops, too.
"I love the lifestyle. I love working and manual labor," said Clark. "I love being outside and working the ground. Like any farmer, you have to adapt, adjust, and try to make it work. The whole idea of that type of work attracted me."
Clark is the fifth recipient of the America Needs Farmers (ANF) Wall of Honor, which salutes former University of Iowa football players who exemplify the tenacity, work ethic, and character of the Iowa farmer. Previous recipients include Casey Wiegmann (2012), Jared DeVries (2013), Bruce Nelson (2014), and Robert Gallery (2015).
ANF-themed activities inside the stadium include a special ANF presentation by the Hawkeye Marching Band during its pregame show and the on-field introduction of Clark.
Also on game day, ANF Farm Strong® merchandise will be available at Hawkeye Fan Shop locations around the stadium, with a portion of the proceeds from the sale of ANF Farm Strong® merchandise going to support the Iowa Food Bank Association. Since the IFBF and UI teamed up for the ANF initiative, more than $100,000 has been donated to the Iowa Food Bank Association.
ANF was launched during the Hawkeyes' 1985 Rose Bowl season by head coach Hayden Fry, when the Farm Crisis of the 1980's was hitting the Heartland exceptionally hard. A gold ANF decal on the Hawkeye helmets is the effort's signature. This year marks the 31st anniversary of ANF, a longstanding tribute to America's farmers and program connecting Iowa's farm families to consumers to learn more about the production of food, fuel, and fiber. For more information about ANF and Game Day activities, visit www.americaneedsfarmers.org.