Iowa Farm Bureau, UI Athletics Department celebrate 30 years of 'ANF,' announce September 19 America Needs Farmers (ANF) game day activities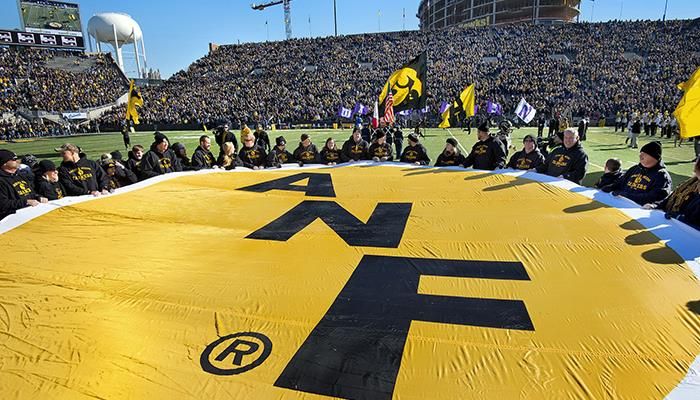 New ANF Wall of Honoree Robert Gallery and Former Hawkeyes, NFL Stars to Sign Autographs in ANF Legends Tent
The Iowa Farm Bureau and Iowa Hawkeyes are teaming up to celebrate Iowa's farmers for the fifth annual ANF Game Day September 19, when the UI football team hosts the University of Pittsburgh in a nationally-televised college football game that will kick off at 7:00 p.m. inside historic Kinnick Stadium in Iowa City, Iowa.
As in the past, the celebration of America's – and Iowa's – farmers will begin with a long list of activities for friends and fans of the Hawkeyes at the Iowa Farm Bureau's ANF Legends Tent, open noon-6:00 p.m., inside Krause Family Plaza, located immediately south of Kinnick. Fans will have the opportunity to meet Iowa farmers and their families, play the 'high striker' and tailgate-toss games for a chance to win '30th anniversary ANF' Hawkeye t-shirts and other ANF prizes, as well as get autographs from a variety of former Hawkeyes, including the 2015 ANF Wall of Honor inductee, Robert Gallery. Other legends include Hawkeye great Chuck Long, Head Baseball Coach Rick Heller, Senior All-American Tyler Peyton, Former Hawkeye and current Chicago White Sox Blake Hickman, Head Wrestling Coach Tom Brands and longtime football announcers, Gary Dolphin and Ed Podolak, to name a few.
The ANF Game Day activities kick off at 10:00 a.m. with a live band, "The Fez," playing in Krause Family Plaza. Hawkeye fans are also invited to take an ANF 'selfie' with the team 'swarm' in ANF Plaza.
"The ANF program's 30-year history is a testament to farming; our proud heritage, where we've been and where we can go, thanks to hard work and innovation. Agriculture's success is much like the hard-fought success of athletes such as Robert Gallery. We are proud to recognize Robert as our newest ANF Wall of Honor inductee, and we thank him for lending his voice to help us reach new audiences who want to understand more about how their food is grown today," said Craig Hill, president of the Iowa Farm Bureau Federation (IFBF).
Gallery grew up on an 800-acre farm near Masonville, and credits his family farm roots for instilling his work ethic and family values. "There was a lot of family time, and those were some of the best times we had, even though it was work," said Gallery. "I enjoy farming; it's my parents' life and it's a big part of Iowa. It's a huge honor when that ANF sticker goes on the helmet. I try to represent what that stands for to the men and women who still farm."
Gallery's career has been a testament to incredible athleticism and dedication; following Gallery's senior season, the star lineman was named to the All-Big Ten team, two years in a row, and was the Big Ten Conference Offensive Lineman of the Year. Additionally, Gallery was a consensus All-American in 2003 and was just the third Hawkeye to win the Outland Trophy, a recognition of college football's best interior lineman. Gallery was voted Iowa's co-captain and co-MVP for the 10-win squad.
In 2002, Gallery started all 13 games at left tackle and helped lead Iowa to their first Big 10 title in 12 years and their first undefeated conference season in 80 years.
Following an outstanding collegiate career for the Hawkeyes, Gallery was drafted second overall by the Oakland Raiders in the 2004 NFL Draft and went on to have a successful eight-year career.
The ANF Wall of Honor salutes former University of Iowa football student-athletes who exemplify the tenacity, work ethic, and character of the Iowa farmer, qualities that have helped Iowa remain one of the leading agricultural states in the nation.
ANF-theme activities inside the stadium will include a special ANF presentation by the Hawkeye Marching Band during its pregame show, and the on-field introduction of Gallery, who, after retirement from the NFL, still returns to Iowa each fall to help his family with the corn and soybean harvest. "Harvest is the best time of farming," Gallery said. "I really enjoy getting back and doing that with my folks."
Also on game day, ANF Farm Strong® merchandise will be available at Herky's Locker Room locations around the stadium with a portion of the proceeds from the sale of ANF Farm Strong® merchandise going to support the Iowa Food Bank Association. Since the IFBF and UI teamed up for the ANF initiative, more than $95,000.00 has been donated to the Iowa Food Bank Association.
ANF Contest Announced
The successful partnership continues, even after ANF Game Day ends; IFBF is also launching an ANF Weekly Prize Giveaway contest, where Hawkeye fans can continue to enter a weekly drawing for great ANF prizes, such as ANF t-shirts, hats and sweatshirts. The contest begins Monday, September 14, and runs through Iowa's 2015 regular football season. "Sharing the story of farming is a commitment that remains a priority for us, well beyond the final touchdown. This is one more way for Iowans to learn about farming, and it's fun and easy to enter. Just go to http://programs.iowafarmbureau.com/anf/gameday/weeklycontest.aspx watch a fun, educational video from the 'Iowa Nice' star, Scott Siepker, and share one reason why you still need and appreciate farmers. It's a fun way to see how farming touches so many lives, not just 30 years ago, but today as well," says Hill.
ANF was first launched during the Hawkeyes' 1985 Rose Bowl season by Coach Hayden Fry when the Farm Crisis of the 1980's was hitting the Heartland exceptionally hard. This year marks the 30th anniversary of ANF, a longstanding tribute to America's farmers and program connecting Iowa's farm families to consumers to learn more about the production of food, fuel and fiber. For more information about ANF and Game Day activities, visit www.americaneedsfarmers.org.