Iowa Farm Bureau Receives Top Honors at American Farm Bureau Annual Convention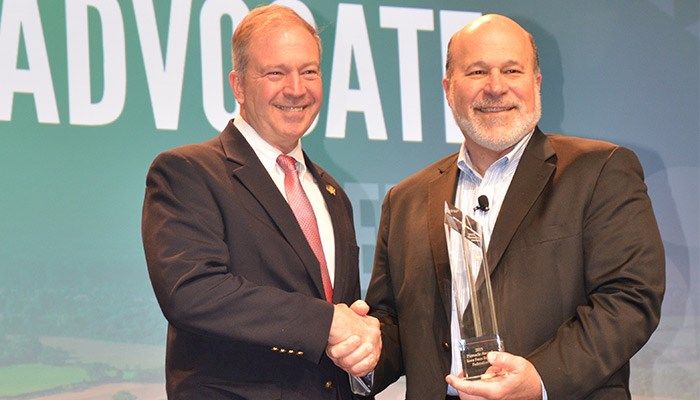 Iowa Farm Bureau Federation (IFBF), Iowa's largest grassroots farm organization, received several honors, including the Pinnacle Award, for the third consecutive year at the American Farm Bureau Federation's (AFBF) 97th Annual Convention in Orlando, Florida.
State Farm Bureaus were presented awards during the AFBF meeting January 8-13 to recognize their excellence in membership achievement and implementation of outstanding programs serving Farm Bureau members in 2015.
The Pinnacle Award is the highest level award and is given to the most outstanding state in each membership group. To be eligible for the award, a state must have achieved membership quota for the year and have the most President's Awards in its membership group. IFBF received five President's Awards, given to the most outstanding entry in each membership group for each program area.
"Our organization is extremely proud to be presented the most prestigious award that can be awarded to a state Farm Bureau," said IFBF President Craig Hill. "This year's award is extra rewarding, as Iowa becomes the first state to receive the coveted Pinnacle Award for three consecutive years, a testament to the strength of our grassroots organization."
The Awards of Excellence are awarded to state Farm Bureaus that have demonstrated outstanding achievements in six program areas: Education and Outreach; Leadership Development; Member Services; Membership Initiatives; Policy Development and Implementation; and Public Relations and Communications. IFBF received an Award of Excellence in all six categories.