Iowa Farm Bureau Park at 2017 Iowa State Fair showcases agriculture's presence in everyday life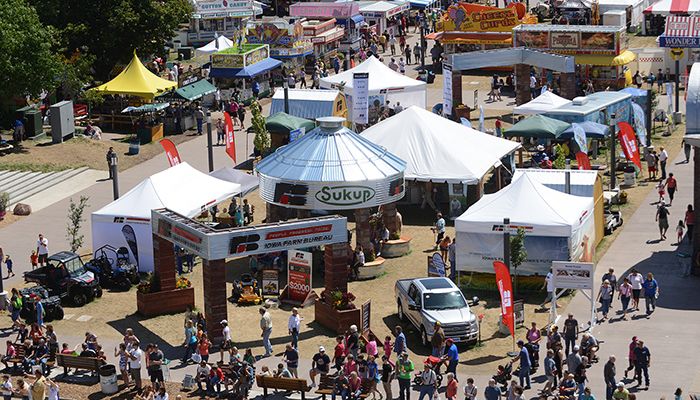 Win $500 in free groceries, $2,000 in ethanol gas and more
The 2017 Iowa State Fair is right around the corner and fairgoers will have a chance to win great prizes and play games at Farm Bureau Park while learning how "Farmers Help Produce More than Produce." This year's theme is designed to show Iowans that Iowa agriculture provides numerous products we rely on every day.
For example, did you know soybeans are being used to make antifreeze for vehicles and toilet seats, or that cattle help make buttons for clothing and the bristles of paint brushes? With the help of special "decoder" glasses, state fairgoers will see many more examples like these at Farm Bureau Park, as they view large displays of livestock and farm equipment that have hidden images on them made from Iowa-grown crops and livestock.
"We encourage fairgoers to stop by Farm Bureau Park to see how agriculture weaves its way unexpectedly into our everyday lives. Farm Bureau members will also be on-hand to answer questions pertaining to agriculture, and share information about how they grow and raise food today, as well as how agriculture impacts all our lives," says Craig Hill, IFBF president. "This year we will also be celebrating the recognition of 353 Century Farms and 114 Heritage Farms that have been in the same family for 150 years or more. This longtime history of farming embraces qualities important to all Iowans like hard work, innovation and love of family."
Visitors to Farm Bureau Park will have a chance to play free games to win great prizes, including $500 in groceries. Those who sign up to join Iowa Farm Bureau at the fair can also win $2,000 in ethanol fuel. Current members are encouraged to bring their 'member thank you coupon' from the Spokesman to receive a special gift while supplies last. They can also enter various drawings to win a zero-turn John Deere lawn tractor, a Fisher Price Power Wheels F-150 or a 24-month lease on a 2017 Ford F-150 or a Morton Building and Cat® compact track loader.
There is something for all ages at Farm Bureau Park. Every day a variety of health screenings such as blood pressure, hearing, skin cancer and lung health checks will be available. During Farm Bureau Day on Tues., Aug. 15, chefs from across the state will bring their best recipes, grills and smokers to the Grand Concourse for the 54th annual IFBF Cookout Contest, hoping to win bragging rights with a category prize or to be named the overall Cookout Champion. On Thurs., Aug. 17, Iowa's next batch of entrepreneurs are invited to the Park for a free business consultation with IFBF's Renew Rural Iowa program director and associates. Find a full schedule at www.iowafarmbureau.com/News/Iowa-State-Fair.