Iowa Farm Bureau Names Molly Shanahan Leadership Training Manager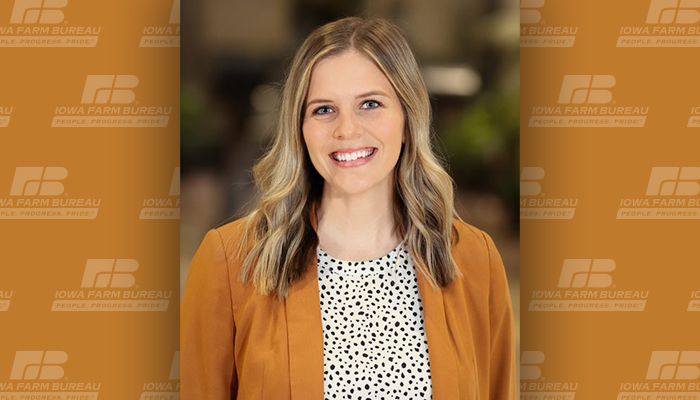 The Iowa Farm Bureau Federation (IFBF) has named Molly Shanahan as its leadership training manager.  Shanahan is responsible for serving IFBF's statewide membership by managing various leadership development programs for members and county Farm Bureaus, including the Ag Leaders Institute and Young Farmer program.  Shanahan succeeds Mary Foley Balvanz who will retire in Spring 2023 after more than 25 years of service.
"We are very excited to have Molly on staff to continue growing our leadership development programs and providing valuable training and resources that Iowa Farm Bureau members have long relied on," said Ryan Steinfeldt, IFBF field service director. "Molly's leadership background and experience, along with her farm roots and agriculture knowledge, allows us to continue serving our members and county Farm Bureaus with leadership development opportunities and programs."
Prior to being named IFBF leadership development manager, Shanahan served as a talent development consultant with Farm Bureau Financial Services (FBFS), supporting leadership development programs for FBFS employees.  
"Iowa Farm Bureau has a stellar reputation for developing and growing leaders, and I'm excited to help advance our members and county Farm Bureaus through valuable leadership development programming and resources," Shanahan said.  "With 100 county Farm Bureaus and member boards in each county, I look forward to working with our leaders to advance and grow county Farm Bureaus." 
Shanahan was raised on a family farm in eastern Iowa, where her family grows corn and soybeans and raise beef cattle.  The University of Northern Iowa graduate is also active in United Way of Central Iowa's young professionals' campaign, LINC.  Shanahan resides in West Des Moines with her husband and goldendoodle.