Investing for water quality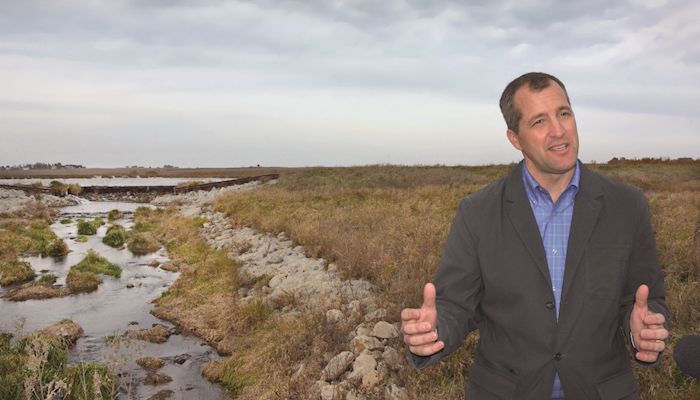 The initial dollars from Iowa's long-term, dedicated funding to improve water quality are being used to help landowners scale up the construction of edge-of-field conservation practices, such as wetlands, bioreactors and saturated buffers, Mike Naig, Iowa secretary of agriculture, announced last week.
"We are putting boots on the ground and knocking on doors so we can talk with farmers and landowners one-on-one about implementing these practices," Naig said at a press conference held at a Dallas County wetland. "We want to help them with the technical assistance, as well as helping put together the financing piece of it. We've found that the one-on-one approach really does help spur implementation."
For the current fiscal year, which began July 1, the Iowa Department of Agriculture and Land Stewardship (IDALS) received $2 million from the long-term, dedicated water quality measure, which passed the Iowa Legislature in a bipartisan vote in early 2018 and was signed by Gov. Kim Reynolds. The Iowa Farm Bureau Federation was a strong supporter of passage of the measure, called Senate File 512, which provided $282 million in water quality funding over the next 12 years.
IDALS will receive approximately $2 million of the funding this fiscal year, on top of the nearly $10.6 million in other legislative support for the strategy this year.
The department will receive $4 million next year from the dedictated fund and then more than $15 million annually from fiscal 2021 through fiscal 2029. The remaining funds will go to the Iowa Finance Authority to support communities upgrading wastewater treatment facilities to better protect water quality.
Leveraging dollars
IDALS, Naig said, is working to leverage those water quality funds with federal cost-share dollars, as well as funding from cities, farm organizations, outdoor advocates and others in the private sector.
That additional funding, Naig said, is helping IDALS scale up from the demonstration phase to the implementation phase of the five-year-old Iowa Nutrient Reduction Strategy. This will help the department put more emphasis on key watersheds, such as the North Raccoon, the Middle Cedar and the South Skunk, which can have the largest impact on the state's water quality, he said.
"We are taking a more aggressive approach, and we believe that sitting down and talking directly to landowners will be really important to our success," Naig said.
New coordinator
IDALS has hired Shane Wulf to coordinate its edge-of-field efforts. Wulf, former water quality coordinator for the Miller Creek demonstration project in Black Hawk County, will focus on working with farmers to scale up implementation of edge-of-field practices in the priority watersheds and elsewhere in Iowa as opportunities develop.
In addition, IDALS has hired implementation coordinators for the North Raccoon, Middle Cedar and South Skunk watersheds to help provide technical assistance and information on expanding water quality efforts.
Want more news on this topic? Farm Bureau members may subscribe for a free email news service, featuring the farm and rural topics that interest them most!