Improving water quality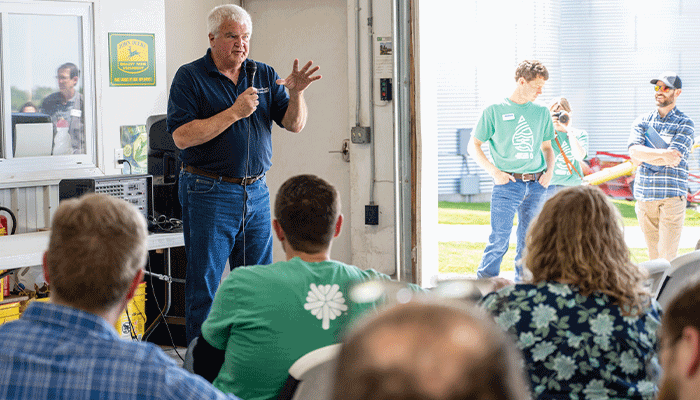 As the largest corn processing city in the world, Cedar Rapids takes pride in its connections to agriculture. 
So when it came time to develop improvements to the city's flood control system and enhance water quality protections for its drinking water, the city naturally looked upstream to forge partnerships with farmers that provide mutually beneficial results.
"Sometimes we hear about lawsuits and litigation, all kinds of friction and consternation between government and agriculture," said Cedar Rapids City Manager Jeff Pomeranz. "In Cedar Rapids, we have chosen the route of collaboration, supporting our key industries."
While nitrate levels have never reached unsafe levels in the city's water supply, Pomeranz said water and water quality are critical to the city's future growth and prosperity.
The water quality improvement efforts began at the source by forming partnerships with farmers and conservation-minded organizations to implement best management practices in the Cedar River Watershed to help keep nitrate and other nutrients on their land and out of waterways.
The city obtains its drinking water from a network of horizontal collector wells and vertical wells constructed in sand and gravel deposits along the Cedar River. The sand provides natural filtration, but the city's water supply is still heavily influenced by surface water quality, according to Christine Knapp, water plant operations manager for the city of Cedar Rapids. 
"We pull water from the aquifer, but it's shallow. It's sensitive to the surface water levels," she said. "We are starting to see some of the benefits of the (conservation) practices."


Conservation partnerships
In 2015, the city launched the Middle Cedar Partnership, a five-year project that worked with farmers and landowners to implement practices such as cover crops, nutrient management, wetlands and saturated buffers to help improve water quality, water quantity and soil health in the Cedar River Watershed. The project resulted in three returns: reduction in nutrient runoff and improved soil health, flood mitigation and stormwater storage and anticipated long-term tax savings with lower utility costs due to reduced demands on water treatment plants and decreased flood damage.
Water monitoring showed that bioreactors decreased nitrate load by an average of 42%, while fields with saturated buffers resulted in an average decrease of 32%.
Buoyed by the success of that project, the city recently began working with 11 partners on the Cedar River Source Water Partnership, a $16 million project funded by U.S. Department of Agriculture and 13 partners.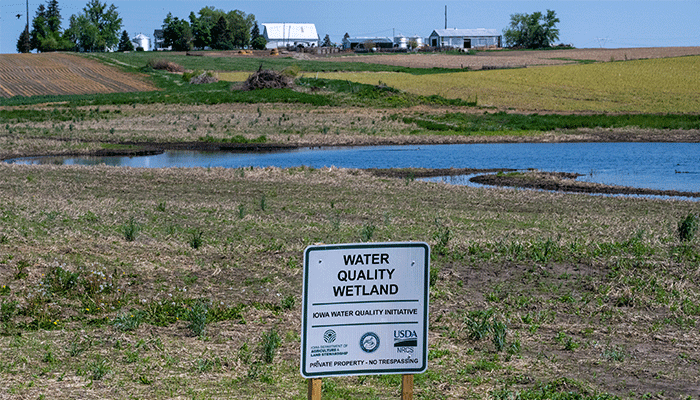 Pictured above: Cedar Rapids is partnering with farmers and landowners to implement conservation practices, such as this wetland on the Jim O'Connell farm, to help improve water quality in the Cedar River watershed. PHOTO / CONRAD SCHMIDT
Local farmers on board
For farmers like Jim O'Connell and Dan Voss, who both farm just west of Cedar Rapids, partnering with the city was a no-brainer.
O'Connell started planting cover crops more than a decade ago to slow erosion.
"Ten years ago, driving to Ames I noticed the ditches were full of dirt," he said. "I thought, 'What can we do to prevent that?' We started implementing cover crops on our farm." 
His cover crops are a mix of winter wheat and cereal rye planted right after harvest. Coaching high school football puts additional demands on his time in the fall, consuming more than 3 hours a day, but he said cover crops are worth the effort.
"Every acre that I farm, I have cover crops on. We'll put it on in the middle of the night if we have to but we'll get on during harvest," said O'Connell. "You can do it if you want. I don't want to push it on anybody, but I don't like that excuse that 'I don't have time to do it.'"
In addition to water quality benefits, O'Connell said the weed suppression provided by cover crops has reduced his herbicide bill.
"My chemical cost has dropped by one-third, and I foresee it going lower because of suppression of weeds," he said. "I'm not putting as much (herbicide) out there. But it takes time. It's different management."
McConnell also recently in­stalled an 8.6-acre wetland on his property to capture and clean runoff from a 175-acre area before it drains into Morgan Creek, a Cedar River tributary.
"A lot of our land drains where a creek is just starting. I thought that's a good place to put a wetland," he said. "We are trying to do things to help. We want clean water too. We're drinking it. A lot of our wells are right there."
A few miles up the road, Dan Voss continues to layer additional conservation practices on his farm. He began no-tilling in the 1980s and like O'Connell has been planting cover crops for several years. Now he's adding edge-of-field practices, including a bioreactor, saturated buffer and pollinator strips.
"There's always new wrinkles in farming, no matter how long you've been farming," he said. "This is a societal issue. It's not just a farm issue.
"Besides the people in Iowa, the most important thing is soil and water. Once the soil is gone, you don't get it back."
Area farm cooperatives have also joined the effort to help farmers put conservation practices on the ground to improve water quality and soil health.
"We want our customers to get the most use out of everything we sell them. The best way to do that is through conservation," said Matt Becker of Linn Co-op. "What these guys are doing really pairs well with what we're trying to do."
Efforts grow
Thomas Fawcett, director of environmental resources and precision ag for Heartland Co-op, said in the last two years the cooperative's environmental team has worked on conservation plans with 390 farmers, who have implemented more than 50,000 acres of cover crops and are working on the development and installation of 240 bioreactors and saturated buffers.
"What we've found is that through a 'boots on the ground' approach through conservation agronomy, we're able to bridge a gap that had been there in the past," he said. "To scale this up, we have to have more people be able to reach more farmers who haven't thought about the practices or haven't known how to mitigate the risk in their operation."
The Cedar River watershed efforts are proof of the progress being made under Iowa's Nutrient Reduction Strategy by reaching more farmers and helping pay for edge-of-field conservation practices, said Sean McMahon, director of the Iowa Agriculture Water Alliance. 
"The Cedar River Watershed has the most public-private engagement of any in the country," he said. "This partnership helps us reach the middle adopter and late adopter."
Both O'Connell and Voss said the assistance provided by Cedar Rapids and other project partners has been instrumental in helping put conservation practices on the ground. 
"It's huge," said O'Connell. "To get an undertaking like this done, their help is instrumental."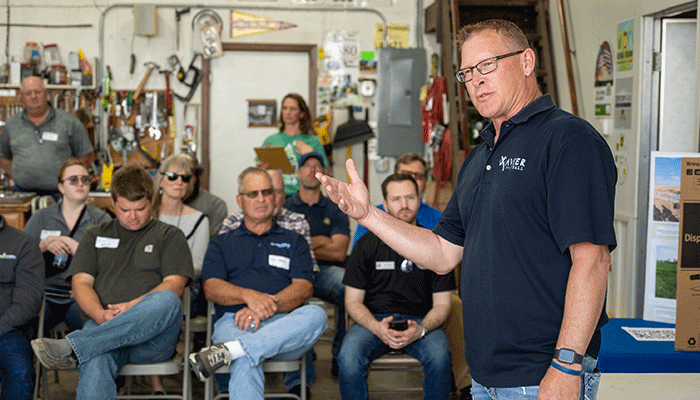 Pictured above: Linn County farmer Jim O'Connell says the partnership with Cedar Rapids on conservation efforts has been successful. PHOTO / CONRAD SCHMIDT
Want more news on this topic? Farm Bureau members may subscribe for a free email news service, featuring the farm and rural topics that interest them most!