Howell Christmas Tree Farm a holiday destination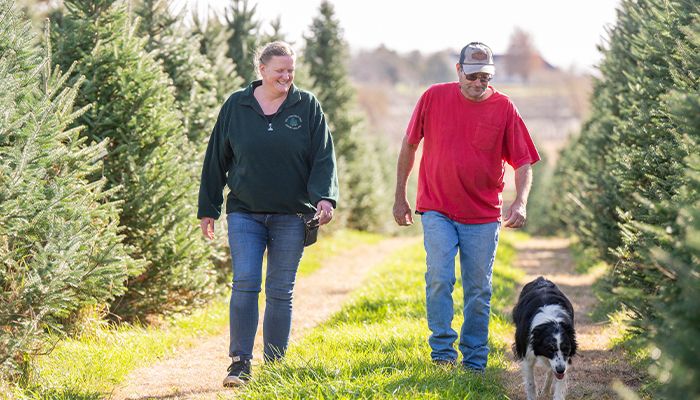 Chris Howell fondly remembers as a toddler helping on the family's Christmas tree farm.
At 5 years old, he would tag along as his father and workers planted, tended to or cut down the trees for customers each year.
"I'd carry the chain saw around for my Dad," Chris said with a laugh. "We started selling trees in 1970, and I've been here ever since."
This year commemorates the 60th anniversary of when Chris' father, Mark, planted the initial 1,000 trees on the family farm southeast of Cumming in Madison County. While growing corn and raising cattle and hogs on the 750-acre farm was the 
priority back then, the Christmas trees evolved into a labor of love, dedicated to funding the education of seven children. 
The planting of 1,000 trees during the first seven years, symbolizing each of the seven children, laid the foundation for their present-day operation.
"A little extra money, all the kids did the work — the planting, the mowing, weed pulling and trimming," said Chris' wife, Jenny.
Today, Farm Bureau members Chris and Jenny are the proud owners and operators of Howell Tree Farm, which includes 40,000 trees ranging from Canaan Fir and Colorado Blue Spruce to White Pines and Scotch Pines, spread across 50 acres.
Their sons, Charles and Daniel, lend a hand during the bustling holiday season, supported by a team of 10 to 12 helpers assisting with spring planting and November harvest. Another group of 10 assists Jenny in crafting special wreaths, swags and porch pots; managing the gift shop; tending the cash register; preparing popcorn; and keeping the coffee and cocoa fresh.
Approximately 2,000 visitors will stop by the farm over the next month to pick out their cherished Christmas tree. Saturday, Nov. 18 was opening day, and in typical fashion, the Howells said cars began lining the lane at 5 a.m.  By opening at 7 a.m., vehicles stretched to the highway more than a half mile away.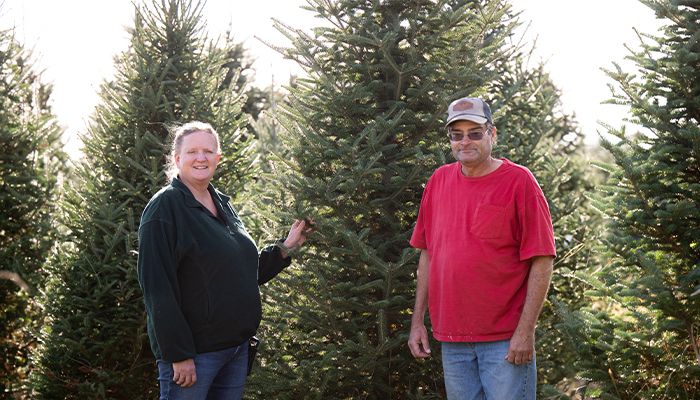 Pictured above:  Visitors to Howell Tree Farm can not only pick out a tree, but also meet Santa, grab some popcorn, peruse through the gift shop and watch the train display.  PHOTO / CONRAD SCHMIDT
Creating memories
According to Chris, visitors come from all corners of Iowa, with nearly one-half of the available trees finding new homes on the opening day alone. In total, 2,000 trees will leave the farm during the holiday season.
"We have trees out in the field where you can go out and choose which you'd like," Jenny explained. "Tear the tag off the tree, bring it in, and we go out, cut it and prepare for you." Pre-cut trees also are available.
While patrons await their tree to be bundled, they can spend quality time with Santa Claus, admire a train display, purchase ornaments, nativities or displays from the gift shop, and enjoy refreshments.
Children can play with toy trucks that are provided for all younger visitors. 
"The kids get really excited about that," said Jenny. "Sometimes they'll walk in and they'll have a little slice of the trunk of a tree or a branch that they're playing with. They love that."
Families building memories by heading out to get the year's Christmas tree truly is priceless.  Jenny has witnessed youngsters selecting their tree with mom and dad grow up and return decades later with their own children to relive the tradition.
"It's fun to see the people you've seen for years and watch their kids growing up," Jenny said. "They bring their kids back and they're the adults now.
"Christmas is a great season — everybody's happy, excited to do all the decorations, and we know that people are going to go home with something that's important for their family."
The perfect tree
Chris treasures planting new seedlings at the beginning of April each year and caring for the tree farm throughout the year. However, nothing beats the holiday season for him.
Interacting with customers is a highlight, he said. Seeing the children's faces light up as they gaze at the train display or watch their newly acquired tree attached to the top of their vehicle for the ride home is priceless. Visitors love the smell of the trees and wandering the farm, he said.
Canaan Fir is by far the most popular tree, cherished for its classic appearance and robust branches capable of supporting heavy ornaments. Nonetheless, Jenny emphasizes that the definition of the perfect tree is subjective.
"There's not really a secret (to picking the best tree) … everybody's opinion is a little different," she said. "A perfect shape for some is nice and fat, while somebody else might like their tree really skinny. It's subjective … but by the time you get it decorated, they all look beautiful."
The Howell Tree Farm, located at 3129 Howell Court in Cumming, is open from 9 a.m. to 5 p.m. every day through Dec. 23. Santa Claus will be available Friday through Sunday after Thanksgiving.
Wreath-making classes also are available upon request; email howelltree@aol.com for more information.
"We hope that people will enjoy coming out here to have a pleasant experience and find a tree that they love for their home," said Jenny.
Want more news on this topic? Farm Bureau members may subscribe for a free email news service, featuring the farm and rural topics that interest them most!