Honey Queen creates a buzz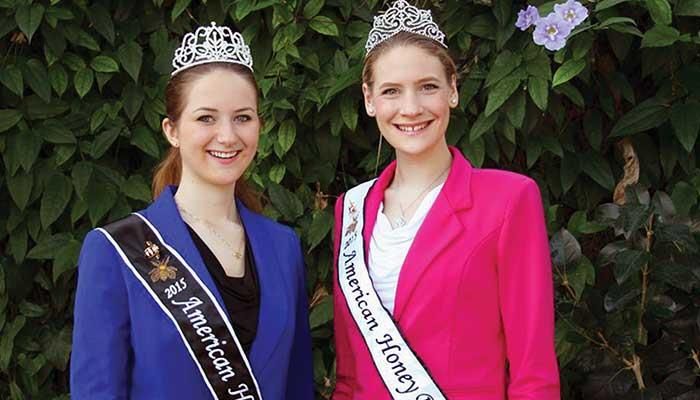 Ever since she was a little girl, Gabrielle Hemesath of Clermont didn't run away in fear from a bee, but instead was fascinated with the fragile creature.
Now as a student at Iowa State University, Hemesath is the American Honey Queen. She also owns a set of hives and works at Fassbinder Apiary near Elgin. She just wrapped up her freshman year in college, where she's studying marketing. She graduated from North Fayette Valley High School.
"I plan on being a beekeeper after college, but I want to diversify my products with waxes and cosmetics, so I'll use my marketing degree to sell those," she said. "As a beekeeper, I only wear a veil with the netting to cover my face. The bees where I work and in my own hives are very friendly."
Hemesath was crowned the Central Iowa Honey Queen in 2013, the Iowa Honey Queen in 2014 and now the American Honey Queen in 2015. Her royal duties allow her to travel the country, talking to people and teaching them about honey bees and honey, a job she loves.
"Honey bees are the connection from plants to our dinner plates, and it's important for people to know that. It's important for people to know how to protect bees, because one-third of the food in the U.S. is pollenated by honeybees and the average worker bee makes 1-12th of a teaspoon of honey its entire life, which is only five to six weeks. They literally work themselves to death," she said.
Anna Kettlewell, American Honey Queen program chairperson, said that the American Beekeeping Federation crowned its first American Honey Queen in 1959. Both the Honey Queen and Princess carry out the same work duties and travel across the nation representing the national organization.
"This program is very important for the beekeeping and honey industry. Throughout our history, the queen and princess have worked tirelessly for the industry at a variety of events and have gained significant amounts of publicity for a niche industry," Kettlewell said.
By being in the public eye, the queen and princess also help increase the consumption of honey by teaching the public different ways to use our products, Kettlewell said.
"Their presentations offer ways that the public can benefit from the industry and its products and ways that the public can help in the protection of this agricultural industry," she said.
Discover a few of Hemesath's favorite honey-based recipes on Farm Bureau's Iowa Dish website (http://goo.gl/5U68VS).

Return to The Iowa Dish.