Hog profits forecast as consumers rediscover taste for pork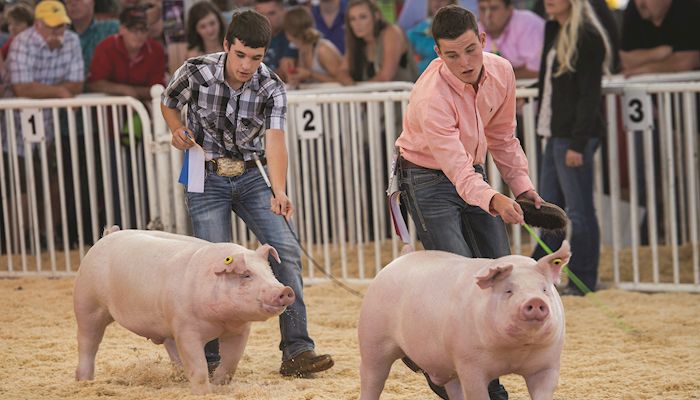 U.S. consumers are piling more pork onto their plates once again, creating a favorable profit outlook for hog farmers for the next year or two, economist Steve Meyer said last week at the World Pork Expo in Des Moines.
Pork consumption dipped from 2010 to 2014 due to higher retail costs, but has rebounded the past three years even as competition from beef and poultry farmers continues to grow.
"We're back to kind of the normal pork consumption of 50 to 52 pounds (per capita annually)," said Meyer, vice president of pork analysis for Express Markets Inc. (EMI) Analytics. "I really didn't think we'd ever get back up here. Beef's growing, pork is going to continue growing, chicken's going to continue growing, turkey is likely to continue growing — and they're all doing it at relatively profitable levels. That's the phenomenal thing that's going on."
The surge in pork demand is being driven by consumers' craving for bacon, which drove pork belly supplies to their lowest level since 1957 earlier this year. Fast-food restaurants are also seeing an increase in demand for pork sausage in breakfast sandwiches.
The shifting market will bring higher returns even if pork consumption levels off as consumers appear willing to pay more per pound of pork, Meyer said.
"Price matters when you're looking at demand," he explained. "It'd be nice if they were eating more, but we can still have higher demand even if people eat the same amount as long as they're willing to pay more for that product, and that's what we've seen happen."
A changing market
The Pork Checkoff is putting the finishing touches on a plan to capitalize on the changes in consumer demand by repositioning pork marketing, said Terry O'Neel, president of the National Pork Board.
"The Pork Checkoff has embarked on a journey to determine how best to market pork today. The direction may be drastically different than we've seen in the last quarter century," said O'Neel, a pork producer from Nebraska.
The changes are driven by what National Pork Board CEO Bill Even called "the three M's" — millennials, mobile communication and a growing multicultural consumer base.
Millennials are wielding in­­creased buying power and make buying decisions differently than prior generations, he said. Mobile communication devices are also swaying buying decisions as consumers seek instant access to information at the point of purchase. Growing diversity in the U.S. population also provides an opportunity for increased pork sales as immigrants bring their cultural food preferences to America, Even said.
Jarrod Sutton, the National Pork Board's vice president of domestic marketing, said a year-long research effort has been aimed at finding "the marketing sweet spot" to capitalize on pork's flavor, convenience and value while reaching a younger and more diverse audience. The new marketing strategy is expected to be deployed early in 2018.
Profitable opportunities
Meyer said the market is providing profitable opportunities for hog farmers this year with prices averaging $68 to $70 per hundredweight. He projects prices will average $69 to $72 in the second quarter and $72 to $75 in the third quarter before the usual seasonal decline to $61 to $64 in the fourth quarter. He urged farmers to consider locking in prices now, since futures prices are likely higher than cash prices will be later in the year.
"We think these prices are crying for you to take action," he said.
Continued expansion
Average profits this year could be around $20 per head based on estimated input costs, which Meyer said will continue to encourage ex­­pansion of the U.S. hog herd.
"You're not going to slow down at those levels," he said.
U.S. pork production has increased al­­most 16 percent over the past five years, including an anticipated 3.8 percent growth this year, Meyer noted.
"And we're still talking about being profitable. I think that's remarkable," he said.
The opening of several new pork processing plants will keep hog supplies from becoming burdensome by increasing packer capacity, Meyer reported. Smaller packing plants in Missouri and Minnesota recently started production, and a pair of larger facilities — including the Seaboard Triumph Foods plant in Sioux City — are expected to open in September.
Additionally, Prestage Foods has started construction on a processing plant in Wright County that will open next year. Altogether, the new plants represent a 10 percent increase in U.S. pork processing capacity, Meyer said.
The biggest risk for hog farmers remains the potential for a disruption in export markets, which could result either from political posturing or an animal disease outbreak, Meyer said. Exports consume nearly 25 percent of U.S. pork output.
"I don't think any of these things will affect this year's market or next year's market, … (but) it's an uncertainty," he said.
Want more news on this topic? Farm Bureau members may subscribe for a free email news service, featuring the farm and rural topics that interest them most!