Hill re-elected Iowa Farm Bureau President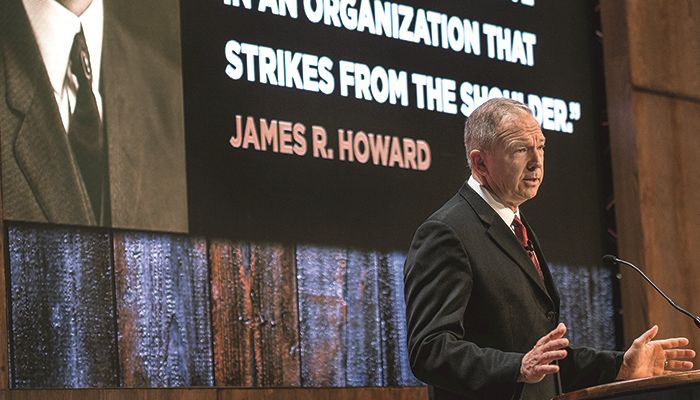 Worth and Van Buren County Farmers Elected to State Board of Directors
Craig Hill of Ackworth was re-elected president of the Iowa Farm Bureau Federation (IFBF) for a two-year term at the organization's 99th Annual Meeting in Des Moines.
Hill has served as IFBF president since 2011. His Farm Bureau leadership began with the Warren County Farm Bureau before being elected as the District 8 representative on the state board in 1989, and he later served as IFBF vice president from 2001-2011. As IFBF president, Hill serves as chairman of the board of FBL Financial Group, Inc., and Farm Bureau Life Companies. In addition, he serves on the American Farm Bureau Federation (AFBF) board of directors. Hill and his wife, Patti, have a daughter, Abbie, and son, Adam, who helps grow corn and soybeans and raise livestock on their Warren County farm.
IFBF delegates also elected Andy Hill of Worth County as District 2 director and Rick Plowman of Van Buren County as District 7 director. Will Frazee of Montgomery County was reelected as the District 9 director.
Andy Hill (no relation to Craig Hill) of Manly replaces Charlie Norris who is retiring after 22 years of service. He raises corn and soybeans and will represent 11 counties in north central Iowa: Kossuth, Humboldt, Winnebago, Hancock, Wright, Worth, Cerro Gordo, Franklin, Mitchell, Floyd, and Butler. He and his wife, Michelle, have two daughters. Hill has held several offices in the Worth County Farm Bureau, including president and voting delegate and AFBF voting delegate. He currently chairs the AFBF Budget and Economy Issue Advisory Committee.
Plowman, who replaces Andy Hora who also retired from the IFBF board, represents 11 counties in southeast Iowa: Muscatine, Keokuk, Washington, Louisa, Wapello, Jefferson, Henry, Des Moines, Davis, Van Buren, and Lee. Plowman has held several offices in the Van Buren County Farm Bureau, including president and voting delegate. He has served on the Hay and Forage Advisory Committee for both IFBF and AFBF. Plowman and his wife, Lisa, raise corn and cattle near Douds. They have two children and their son, Cale, is active in the family farm.
Nine delegates were elected to represent Iowa at the American Farm Bureau Federation (AFBF) Annual Convention in Nashville, January 5-10. They include: IFBF President Craig Hill of Warren County; IFBF Vice President Joe Heinrich of Jackson County; Mark Buskohl of Grundy County; Joe Dierickx of Clinton County; Matthew Willimack of Clinton County; Larry Sailer of Franklin County; Brian Feldpausch of Grundy County; Paula Ellis of Lee County; and Bryan Reed of Monroe County.
Karen Seipold of Mills County was elected to a three-year term on the IFBF internal study committee. The internal study committee serves as a liaison between the county Farm Bureau voting delegates and the state board of directors.