Heritage Farm Honors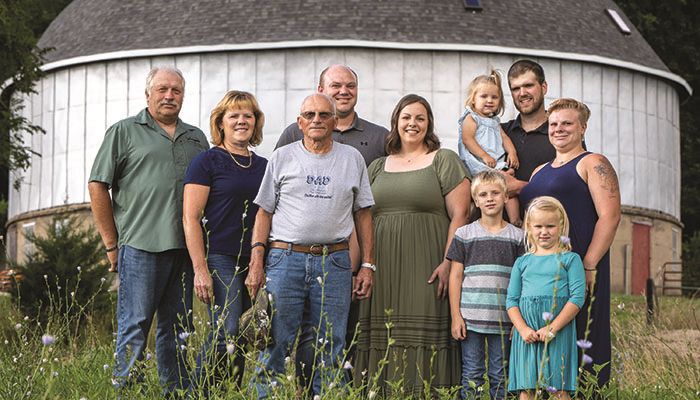 The drive to preserve and share northeast Iowa's historic landmarks runs deep for the Friedlein family of Clayton County.
This week, four generations of Friedleins will be honored as Heritage Farm owners at the Iowa State Fair. The family farm charts its history back to George Kaufman, who bought and farmed the land near Guttenberg in 1872.
 Seven generations of Kaufmans, Friedleins and now Chases have cared for and expanded the farm in the last 150 years, including the landmark round barn, built in 1916 to house dairy cattle.
Larry Friedlein is the patriarch of the family. Larry's son, Jeff, and wife, Kari Friedlein; their children Brandon Friedlein (Margo) and Taylor Chase (Nick), along with Nick's and Taylor's kids, Levi, Maisyn and Sylvia, all help out, making it truly a family farm for the Clayton County Farm Bureau members.
 Two late members of the family are held in loving memory: Marlys, Larry's wife, died in 2017; and in 2003, Jeff's and Kari's son, Derek, passed away.
 Jeff said the family is blessed to live near one another, with Larry, Jeff, Brandon and Taylor all living within a few miles of the home place. 
"We've got a fair amount of family close by," Jeff said. 
Historic Round Barn
For more than a century of the farm's 150 years, the round barn has housed cattle and feed. It was in use up to last year, when the family started restoration work on it, replacing the roof and making plans for further efforts. 
"I guess I'm kind of a sucker for preservation," Jeff said. "The goal is to have the barn open for tours someday, to share its unique architecture. Engineers just don't do this sort of thing anymore." 
The barn stretches 72 feet in diameter and is listed on the National Register of Historic Places. The circular design was perfect for managing dairy cattle. Feed bunks ran around the middle of the barn, fed by the central silo. 
Cows came in to feed and be milked, and like spokes on a bicycle wheel, when the cows faced the middle of the barn, there was more space between their back ends, allowing easy access for milking. 
Preserving the Past
The family's efforts to keep the past alive doesn't stop with the round barn. They also own more than 40 Oliver tractors. 
"Every couple of years we get them all out for the collectors to see them," Jeff said. 
Larry said when he was a boy, the family was just transitioning from horse-drawn to mechanical farming. He remembers well the first Farmall tractor his dad bought. "I'd drive it while the other guys forked hay onto it," Larry said. 
Similarly, Jeff learned to drive the tractor at about 7, quickly switching from John Deere to Oliver, which remains his favorite tractor to this day. 
Changing Times
The Friedleins switched to beef cattle and hogs for a while. Now they are mostly out of the livestock business, focusing instead on crop production and a seed dealership for Cornelius Seed of Bellevue. 
Brandon and Margo also brought their own innovations to the farm in recent years, focusing on garden produce and now primarily pumpkins. 
"The pumpkins are a FFA project that got out of control," Brandon joked. 
They now grow about 3 acres of pumpkins a year, which has turned into a consistent revenue source for Brandon and Margo. 
Most of the family works off the farm. Jeff owns an excavating business; Brandon is a credit officer at a local bank; Margo is a teacher; Nick is an RV technician; and Kari and Taylor are both paraeducators. 
In 2006, Jeff and Kari bought and started restoring the Lakeside Ballroom in Guttenberg. It, too, resides on the National Register of Historic Places, honored in part for its long history of hosting musical acts playing the venue along with its historic hardwood flooring. 
"There are only a few dance floors like it left," Jeff noted. They sold the ballroom and attached restaurant in 2021, but are proud of what they accomplished as owners. 
More Opportunities
Going forward, Jeff and Brandon are looking to expand opportunities to bring visitors out to the farm. 
"Agrotourism is something that's of interest to me, for sure," Jeff said. "We have a lot of history to share here on the farm, a lot of things (like the round barn) that are not well known." 
As for Larry's plans, "I'm going to keep farming as long as I can," he said. "Right now, we all plant our own acres; we have our own operations. I enjoy doing it; otherwise, I wouldn't be doing it anymore." 
While Jeff and Brandon have upgraded to newer planter systems, Larry still does things "the old-fashioned way." His planter utilizes a row marker and simple monitors, but otherwise, he drives it manually. 
Century and Heritage Farms
The entire family plans to attend the Iowa State Fair Aug. 18 for the Century and Heritage Farm ceremony, which will honor 351 Iowa farm families. To be recognized, at least 40 acres must be owned by a family for at least 100 years for a Century Farm and 150 years for a Heritage Farm. 
For the Friedleins, this will be the second Heritage farm in the family. Brandon and Margo live on a previously recognized Heritage farm that was passed down through his mom's family. 
To learn more about the Century and Heritage farm programs, or to sign up to be recognized next year, visit iowaagriculture.gov/century-and-heritage-farm-program. 
Want more news on this topic? Farm Bureau members may subscribe for a free email news service, featuring the farm and rural topics that interest them most!