Hands-on training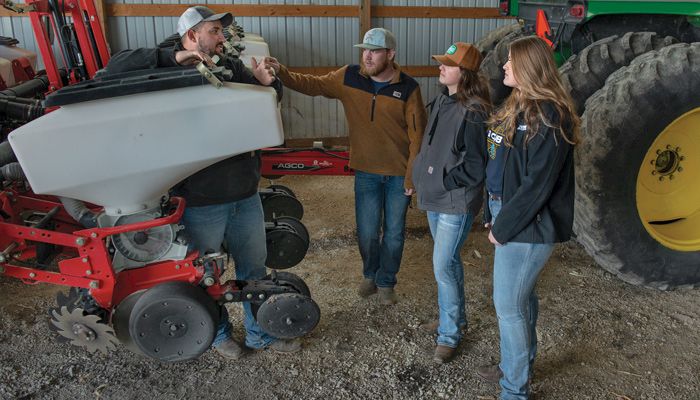 Mike Christen's farm north of Storm Lake is providing hands-on learning for Buena Vista University (BVU) students seeking experiences beyond the usual classroom lectures and library study sessions.
"There was interest here for an ag program, but they didn't have the hands-on side of things," said Christen, who established a partnership with BVU last year, offering his family's crop and livestock farm for use by the university's growing agriculture program. "These kids can't just learn from a book. They've got to get the hands-on version of it along with the book. It's got to go hand-in-hand."
Located less than 10 minutes from Buena Vista's lakeside campus, the BVU Agricultural Ex­­periment Station at Christen's farm allows students and professors to put livestock, agronomy and other agricultural concepts into real-world practice.
That's how Carmen Morrison found herself behind the wheel of a Case IH tractor driving a grain cart during harvest last fall. It's a big change from the small orchards she grew up working on in Washington state.
"Being able to experience something different forces you to step outside your comfort zone," says Morrison. "Personally, I believe in ag it's important to know a little about a lot of different things. Being in Iowa has helped me learn things I normally wouldn't have at home."
A recruiting tool
The farm has turned into a good recruiting tool for BVU students studying agriculture as well as other majors.
"Once they step foot out here, it seems like they're in. It's amazing how many kids we've got involved," says Christen, who rotates corn and soybeans and raises 85 head of cow-calf pairs on pasture at the farm, which was established by his grandfather. "It's like a piece of home to them. Once kids get on the farm, we can't keep them away."
Phoebe Flaskey, a biomedical sciences major, says helping Christen with calving duties and delivering vaccinations will look good on her resume when she applies to medical school. But the freshman from Tea, South Dakota, adds that when she needs a break from studying, she'll text Christen to see if he needs any help.
"As a biomedical sciences major, all I do is study," she says. "I need something to do just to get active."
Floyd Miller, a sophomore pre-veterinary medicine major, was introduced to Christen after driving some classmates to the farm for an agriculture club meeting. That sparked an interest that led to helping with harvest, working with horses and cows, and lending a hand on building projects.
"The more I came out here, the more I started doing," says Miller, who grew up on a small farm in Missouri. "It's nice getting experience doing a bunch of different things."
Miller, who is a member of BVU's wrestling team, also looked at larger universities but chose BVU due to its smaller class sizes and excellent track record of placing graduates into veterinary school. Over the past 10 years, all 34 BVU pre-vet graduates who applied to veterinary school have been accepted, reports Rich Crow, director of BVU's agriculture program.
Morrison, a junior ag business major, says BVU's size also appealed to her during her search for a college where she could play softball and pursue an agriculture major.
"A lot of coaches asked (me) are you willing to change your major in case they don't offer what you want," she recalls. "I always told them I want ag business. I wanted both."
The BVU ag program was still getting off the ground at the time, but Morrison was willing to take a chance after BVU leaders assured her they were committed to the program, which was launched in 2018. "Even though it was new, it was an opportunity to be part of something and help get it started, so years down the road it can flourish," she says.
A flourishing program
The program is indeed flourishing with 48 students enrolled in agriculture majors including ag business, ag science and ag education. Students can also create their own program of study by combining agriculture classes with offerings from BVU's other programs.
"I tell students if we don't have exactly what you want already laid out, we can build it," says Crow. "That's the beauty of a small school. We have kind of a personalized experience for every student. Part of my role is to sit down with students and figure out those experiences beyond the classroom that build a well-rounded student."
In addition to the college farm, BVU emphasizes internship op­­portunities. Morrison is heading back to her home state this summer for an internship with the Washington Department of Agriculture. She'll be traveling with the state veterinarian's office, taking water samples and working with regional and international marketing teams, among other duties.
Conducting field trails
Christen also offers his fields to BVU professors for research trials, including testing crop nutrient products. Geoffrey Ecker, BVU assistant professor of agronomy, is conducting field-scale trials of nitrogen stabilizers on Christen's farm as part of a nationwide study involving 53 similar trials across eight Midwest states. The Virginia native is excited to be teaching students about agronomic principles and crop science in the heart of corn and soybean growing country.
"It's fun to be part of something new, and it's particularly interesting to do it here," Ecker says. "It's such an easy fit for this community."
Crow said the BVU administration and community have been extremely supportive in helping the program grow.
"There's been a lot of positive support," he says. "I think they recognize there's a need. The hope is by having an ag program in the area, it'll encourage more of our graduates to stay locally."
Want more news on this topic? Farm Bureau members may subscribe for a free email news service, featuring the farm and rural topics that interest them most!