Hands-on learning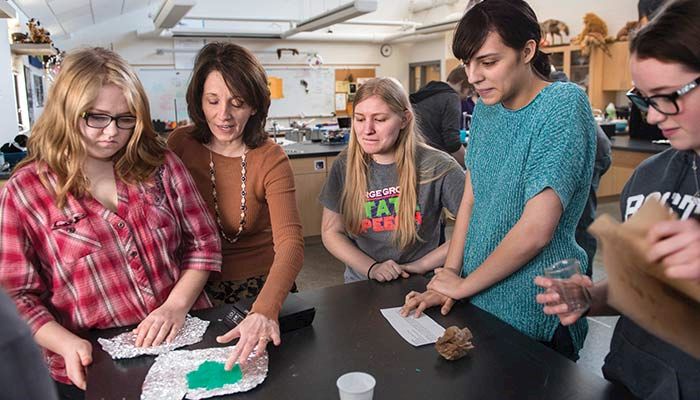 Students in the science lab at Center Point-Urbana High School heated beakers of colored liquid over Bunsen burners, watching the mixture come to a boil through their safety goggles.
The Bio Club members gathered over their lunch hour to make bioplastics following a simple recipe of cornstarch, glycerin, vinegar and food coloring.
Science teacher DeEtta Ander­sen explained how there is a big push by researchers to develop plastics made from renewable materials, such as cornstarch.
"And a starch-based plastic is great for Iowa. Why? Because we have a lot of corn, and it's great for our economy," she said.
Andersen said she tries to make her physical science and biology lessons relatable to real-world issues that students may hear about in the news.
Even though she isn't a vocational agriculture instructor, Andersen said she has found that agriculture is a great way to make her science lessons relatable — and memorable — to students in high school and beyond.
"One of my first years of teaching, I came home and said to my husband, I am going to make my whole curriculum ag-related," Andersen said.
"I always want to make sure that what they are doing (in the classroom), they see the relevance to their personal lives in Iowa. There's a farm field here, a farm field there, a stream there," said Andersen, pointing out the windows of the science lab. "We're living in the middle of ag land."
For her creativity in incorporating agriculture technology in her science curriculum, Andersen is one of eight educators who will receive the 2017 National Excellence in Teaching about Agriculture Award.
The award, presented by the National Agriculture in the Classroom Organization, the U.S. Department of Agriculture and Farm Credit, recognizes kindergarten through 12th grade teachers for the innovative ways they use agricultural concepts to teach core subject areas of reading, writing, math, science, social studies, STEM and more. The winners will receive the award at the National Agriculture in the Classroom Conference in Kansas City this June.
Earlier this year, Andersen also earned the Iowa Excellence in Teaching about Agriculture Award from the Iowa Agriculture Literacy Foundation. She received a $500 stipend to support her continued efforts of integrating agriculture into her classroom curriculum.
Andersen credited the Iowa Agri­culture Literacy Foundation for helping provide curriculum ideas and resources for incorporating agriculture into her lesson plans.
"(Agriculture) is a passion of mine, really," she said. "People have this mentality about agriculture, but they don't think about (it as) sustainability and food and genetics.
"When I first started (teaching) years ago, they were all farm kids (in class). Now I've got, at most, 40 percent farm (kids). So unfortunately, we are a little bit removed from agriculture. But not from the sustainability issues, not from the food issues or from the economic issues," she added.
Andersen stressed that she doesn't lecture in class. Instead, her goal is to encourage an active classroom, where students problem-solve through teamwork and are engaged hands-on in the process of science.
For a genetics class, her students grew genetically modified (GMO) corn and non-GMO corn in the classroom to compare the plants' resistance to corn borer larva, supplied by Iowa State University. They learned about the insect life cycle and how GMO corn guards against the destructive insect.
"I had corn borers all over the classroom. They move," Andersen said with a laugh. "But I love insects, so it didn't bug me, but some of the girls were kind of creeped out."
Last year, Andersen received an Agriculture in the Classroom teacher supplement grant from the Iowa Agriculture Literacy Foundation. She used the grant to teach about water quality and how different native grasses absorb nutrients from waterways.
The students created simulated waterways by cutting water bottles in half, length-wise, and then planting different grasses inside to see how the root systems absorbed colored dye.
"We talk about Iowa water quality … because that's a huge issue on the front page of our (Cedar Rapids) Gazette all the time," Andersen said.
"Most of these kids aren't going to be scientists, but they are going to go out in the world and hear things in the news. They are going to read a news article ... and need to understand a little bit of the science. So I feel like that is my goal to just prepare (students) to be informed citizens."
Want more news on this topic? Farm Bureau members may subscribe for a free email news service, featuring the farm and rural topics that interest them most!