Guthrie County farmer's passion and commitment to sharing agriculture's story earns Adam Ebert the Bob Joslin Excellence in Ag Award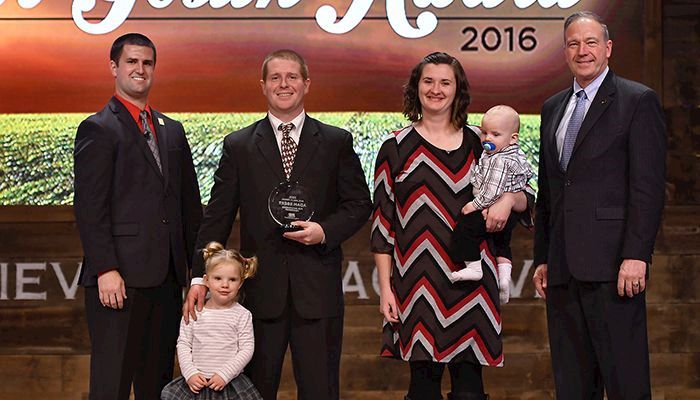 Adam Ebert's passion for telling the story of Iowa agriculture and community involvement earned the young Coon Rapids farmer the prestigious Bob Joslin Excellence in Agriculture Award, presented during the Iowa Farm Bureau Federation's (IFBF) 98th Annual Meeting in Des Moines, Dec. 6-7.
The award, presented by IFBF, honors a young farmer, under 35 years old, who demonstrates outstanding leadership in Farm Bureau, agriculture, and their community. The award is named in recognition of Bob Joslin, IFBF president from 1986-1987, who was well known for his support and encouragement of young farmers.
Ebert grew up on a family farm in Cherokee County before attending Iowa State University (ISU) and earning a triple major in agribusiness, international agriculture, and agricultural studies. Ebert also interned with the National Pork Producers Council and for the office of Senator Chuck Grassley in Washington, D.C. Following graduation, Ebert took a job at Nationwide in Des Moines, and his wife Mary, worked for Maschhoffs hog farms, but the couple knew they wanted to get back to the farm.
Six years ago, the Eberts started farming in Guthrie County, where the couple grows corn, soybeans, and hay, in addition to raising hogs and cattle, and Mary also works for the local ISU Extension.
For Adam, giving back to the community and speaking out for Iowa farmers has become a routine part of his day. Adam volunteers to share the story of Iowa agriculture at every opportunity, including meeting with state and national legislators during IFBF lobbying trips to the State Capitol in Iowa and Washington, D.C.
Ebert relishes the opportunity to share how Iowa farmers are taking on the challenge of improving water quality, and explaining the role everyone has to play in cleaning up our water. In addition to sharing the story of conservation with lawmakers, Ebert enjoys sharing that message in his local community. During a summer parade in Panora, Ebert and other Farm Bureau county members handed out free water bottles with labels explaining farmer's conservation efforts to summer residents in the Lake Panorama community.
"It's important for young farmers to get involved in farm organizations like Farm Bureau, because any new regulations will have the greatest impact on this younger generation in the future," says Ebert. With two young kids and a diversified family farm operation, it can be a challenge for Ebert to find the time to connect with consumers, but he looks for those opportunities as often as possible.
"You've just got to find that balance and try to spread it out," Ebert says. "You don't have to try to do everything yourself, but if you can't make it to an event, then somebody else can go for you. The key is just looking for ways to get more involved."
As the Joslin Award winner, Ebert receives a $1,500 Home and Workshop certificate from John Deere, the award sponsor, a 90-day no-payment and no-interest (NPNI) John Deere Financial Certificate up to $5,000, a $750 FAST STOP gift card from GROWMARK, and expense-paid trips to the 2017 American Farm Bureau Federation (AFBF) Annual Convention in Phoenix, and the 2017 GROWMARK annual meeting in Chicago in August.