Growing a local food hub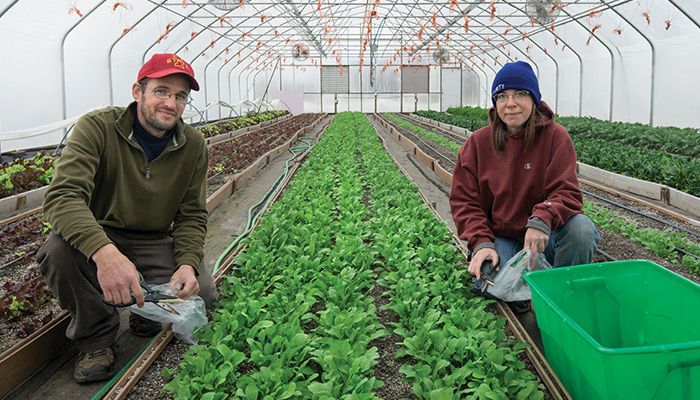 Stacey Feehan of Osceola can't get enough of the cheese. Kaitlin Schott, also of Osceola, lives for the aronia blackberry yogurt. Kathy Mika of Indianola can't believe the fresh greens she can get in February. Pete Keller of Ackworth likes the eggs. For Max Burkey of Des Moines, it's the cheese curds.
Every member of the Iowa Food Co-op has a favorite item. And Gary Huber of Ames, manager of the nearly nine-year-old organization, loves getting it to them. "This is the most fun job I've ever had," he says. "The people are amazing, the food is incredible, and its purpose is so compelling."
Huber, who helped found the co-op with other like-minded folks in 2008, comes by the position naturally. He grew up on a farm and began his career as a farmer in northeast Iowa. He holds degrees in agronomy and rural sociology and has worked for the Iowa Natural Heritage Foundation and Practical Farmers of Iowa (PFI).
The co-op got its start in one location at Merle Hay Mall in Des Moines with 35 producers and 80 members. Now there are 1,200 members, including 175 producers. The main store has moved to Franklin Avenue in Des Moines, with additional locations for pickup in West Des Moines, Ankeny, Indianola, Osceola, Albia, Panora, Ottumwa and Pleasant Hill.
"It's a grocery store owned by its consumers and producers," Huber explains. "Because the consumers own it, we've eliminated the intermediaries. Because of that, 85 percent of each purchase goes to the producer."
The co-op opened with a few staples — meat, eggs, honey and baked goods — and expanded from there, Huber says. "It took us a while to get dairy products." But now they have milk, cream, yogurt and butter, which are among customer favorites.
Huber especially enjoys watching relationships built between consumers and producers. "We focus on items that people want," he says.
Here's how it works. The inventory and ordering are all done online. The producers enter their goods for sale each two-week selling cycle, based on what they are growing and making at the time. Members place their orders online and indicate their pickup site. Pickup is every other Thursday at each location.
Volunteer Kim Jackson of Osceola oversees distribution at the Osceola location. "I love the food co-op," says the three-year member. "The fresh mozzarella cheese is the best. I got an order last week, and it made me super happy. I had a grilled cheese sandwich every day for a week."
The Osceola distribution center is at Timber Ridge Country Market on the north end of the square. Owner Pete Wolt, an early co-op member, provides flax-fed beef products to the co-op, and in turn sells some co-op items in his store, in addition to being the distribution site every other Thursday.
Lee Matteson, co-owner of Lee's Greens on the Lincoln Highway near Nevada, is another co-op provider. This is the fourth growing season for Lee's Greens. Besides the Iowa Food Co-op, they supply a CSA in Ames and several restaurants in Ames and Des Moines including The Café, Aunt Maude's and the Greenbriar.
Like Gary Huber, Matteson comes by this profession naturally. His parents and their relatives grew fruits and vegetables. Matteson has a degree in horticulture from Iowa State with a minor in agronomy; he began his career with Holub Greenhouses in Ames. He decided he wanted to steer his career more into fruits and vegetables, so he worked as the farm manager for the Berry Patch near Nevada for a few years before starting his own company with his business partner, Rose Schick.
Matteson grows greens, tomatoes and squash as well as strawberries and blackberries. He sows his winter greens in his warehouse in August and September, then transplants them to his high tunnel greenhouse. When the weather warms up, he moves some of his plants to the ground. His greens are popular all year round; during the week in March we spoke with him, he sold 430 pounds of greens to his customers.
"It's a lot of work," he says. "The business part of it especially takes a lot of time. Rose handles most of that. It took a lot of work to get the financing and to find the land."
All items are produced in Iowa, Huber says, with a few exceptions. "We get Missouri peaches in August. People really like those. And our wild-caught salmon, of course, doesn't come from Iowa."
For more information about the Iowa Food Co-op and how to become a member, visit www.iowafood.coop.
Hall is a freelance writer from Des Moines.
Want more news on this topic? Farm Bureau members may subscribe for a free email news service, featuring the farm and rural topics that interest them most!