Greetings from the farm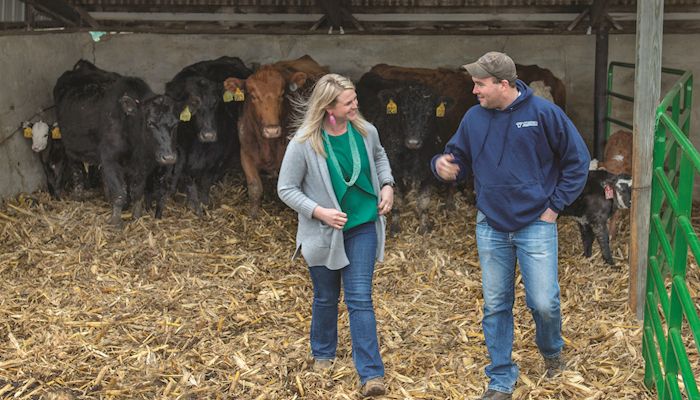 "Will you love me for heifer?"
That's just one of the slogans appearing on Melissa Nelson's line of Hungry Canyon Design greeting cards. The cards are created with farmers in mind: farmers who know the difference between a bull and a heifer, or dairy or beef cattle breeds.
Nelson enjoys a good play on words, an attractive visual design, and agricultural accuracy. So do her customers.
It started with her making homemade valentines for her husband when they were dating. She would post them on social media and friends would take notice, and ask for some of their own. In the past year, that effort has grown to a business with greeting cards, prints and other items for sale online through her Hungry Canyon Design website www.hungrycanyondesign.com, as well as select retail establishments. There is even a line of children's valentines for budding farmers who want to be "farm" correct.
"You go into a store and see cards about cows that picture a dairy cow," says Nelson. "That's not what beef producers want." Nor do they want a chart showing cuts of meat that is wrong, or the wrong piece of equipment in a field, or a wheat field if they live in central Iowa, and certainly not a red tractor if they drive green. "I wanted to make something that both men and women throughout the farm and ranch world could relate to."
A dose of farm humor
Nelson understands the farmers' sensibilities, and sense of humor. Who else would so understand a Mooey Christmas with a cow in a Santa hat? Or a sheep singing Baa la la la la? Or a pig featured with Merry Christmas you filthy animal? You're a cut above features a steak. And It may not be written in a register anywhere, but you're a Dam of Distinction in my book rings true with a certain audience. So does Love is getting the gate.
Hungry Canyon Design offers birthday, Christmas and all-occaision cards along with special messages for the one you love. Nelson's Thank Moo thank-you notes are new on the market and already a hit.
Along with cards, she offers prints suitable for framing with mantras like Home is where the herd is or I'll love you till the cows come home.
She and her husband, Mark, and 1-year-old son, Roy, live near Moville in northwest Iowa on the edge of the Loess Hills in the Hungry Canyon region. There they grow corn, soybeans, and have an Angus-Hereford commercial cow herd known as Hungry Canyon Cattle Company. Mark's dad is part of the farming operation that includes a feedlot, and honors its Hungry Canyon location with an emphasis on conservation.
Coming from her family's purebred Angus ranch in Nebraska, Nelson says she sometimes struggles with the mostly Hereford herd at Hungry Canyon, but she's adjusting. She makes greeting cards for both.
Educating on agriculture
Nelson's day job is as Externship Coordinator for the School of Applied Agricultural and Food Studies at Morningside College. It's a change from the last 5 years working with elementary school students in a seven county area through Ag in the Classroom, an experience she calls "eye-opening."
"Reaching the kids is so important," says Nelson.
She's well aware that urban sprawl does exist from growing up near Omaha. Still, Nelson is surprised at the need for ag education in the middle of farm country. "I guess you could say I have a passion for sharing information about agriculture to help overcome that disconnect."
She insists her cards be agriculturally accurate, which is part of conveying the real story of ag.
Nelson says she doesn't claim to be an artist, through she certainly has a way with graphic design. She buys stock artwork, some from her brother-in-law, and pairs it with her original witty text. As an agricultural communications major at the University of Nebraska-Lincoln, she dabbled in art and design, but is mostly self-taught.
She also sells her sister's photography. "We all grew up working with cattle," says Nelson. "My sister now farms with my parents and is a farm lifestyle photographer. We work together on the marketing."
They would like to expand into more farm and western-style gift items. And, with sights on expanding her young family, would like to develop a line of baby clothes and other items.
She's glad be able to capitalize on the current attitude of supporting local artists, and the small town mindset of supporting one's own. "I guess my husband and I are entrepreneurs at heart. We understand that small business dream," says Nelson. "We're full of great ideas. We'll just have to see what happens next."
Queck-Matzie is a freelance writer from Greenfield.

Want more news on this topic? Farm Bureau members may subscribe for a free email news service, featuring the farm and rural topics that interest them most!