Grandpa's Pumpkin Farm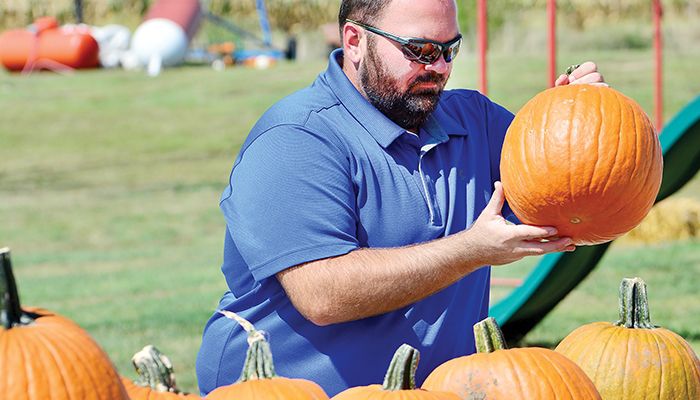 Justin Schwery chuckles to himself every time he catches the conversation on the hayrack ride out to his pumpkin patch.
 "I must hear it 100 times a season," Schwery said. Parents say to their children, if you can't carry it, you can't get it. "You have to be able to carry your own pumpkin," they say.
So what do the children do? "They go out there and pick the biggest pumpkin," Schwery laughed. "They can't carry it, try to roll it … and then all of a sudden you see dads out there lugging that big ol' pumpkin around. Never fails.
"They don't want to say no."
The months of September and October are the most satisfying time of year for Schwery, who for the past six years has operated Grandpa's Pumpkin Farm southwest of Panama with his wife, Christina; their three children, Charlotte, Caroline and Violet; and Justin's parents, Doug and Tresa.
When Christina first joked with him that they should plant some pumpkins and open a patch to the public, it initially was said in jest after a trip to another local pumpkin patch in 2017.
"We used to go to Uncle Leroy's up in Denison, take the kids there," Schwery explained. "But then about seven years ago it closed. Christina then suggested, hey, we should consider our own pumpkin patch on the farm.
"All of a sudden it started snowballing," Schwery said. "We had to figure out how to plant them, how to fertilize and how to care for them. Going into it we thought it would be an easy cash crop … put some seeds in the ground, grow some pumpkins and sell them.
"Low and behold, it wasn't that easy."
Alternative crops
Located on Street F32 near the Harrison/Shelby County line, the fourth-generation farm, a Century Farm, traditionally grows row crops — corn and soybeans.
Six years ago, after that conversation with Christina, Schwery said they decided to diversify and planted the pumpkins across a small 6.5 acres of farmground.
"The farm economy was down at that time; corn and soybeans weren't worth as much then, so we decided let's grow some pumpkins and start a pumpkin patch," Schwery said.
"Grandpa" Doug picked out the name and they entered the alternative crop arena.
The first year was successful with a pumpkin crop approaching 2,500 to 3,000 pumpkins per acre, but by year two they had learned much more about the challenges they would face from disease pressure such as powdery mildew or insect concerns from cucumber beetles, squash bugs or vine borers.
"We found out you can't plant them in the same place twice," he said.  To limit disease and bug carryover, they now rotate the crop each year on a three-year cycle.
2021 was the patch's best year, and this year looks to be strong as well, although they weathered some drought conditions in July and August that effectively curbed a banner season.
"That July-August is the crucial point for pumpkins," Schwery said. "Heavy dew mornings helped, and we'd get two-tenths or a tenth of an inch of moisture here and there to keep it going."
More attractions
In 2017, they began offering other attractions besides the pumpkins for customers, including a small corn maze and hayrack ride. Today, the operation has grown to provide a small animal zoo (goats, chickens, potbelly pig, Highland cow and llama), a 5.5-acre corn maze, bounce houses, great pumpkin jump pad, corn pool, duck races, barrel train rides, a two-hole mini-golf course and human hamster wheels.
And don't forget the pumpkin and apple canons, where pumpkins can be chucked a quarter mile or guests can shoot apples at a target. "From our first year until now, we have come a long way," Schwery said.
Something new is added every year. "One thing I've always wanted to add is a pumpkin house," Schwery said, where guests can have photo opportunities in a house outlined in pumpkins.
Open weekends now through Halloween, guests come from across the country, with many families coming back to visit their parents who live in western Iowa.
During the week, special group tours are offered as well as field trips for school kids within a 40-mile radius.
"Each student can pick their own mini pumpkin out of the field — pick it right off the vine," Schwery said. "The teacher gets a big pumpkin for decoration in the classroom."
Planning for next year
Schwery calls the pumpkin farm more of a "passion" and community attraction than anything else. While economical and financially feasible, it is much more work than they ever imagined at start up.
"It's a lifestyle … You have to be committed," he said. "Everything is done by hand — cutting them, loading and delivering."
Besides offering the individual picking at the farm, Schwery said they deliver to two Hy-Vee and Fareway stores in addition to other pumpkin patches in the region. He had a load on the trailer headed to as far away as Adel in late September.
By late October, most of the patch will have been picked over. What's left is either hauled away by local farmers as livestock feed or left on the field as organic matter for the next season.
"Planting for next year starts as soon as we're done this year," Schwery said.
"We'll drill in some rye as cover crop, and when it emerges in the spring we'll crimp it and lay it down," he said. "We use it as a weed suppressant," he explained. "And it creates natural bedding on the ground for the pumpkins."
How long they keep the pumpkin patch going remains to be seen, but for now they're excited each Memorial Day when they plant, and watching the pumpkins grow through harvest season is always fun. 
To see that "sea of orange" appear in late fall is rewarding, Schwery said.
"They'll go from the size of an egg to a basketball in two days," he said.
"(And then) when you see all the little kids going out there, and they get to pick their own pumpkin and take it home, it's very satisfying," he said.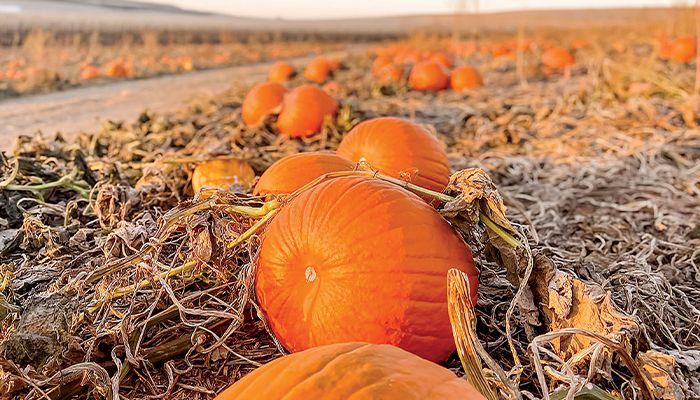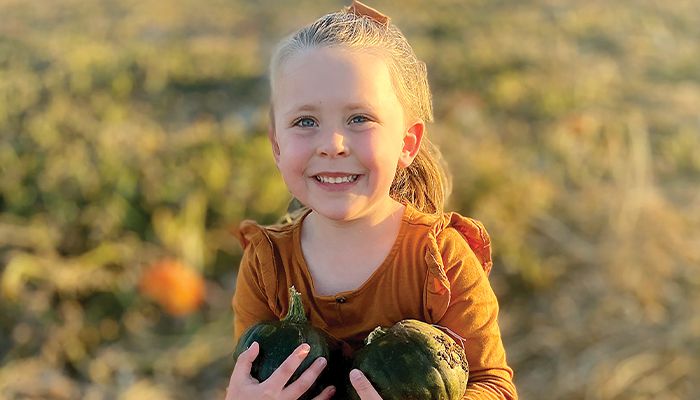 Want more news on this topic? Farm Bureau members may subscribe for a free email news service, featuring the farm and rural topics that interest them most!