Going nutty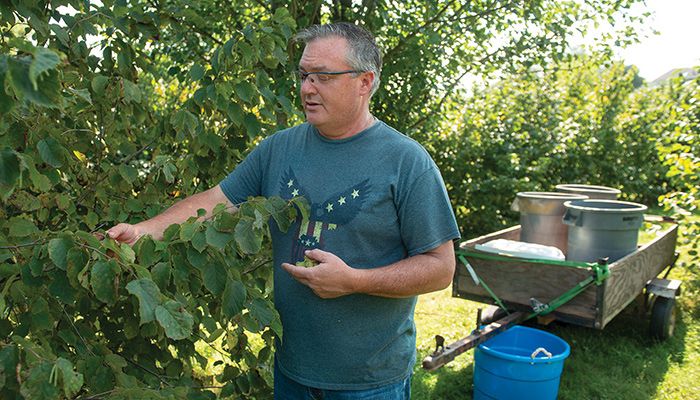 Rich Taylor can describe his passion in a nutshell. "I'd like to see the hazelnut become Iowa's number one native nut," said Taylor.
Taylor, 51, harvested close to 500 pounds of finished hazelnuts this fall on his farm east of Earlham. Taylor has received recognition for his crop with Iowa State Fair blue ribbons and from customers who can't get enough of the scarce nut.
It takes a lot of hazelnuts to produce the final product. "Net harvest is equal to one-third of the total weight harvested," said Taylor. So, it takes 1,000 pounds of harvested hazelnuts to equal 300 pounds of nut meat.
"When my father was a boy, he would go hunting, and he would pick the nuts and eat them. He wondered whatever happened to the hazelnut bushes," said Taylor. So Taylor got in touch with the Iowa Department of Natural Resources to find out. Taylor said the Eastern filbert blight wiped out the bushes in Iowa.
Taylor's hazelnut 3-acre orchard is one of the largest in Iowa. Ten years ago, Taylor bought 1,000 tubelings (young seedling plants about 6 inches tall) with his dad. "I've planted and replanted sprouts to keep them going," said Taylor, who has about 700 shrubs today. It takes five to six years for a hazelnut shrub to produce nuts.
The American Hazelnut bush is native throughout Iowa and much of the Upper Midwest.
"Iowa has two research sites with more than 10 different genotypes in each to determine how they grow in Northern Iowa and near Cedar Rapids," said Jeff Jensen. Jensen is the president of the Iowa Nut Growers Association and a program manager with Trees Forever. Jensen is also involved with the Upper Midwest Hazelnut Development Initiative.
Hazelnut shrubs in Iowa range from 6 to 12 feet tall and thrive in harsh climates and poor soil. "My dad told me they used to grow in the fence rows, and when they tried to plow too close to them, the roots would stop the plow," said Taylor.
Taylor is a security office at the Iowa State Capitol and sells hazelnuts at the Capitol Complex Farmers Market, which has ended for the season. "I'll be back in June," said Taylor. "I sold out on the first day," he added. "I sell the kernels by the pound. Right now the price is $15 per pound," said Taylor.
Hazelnuts are tasty raw or roasted, but they are great for baking, tossing in salads and one of Jensen's favorites, pancakes.
Taylor recruits family members to help with the late September and October harvest. "Hazelnut producers don't make a lot of money, but it's rewarding to know that we are laying the groundwork for future hazelnut farmers," said Taylor.
Want more news on this topic? Farm Bureau members may subscribe for a free email news service, featuring the farm and rural topics that interest them most!