Going green: Ames snowplows run on biodiesel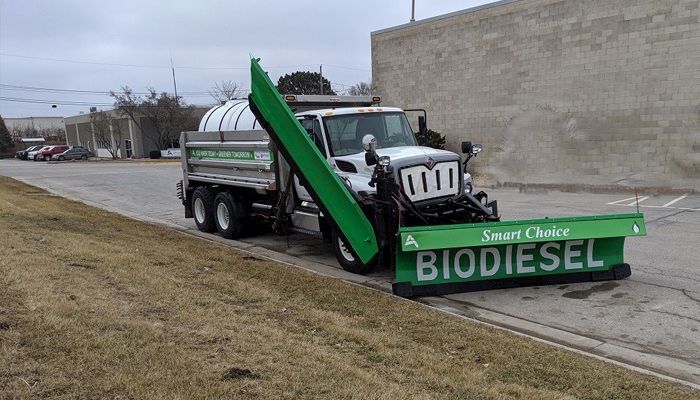 Ames is leading by example when it comes to reducing its carbon footprint.
The city has a long history of being at the forefront of the sustainability movement – including opening the first municipally owned and operated waste-to-energy facility in the nation in 1975 – and is home to Renewable Energy Group's (REG) corporate headquarters, which is North America's largest biodiesel producer.
So when Rich Iverson, fleet support manager for the City of Ames, was approached by REG about how his team could positively impact the city's carbon footprint by using greater amounts of biodiesel in city fleets, he was intrigued.
REG introduced Vector System technology from Pittsburgh-based Optimus Technologies, which enables heavy-duty trucks, like snowplows, to operate on 100% biodiesel (B100). The technology is a big deal according to Iverson, because pure soy biodiesel gels at 32 degrees.
"For us to be running snow plowing operations where we burn a lot of diesel fuel at negative 25 degrees, [B100] just wasn't practical until this technology became available to us," he says.
Knowing the city's interest, REG helped launch a pilot project in which the technology was installed in five city snowplows.
"The city council, city manager and mayor were all very, very supportive of this project," Iverson says. "REG worked really hard with us to get the systems in place."
The five newly-equipped snowplows were put to the test right away – one week after the city received them, in fact. Ames was hit with a massive snowstorm and below zero weather in early January 2020. Although the trucks were untested at that point, drivers took them out to plow anyway.
Over the course of that snowy weekend, the snowplows burned more than 1,000 gallons of B100 "flawlessly," Iverson says. In the year and a half since, the operators of the trucks haven't noticed any difference in performance.
"The fears were smashed from the beginning, so we've had great luck with it since then, and we've used it in some trucks during warmer months," Iverson says.
Now the City of Ames has 12 trucks installed with the Vector System technology.
According to Jon Scharingson, executive director of strategic initiatives at REG, the company is the exclusive biodiesel fuel supplier to the City of Ames, and he's proud that they're able to sell the product in its hometown. "We feel very good about being able to do that in our local community," he says. "It's a win-win relationship in general because we're able to highlight the fact that the City of Ames was one of the first municipalities in the country to adopt this B100 technology."
Technology attracting attention
Scharingson points out that it was early-generation technology when Ames implemented it, and since then, other cities such as Des Moines, Chicago and Portland have taken notice of how effectively city trucks can operate while significantly reducing their carbon footprint.
Iverson hopes more cities adopt the technology. "There's a lot of great opportunity for small communities to large communities to jump on board," he says.
In the end, it's all about doing whatever he and his team can do to help reduce the City of Ames' carbon footprint while setting an example for others.
"This is our most efficient, cost-effective way to reduce carbon quickly," Iverson says "There's no waiting. We install the system on the truck, and we cut our carbon intensity on that vehicle by about 85 percent. That right there speaks volumes if we want to work toward being a sustainable community, trying to get to that net zero carbon emission and greenhouse gas emissions. These are the kind of changes that we have to make."
Giardino is a freelance writer in Polk City.
Want more news on this topic? Farm Bureau members may subscribe for a free email news service, featuring the farm and rural topics that interest them most!