Globe-trotting journalists visit Iowa farms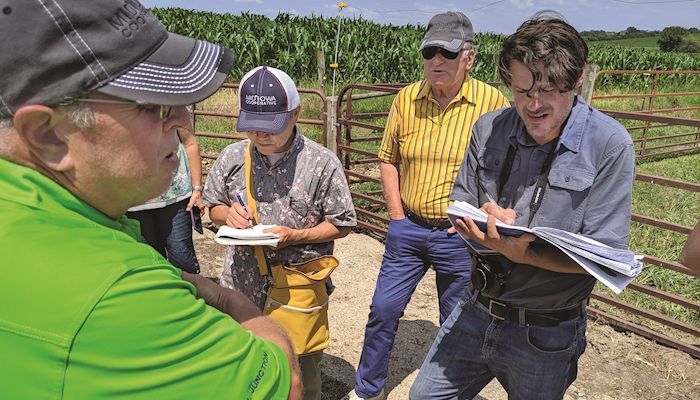 Eight travelers, from six countries, speaking four languages, visited a number of farms and ag businesses across Iowa last month as part of the 2019 International Federation of Agricultural Journalists tour.
"I wanted to get a real look at America, not filtered by media, not filtered by gender or anything like that," said Kallee Buchanan, of Bundaburg, Queensland, Australia. She is the rural reporter for Australian Broadcasting Corporation (ABC) Wide Bay. She was joined on the trip by her husband Ross Kay, who also worked for ABC as a radio announcer.
"I wanted to come and meet some of the people and get an understanding of what farming really is like in this part of the world," she said.
The tour started its first day at Mid-Iowa Co-op's Mill Junction Elevator just north of Grundy Center. The state-of-the-art facility, which opened in 2018, is able to receive 20,000 bushels of grain per hour, allowing a semi to be in and out of the facility in about 5 minutes. The site has six, 750,000-bushel bins plus a 565,000-bushel wet holding capacity and three dump pits.
"It is a completely different perspective on farming here," said Stefan Nimmervoll, editor of the monthly Austrian agriculture magazine Blick ins Land. "You have mostly corn and beans here, and they are on quite huge farms, compared to Austria. It is a really good experience to see what is happening here, how farmers are working."
The second stop was at the Pinehurst Farm near Wellsburg. Owners Darwin and Mel Engelkes raise 75 American Aberdeen Lowline cattle, a breed originally developed in Australia. The Engelkes started their enterprise in 2008 with four cows and one bull. They now market 20 head of breeding stock and slaughter 25 animals annually. Processed meat from their farm is available in the local grocery store.
Drive for efficiency
"We believe this is the future of cattle," Darwin Engelkes said. The American Aberdeen are small-framed cattle that consume about 25% to 30% less than a standard Angus, making the meat production more efficient pound for pound.
"What I found that we have in common is the drive for efficiency and productivity," Buchanan said. "Australian farmers, I think we probably have similar pressures to improve things like high cost of inputs, high labor costs, competing on world markets."
The third location of the day was H & H Farms. Owners Dave and Laura Hommel grow corn and soybeans, farrow to finish 90 sows and market 1,200 finished hogs a year.
"The main similarity on the farms we've visited in America and Austrian farmers is that people are proud of being farmers, they are proud of their property, they are convinced that what they are doing is good, that they produce high quality product," Nimmervoll said. "In general, farmers are really keen on having good products, serving the customer, being responsible for the land and maintaining their culture. That is something you find worldwide."
The first night ended with a cookout at the Scott Bienfang farm, where the travelers met with their host families who invited the journalists to stay in private homes with Iowa farm families instead of a hotel.
"What stood out to me is the generosity with which we've been received," Ross Kay said. "People are warm and friendly. They've opened their homes to us, which in itself is a great sign of just how generous Iowans are. We're very, very grateful for that."
The three-day tour, organized by Harlen Persinger, also included stops at John Deere Engine Works and Iowa State University as well as dairy, sheep, fish and Christmas tree farms. Other participants included Antje Krieger and Gerhard Schmidt of Germany, Satoru Mizuguchi of Japan, Brian Donaldson of United Kingdom, and Liza Bohlmann of South Africa.
Want more news on this topic? Farm Bureau members may subscribe for a free email news service, featuring the farm and rural topics that interest them most!