Gearing up for planting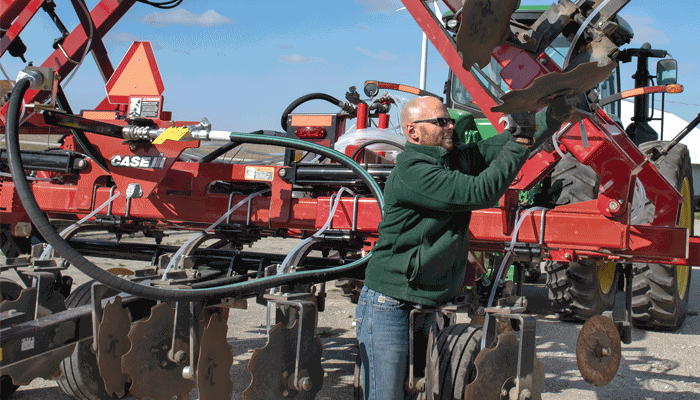 Drought, the derecho and dramatic market swings all factor into Iowa farmers' plans for their row crop acres in 2021.
Spring weather and soil moisture, as always, are front of mind for many Iowa farmers, especially in northwest portions of the state, which have experienced worsening drought conditions since last year.
Ross Kooiker, a Lyon County Farm Bureau member, said a mid-March weather system provided a little relief by dropping about 1 to 1.5 inches of rain in the area.
"Other than that, we're ex­tremely dry. Honestly, we've had very little moisture since last July," he said.
A survey of five northwest Iowa sites last fall showed subsoil moisture was around 50% of usual levels, reported Paul Kassel, Iowa State University Extension field agronomist in Spencer. The measurements showed available moisture ranging from 1.8 inches to 3.4 inches, compared to historical averages of 5.7 inches to 6 inches, he said.
The U.S. Drought Monitor shows that severe to extreme drought conditions persist across all 12 counties in the northwest Iowa crop reporting district even after above average rainfall in March.
Moisture needed
Continued dry weather early in the growing season could compromise the yield potential of this year's crop, Kassel said. However, farmers are also wary of excessive spring rains that could cause planting delays.
"It would be nice to get some moisture now so we get some subsoil moisture back into the ground, but we don't want to swing too far the other way," Kooiker said.
For Poweshiek County Farm Bureau member Drew Rempp, the soil moisture is in good shape heading into April. His main concern this season is weed pressure from volunteer corn in fields knocked down by last August's derecho windstorm.
"We were right on the edge of that storm," he said last week. "Go 10 miles north, and you have guys who lost their bins or had the roof taken off their barn. Go 10 miles south of us, and there's no damage at all."
Rempp has always farmed a 50/50 corn and soybean rotation on his acres. Because of this, all his corn acres from last year were already planned to go to beans in 2021. He said with tilling under damaged acres and herbicide, any volunteer corn should be controlled.
Keeping on track
By the end of last week, the fields were ready for Rempp to put on anhydrous fertilizer, keeping him on track for planting in mid-April if the weather stays dry in his area.
"It's shaping up to be a decent spring," Rempp said.
In north central Iowa, Butler County Farm Bureau member Clay Reints said tiles lines are running and soil moisture looks to be in good shape heading into planting. "It's not too bad. I'd rather go into a dry spring than a wet one," he said.
Heavier on corn
Reints, who farms with his dad, said they are staying with their usual crop rotation plans this year, planting about twice as much corn as soybeans.
"We've gotten a little heavier on corn over the years," he said. "We can almost guarantee ourselves a better corn crop than beans."
The outlook for the spring planting season remains favorable in April. The National Weather Service outlook shows elevated chances of warmer than average temperatures in Iowa, but no clear signal on precipitation for the month, said Justin Glisan, state climatologist for the Iowa Department of Agriculture and Land Stewardship.
Models lean toward better chances of moisture early in the month before turning slightly drier than average in the middle of April, he said.
"We're not getting that clear signal that we're looking for whether it's wet or dry. But given the shorter-term outlook getting into the second week of April, it's looking like this could be a good planting window," he said. "Let's have dry stretch to get planted and then let the faucet turn on."
Sticking with rotations
Kendra Meisgeier, a Des Moines County Farm Bureau member and precision ag specialist at River Valley Cooperative, said she hasn't seen much evidence of farmers changing their planting plans due to the market conditions.
"The growers who historically had continuous corn are planting soybeans due to the wind damages from 2020," she said. "I think because we are seeing high prices in corn and soybeans, growers are sticking to their plans for this year."
Want more news on this topic? Farm Bureau members may subscribe for a free email news service, featuring the farm and rural topics that interest them most!